Should We Respect Religion?
Seth
Nov 10, 2013 at 8:14 AM
3 years ago
Does religion deserve ridicule? Do our irreverent memes and sacrilegious satires do more harm than good? Are we being clever, or are we too clever for our own benefit?


Some recent satirical posts have drawn the ire of some TTA page members: the Jesus "lag" meme, The Story of Suzie video, etc. A few have left the page in protest.
I'll address it again, and of course, you're welcome to chime in.
It's a difficult thing, having such a love for people (religious and otherwise) and having such disdain for the ridiculous and often destructive mythologies they hold dear. The religious nerve is a sensitive one, and there's little doubt that many will borrow any offense targeted to their precious deities.
I don't scour religious websites and social media pages, posting sacrilegious memes and stirring the pot for its own sake. But I do sometimes post the sacrilegious meme here, on an atheist-targeted page, and the reason is simple:
In my youth, I was frightened with tales of the Eye In The Sky, the supreme dictator which I was to love and simultaneously fear, the author of Heaven and Hell, and I was indoctrinated to treat this deity with absolute reverence and deference. I couldn't see him, smell him or touch him, but for years, he controlled my life.
God demonstrated horrible attitudes toward women, toward non-heterosexuals, toward things like slavery, torture, infanticide, blood sacrifice and mass murder, but as a believer, I was required to always see him in a soft-focus portrait of absolute respect.
Not anymore.
For me, lampooning God is therapeutic. The monster in the closet no longer frightens me, and the roasting of this sacred cow is a private and public declaration that I have shed the chains of superstition-based fear and control.
And the more I'm told to treat Jesus with kid gloves, the more I'm inclined to Photoshop him into a gay pride parade or depict him as a machine-gun-wielding merchant of 80s-action-movie carnage.
Religion (pick one) is a fairy tale, a myth, a falsehood pitched as fact, and for many of us liberated from the chains of dogma, religious god-figures are ripe for ridicule.
Now, I understand that ridicule can cause religious adherents to further fortify their theological walls, but does that mean that their cherished religion should be...respected?
We can show love and respect for people, religious and otherwise, but religion itself has earned no quarter from the rationalist.
If religious politicians took their oath of office on a Harry Potter book, if religious parents taught their impressionable children to pledge their lives to Santa Claus, if religious institutions required 10% of one's household income to spread the message of the Tooth Fairy, few would complain about ridicule. In fact, I suspect most would join our chorus of razor-edged disdain.
Well...Jesus is the Tooth Fairy.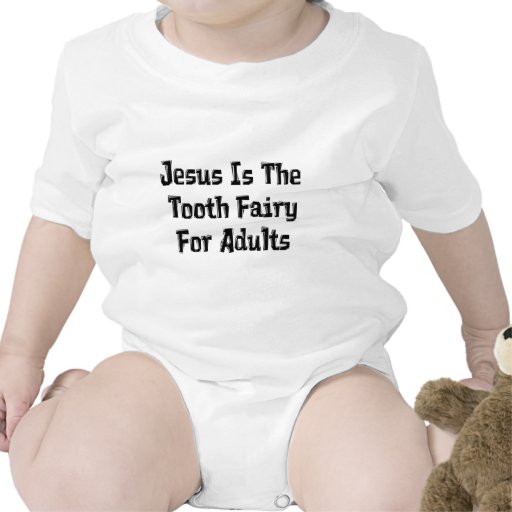 Is this tactic for everyone? No. Are all anti-religious memes appropriate and/or funny? No. Is the lampooning of religion a license to be completely tasteless? No.
But as religion seeks to assert control through fear, I personally find satisfaction and liberation in roasting its precious and most sacred figures over the white-hot flame of freedom.
Do you feel that religion deserves to be respected? You've heard my perspective. I welcome yours.

-Seth Andrews
comments powered by

Disqus