About the death of my parents: The funeral
22-12-2011, 02:59 PM
(This post was last modified: 22-12-2011 03:07 PM by Observer.)
Observer


<<<I'm here for her


Likes Given: 751
Likes Received: 1,610 in 731 posts

Posts: 2,621
Joined: Dec 2010
Reputation: 36
About the death of my parents: The funeral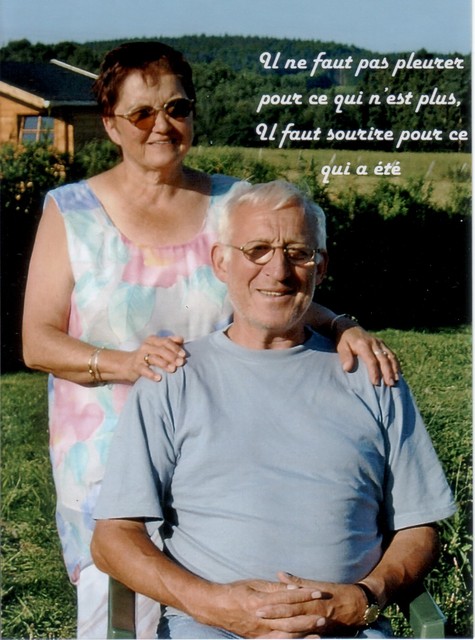 don't weep for what is lost
but smile for what has been
(Obituary card, Names and dates are cropped)
Although deeply pious, my parents where also secular humanists. Practising this, they always choose person before dogma and human approach before religious fuss. My father often arranged celebrations where he collected inspirational poems and music. We where befriended with several priests and in close communication with them, we often had beautiful Roman-catholic masses. (come to think of it, even as a child, I was mostly inspired by dads poems about nature and hope then those about God an Jesus). I thought it was no more then appropriate to arrange something like that.
The problem: The house was sealed shut by the police. So, no chance to collect their favourite music and no access to dads poetry books. Not only that... No one even WANTED to enter the house. What would we find there? Blood?
After some search we found some poems and nice songs. We sat together with a befriended deacon (family of my wife) and talked about what we wanted to say and what music we wanted to play.
Dad was straight against the picking of flowers. "Leave them be" he said. "Come back next year and find even more flowers". Mom loved flowers. So my dad grew roses and other assorted flowers in the backyard especially for my mother to pick and place next to the little shrine she made to remember my sister and other departed. Mindful about both mom and dad's wish, we asked every mourner to bring just one simple rose to the funeral. The idea was, to put dad's wheelbarrow next to the coffins and to have everyone put his rose in there. A symbolic deed.
We head off to the pastor of the church with our texts, songs and wishes.
Almost everything was already arranged behind our back!
There was a choir (the sang horrible! really really horrible!) We where only able to play one of our beloved song. I could only quote one poem. And the carefully written testimony's by their beloved ones where all mashed together in one indigestible chunk of text. The wheelbarrow war nowhere to be seen. As a result everyone who brought a rose (and with everyone I mean ALL +675 mourners. The line was endless) tried to put their rose on that small straight edge of the two coffins. Roses fell and where almost trampled upon. I could have lived with that if not...
When we where in our
hideout
the first days, the friend we lodged at (the one from the quote below) had to fend off some nosy press. So we asked the pastor SPECIFIC to NOT HAVE PRESS in the church! Guess what we saw on the news that evening... I can be angry and wave my fist to the pastor but that won't undo a news bulletin. Lying son of a bitch! So far for the intervention of the Roman-catholic church
Everything will be allright...
First off, I had my small revenge. At the graveyard they pushed me that stupid toilet-brush thingy in my hand to sprinkle holy-water. I gave it back to him, kindly smiling and saying that I brought my own homage to my parents. I gently put the rose on moms coffin (I was the only one who kept it) saying, "Hi mom, I brought you a flower" And then I opened a
Leffe
(which was dad's favourite) poured it as it should in the correct glass, and presented it to dad. "Cheers dad!" I believe I heard some reply "cheers" and some muffled cheering behind me. Later I heard, the pastor did not know what to do or where to look. Giving flowers to my dad just seemed so laughable. The man wants a firm and tasty beer in his final resting place.
Now here's the end...
My parents never wanted to be buried. They wanted to be cremated and have their ashes scattered. (funny side-note: Mom always said she didn't want worms between her toes and dad, suffering lifelong from cold feet due to a birth defect, said he liked the idea of warm feet for eternity.
(weird humour is hereditary)
) Due to the circumstances they died in, cremation wasn't possible since the bodies could be claimed by the defence. The coffins are now placed in an enclosed and sealed crypt. When the trial is over, their will will be done and we can leave all pastors, churches and cameras behind us.
We will find ourself a source somewhere, in a forest or meadow, and at dawn, when the morning mist searches his way through the trees to hide himself from the slow rising sun, and under the last light of planet Venus, a friend of ours will play a lament on his double toned folk-bagpipe, while we, passing the urns, scatter them gently in the stream.
Farewell mom, Farewell dad
---
more on this forum:
About the death of my parents: the murder
Understanding "strength trough faith"
(About my relation with my parents)
---
Observer
Agnostic atheist
Secular humanist
Emotional rationalist
Disclaimer: Don't mix the personal opinion above with the absolute and objective truth. Remember to think for yourself. Thank you.
The following 8 users Like Observer's post:
8 users Like Observer's post
kim
(22-12-2011)
,
Leela
(22-12-2011)
,
Clint Barnett
(22-12-2011)
,
ddrew
(22-12-2011)
,
lucradis
(22-12-2011)
,
Ferdinand
(22-12-2011)
,
GirlyMan
(23-12-2011)
,
cufflink
(29-12-2011)
Messages In This Thread
About the death of my parents: The funeral
- Observer - 22-12-2011 02:59 PM
User(s) browsing this thread: 1 Guest(s)