An atheist's critique of the Bible (Book and eBook now available)
24-06-2011, 03:55 PM
Likes Given: 86
Likes Received: 62 in 44 posts

Posts: 313
Joined: Jun 2011
Reputation: 4
RE: An atheist's critique of the Bible
I absolutely love your critique, I have a hard time reading the bible, it's honestly almost too violent for me! (Not to mention boring and repetitive). I liked the book of Matthew bit. In High School our drama department (which I was part of) put on the play "Godspel" which is Andrew Lloyd Webber's creative take on the book of Matthew... So I'm pretty familiar with Jesus' deeply confusing and generally incorrect parables. I was an apathetic Christian at the time, so I didn't realize how messed up it was that we were pretty much doing a bible story play in a public school.
---

24-06-2011, 08:05 PM
(This post was last modified: 01-07-2011 06:48 PM by Buddy Christ.)
Likes Given: 44
Likes Received: 2,365 in 837 posts

Posts: 1,987
Joined: Nov 2010
Reputation: 56
RE: An atheist's critique of the Bible
2nd half of Matthew; get your reading glasses, thinking caps, and try-hard pants back on
15:1 Then came to Jesus scribes and Pharisees, which were of Jerusalem, saying,

15:2 Why do thy disciples transgress the tradition of the elders? for they wash not their hands when they eat bread.

15:3 But he answered and said unto them, Why do ye also transgress the commandment of God by your tradition?

15:4 For God commanded, saying, Honour thy father and mother: and, He that curseth father or mother, let him die the death.
-The Pharisees bust Jesus again for not washing his hands before eating, as is tradition. And instead of admitting fault or saying something loving, Jesus calls them hypocrites by pointing out that they don't kill unruly children as is commanded of them. So clearly the OT God and Jesus both thinking unruly children should be killed... but of course that's just ridiculous! Right? I mean THAT part of the Bible is clearly a metaphor.
15:12 Then came his disciples, and said unto him, Knowest thou that the Pharisees were offended, after they heard this saying?

15:13 But he answered and said, Every plant, which my heavenly Father hath not planted, shall be rooted up.

15:14 Let them alone: they be blind leaders of the blind. And if the blind lead the blind, both shall fall into the ditch.
-Once again, although Jesus has claimed that he's here to save the sinners and unbelievers, he doesn't seem to give a shit about people who doubt him.
15:15 Then answered Peter and said unto him, Declare unto us this parable.

15:16 And Jesus said, Are ye also yet without understanding?

15:17 Do not ye yet understand, that whatsoever entereth in at the mouth goeth into the belly, and is cast out into the draught?

15:18 But those things which proceed out of the mouth come forth from the heart; and they defile the man.
-Even Peter doesn't understand the stream of nonsense that Jesus is constantly spewing. "I come to save man! But I'm going to do it in the most confusing way possible!" Jesus says, "duh, I'm allowed to eat with dirty hands as long as what I say is good."
15:22 And, behold, a woman of Canaan came out of the same coasts, and cried unto him, saying, Have mercy on me, O Lord, thou son of David; my daughter is grievously vexed with a devil.

15:23 But he answered her not a word. And his disciples came and besought him, saying, Send her away; for she crieth after us.

15:24 But he answered and said, I am not sent but unto the lost sheep of the house of Israel.

15:25 Then came she and worshipped him, saying, Lord, help me.

15:26 But he answered and said, It is not meet to take the children's bread, and to cast it to dogs.
-Jesus is an uppity prick. He refuses to heal a Canaanite woman's daughter because she's not from Israel, saying "I'm not going to waste my miracles on filth."
15:27 And she said, Truth, Lord: yet the dogs eat of the crumbs which fall from their masters' table.

15:28 Then Jesus answered and said unto her, O woman, great is thy faith: be it unto thee even as thou wilt. And her daughter was made whole from that very hour.
-Jesus decides to throw the "dog" a courtesy scrap from the table of nobles.
Jesus goes back up a mountain, heals some more of his followers, and once again does the bread and fish miracle to feed the 4000 people
-Seems his numbers are dwindling since last time. SAB suggests that this is the same story as before, but the difference is result of playing the "telephone game" with the oral accounting.
The Pharisees and Sadducees come to Jesus, asking for a sign that he is God. And again he calls them evil, adulterous hypocrites.
-Why is Jesus so reluctant to simply confirm that he is a God. It's quite a massive claim to be making, the least you could do is prove it instead of calling them names.
16:13 When Jesus came into the coasts of Caesarea Philippi, he asked his disciples, saying, Whom do men say that I the Son of man am?

16:14 And they said, Some say that thou art John the Baptist: some, Elias; and others, Jeremias, or one of the prophets.

16:15 He saith unto them, But whom say ye that I am?

16:16 And Simon Peter answered and said, Thou art the Christ, the Son of the living God.
-Jesus sits down with his crew and asks what the word on the street is. Who do people think I am? And they said that people thought Jesus was possibly a lot of things, like a zombie John the Baptist or just a prophet (which could have been cleared up if Jesus wasn't so stingy with his magic).
16:18 And I say also unto thee, That thou art Peter, and upon this rock I will build my church; and the gates of hell shall not prevail against it.

16:19 And I will give unto thee the keys of the kingdom of heaven: and whatsoever thou shalt bind on earth shall be bound in heaven: and whatsoever thou shalt loose on earth shall be loosed in heaven.

16:20 Then charged he his disciples that they should tell no man that he was Jesus the Christ.
-For being one of the few people to believe that Jesus was actually the son of God, Jesus proclaims Peter the first pope and praises him. Then he tells his disciples to keep it a secret that he is the messiah... WHY? Jesus seems less interested in saving mankind, and more interested in finding a select few people willing to believe him. I think he just wants to start his own motorcycle gang, The Holy Riders.
16:21 From that time forth began Jesus to shew unto his disciples, how that he must go unto Jerusalem, and suffer many things of the elders and chief priests and scribes, and be killed, and be raised again the third day.

16:22 Then Peter took him, and began to rebuke him, saying, Be it far from thee, Lord: this shall not be unto thee.

16:23 But he turned, and said unto Peter, Get thee behind me, Satan: thou art an offence unto me: for thou savourest not the things that be of God, but those that be of men.
-Jesus gathers his gang in and says, "Alright here's what's gonna happen." And lays out his own prophecy. Peter expresses concern so Jesus accuses him of being Satan... even though just 3 verses before he was praising him and making him pope.
16:28 Verily I say unto you, There be some standing here, which shall not taste of death, till they see the Son of man coming in his kingdom.
-Swing and a miss, Christ.
17:1 And after six days Jesus taketh Peter, James, and John his brother, and bringeth them up into an high mountain apart,

17:2 And was transfigured before them: and his face did shine as the sun, and his raiment was white as the light.

17:3 And, behold, there appeared unto them Moses and Elias talking with him.

17:4 Then answered Peter, and said unto Jesus, Lord, it is good for us to be here: if thou wilt, let us make here three tabernacles; one for thee, and one for Moses, and one for Elias.

17:5 While he yet spake, behold, a bright cloud overshadowed them: and behold a voice out of the cloud, which said, This is my beloved Son, in whom I am well pleased; hear ye him.
-Jesus takes Peter, James, and John up into a mountain to show him a "face becoming bright, Moses illusion, voice from the heavens" trick. WHY!!!? WHY WHY WHY? Why doesn't Jesus do things like this in front of people that don't believe him? Why does he take his closest buddies into seclusion? I don't know, maybe because they're making the whole thing up?
17:9 And as they came down from the mountain, Jesus charged them, saying, Tell the vision to no man, until the Son of man be risen again from the dead.
???
17:10 And his disciples asked him, saying, Why then say the scribes that Elias must first come?

17:11 And Jesus answered and said unto them, Elias truly shall first come, and restore all things.

17:12 But I say unto you, That Elias is come already, and they knew him not, but have done unto him whatsoever they listed. Likewise shall also the Son of man suffer of them.

17:13 Then the disciples understood that he spake unto them of John the Baptist.
-"Hey Jesus, wasn't it written that Elijah the prophet would restore all things before you did all that stuff?"
-"Elijah HAS come... he's John the Baptist" Soooo, wouldn't that make him John the prophet? You can't just change names around to make the puzzle pieces fit.
17:15 Lord, have mercy on my son: for he is lunatick, and sore vexed: for ofttimes he falleth into the fire, and oft into the water.

17:16 And I brought him to thy disciples, and they could not cure him.

17:17 Then Jesus answered and said, O faithless and perverse generation, how long shall I be with you? how long shall I suffer you? bring him hither to me.
-The disciples couldn't cast out the sickness, so Jesus snidely calls them worthless before casting out the sickness himself.
18:1 At the same time came the disciples unto Jesus, saying, Who is the greatest in the kingdom of heaven?

18:2 And Jesus called a little child unto him, and set him in the midst of them,

18:3 And said, Verily I say unto you, Except ye be converted, and become as little children, ye shall not enter into the kingdom of heaven.
-I don't know if the disciples were specifically asking which person was the greatest in heaven, but Jesus answers them by saying the best of the best are like children. Which... would be an approval of gullibility and ignorance.
18:5 And whoso shall receive one such little child in my name receiveth me.

18:6 But whoso shall offend one of these little ones which believe in me, it were better for him that a millstone were hanged about his neck, and that he were drowned in the depth of the sea.
-Maybe THAT'S what all those priests were molesting children for; they were trying to "receive" the child in the Lord's name. And also, if you offend a child who believes in God, you might as well kill yourself.
18:10 Take heed that ye despise not one of these little ones; for I say unto you, That in heaven their angels do always behold the face of my Father which is in heaven.
-God likes looking at little boy angels... hmmm.
18:11 For the Son of man is come to save that which was lost.

18:12 How think ye? if a man have an hundred sheep, and one of them be gone astray, doth he not leave the ninety and nine, and goeth into the mountains, and seeketh that which is gone astray?

18:13 And if so be that he find it, verily I say unto you, he rejoiceth more of that sheep, than of the ninety and nine which went not astray.
-Well that's great and all... but Jesus seems more interested in ignoring 99 lost sheep and telling his one remaining sheep not to worry, because those other sheep are blasphemous sinners and are going to burn.
A lot of repeating of the teachings of first half of Matthew. Seems like I'm not the only one who split the book of Matthew into separate parts. It sounds like someone else is authoring this part and recapping.
Jesus informs his disciples that regardless of what Moses said about how to divorce from your wife, you should actually NEVER get divorced. To which his disciples responded, "Well in that case, it's best to not get married at all, isn't it?" And God agrees in a roundabout way, approving of people who castrate themselves in order to get into heaven.
19:14 But Jesus said, Suffer little children, and forbid them not, to come unto me: for of such is the kingdom of heaven.
-Too easy.
A child calls Jesus "Good Master" to which Jesus says:

19:17 And he said unto him, Why callest thou me good? there is none good but one, that is, God: but if thou wilt enter into life, keep the commandments.
-This time Jesus rejects the notion that he is God. Someone needs to start a "flip flop" counter because I can't keep track.
Jesus tells an inquiring child to follow the Ten Commandments, but he only lists six, and throws in one that isn't even on the list:

19:19 Honour thy father and thy mother: and, Thou shalt love thy neighbour as thyself.

The child says he's been doing that since birth, what more must he do? And Jesus says:

19:21 Jesus said unto him, If thou wilt be perfect, go and sell that thou hast, and give to the poor, and thou shalt have treasure in heaven: and come and follow me.

19:22 But when the young man heard that saying, he went away sorrowful: for he had great possessions.

19:23 Then said Jesus unto his disciples, Verily I say unto you, That a rich man shall hardly enter into the kingdom of heaven.

19:24 And again I say unto you, It is easier for a camel to go through the eye of a needle, than for a rich man to enter into the kingdom of God.
-Sell all your belongings and give away all your money. Pretty straightforward, yet I personally haven't known a single Christian that has done this.
19:28 And Jesus said unto them, Verily I say unto you, That ye which have followed me, in the regeneration when the Son of man shall sit in the throne of his glory, ye also shall sit upon twelve thrones, judging the twelve tribes of Israel.

19:29 And every one that hath forsaken houses, or brethren, or sisters, or father, or mother, or wife, or children, or lands, for my name's sake, shall receive an hundredfold, and shall inherit everlasting life.
-Jesus tells his disciples that in heaven they'll have their own throne, from which that can judge other people (how nice). And everyone that abandons family members and earthly belongings will get 100x the reward.
Jesus tells a long ass parable about an employer who pays his employees the same wages (a penny) even though they had all worked different amounts of hours... and then scolds the employees that suggest they deserve more for working more.
-Lesson? Shrug. Communism is best?
20:18 Behold, we go up to Jerusalem; and the Son of man shall be betrayed unto the chief priests and unto the scribes, and they shall condemn him to death,

20:19 And shall deliver him to the Gentiles to mock, and to scourge, and to crucify him: and the third day he shall rise again.
-Jesus goes to Jerusalem with the purpose of being killed. The whole time reminding his disciples of his prophecy. "Now remember, I said THREE days, remember. So if I were to suddenly rise on the THIRD day, the prophecy would be fulfilled. I'm not saying to pretend I rose on the third day or anything, but that would definitely help our cause."
20:30 And, behold, two blind men sitting by the way side, when they heard that Jesus passed by, cried out, saying, Have mercy on us, O Lord, thou son of David.
-Another story about two blind men (same story?), this time in a different scenario. Do blind men travel in packs of twos?
21:2 Saying unto them, Go into the village over against you, and straightway ye shall find an ass tied, and a colt with her: loose them, and bring them unto me.

21:3 And if any man say ought unto you, ye shall say, The Lord hath need of them; and straightway he will send them.
-Go steal a donkey and a colt. Even though I've clearly commanded you not to steal. Then Jesus rides into town on both a donkey and a colt... how... unnecessary.
This pic only shows one animal, but I had to post it due to how stupid it looks.
21:12 And Jesus went into the temple of God, and cast out all them that sold and bought in the temple, and overthrew the tables of the moneychangers, and the seats of them that sold doves,

21:13 And said unto them, It is written, My house shall be called the house of prayer; but ye have made it a den of thieves.
-Jesus throws people into the street and flips tables. And once again, he's very concerned with "what was written."
Jesus wows the crowd by withering a fig tree, then tells them that all their dreams can come true with faith!

21:21 Jesus answered and said unto them, Verily I say unto you, If ye have faith, and doubt not, ye shall not only do this which is done to the fig tree, but also if ye shall say unto this mountain, Be thou removed, and be thou cast into the sea; it shall be done.

21:22 And all things, whatsoever ye shall ask in prayer, believing, ye shall receive.
-You can move mountains if you believe in me! Whatever you want is yours!
Priests ask Jesus who he thinks he is to preach from inside the temple. So Jesus hits them with two parables about farmers and slaves. Then hits them with:

21:42 Jesus saith unto them, Did ye never read in the scriptures, The stone which the builders rejected, the same is become the head of the corner: this is the Lord's doing, and it is marvellous in our eyes?
-Jesus is just following scripture and doing the Lord's work.
Jesus tells another parable, which I really don't understand. Apparently God is like a king who sends his servants out to invite the townspeople to a wedding, but the people ignore the invitation and some even kill the servants. So the king has his army kill all the townspeople and burn their homes. So the king sends out more servants to gather up random strangers, good or bad for the wedding. At the wedding the king notices a guy not dressed in wedding attire so he "casts him into outer darkness, there shall be weeping and gnashing of teeth."
-What? The guy wasn't expecting to attend a wedding. He was kind enough to show up and you punish him for it? Closing the parable with:
22:14 For many are called, but few are chosen.
The Pharisees send a bunch of people to ask random questions of Jesus, to determine if he is who he says he is.

They ask if they should pay tribute to Caesar, and Jesus (not known for his yes or no responses) replies,

"Render therefore unto Caesar the things which are Caesar's; and unto God the things that are God's."

A group of Sadducees ask him, "Ok, what if a man has seven wives over the course of his live, who all died and he remarried. Who will he be with in heaven?"

To which God says,
"22:30 For in the resurrection they neither marry, nor are given in marriage, but are as the angels of God in heaven."
-You won't be with your wife in heaven, the woman you loved and spent life with. You'll just be an angel among angels.
A lawyer asks Jesus which is the greatest commandment? He says,

"Thou shalt love the Lord thy God with all thy heart, and with all thy soul, and with all thy mind.

22:38 This is the first and great commandment.

22:39 And the second is like unto it, Thou shalt love thy neighbour as thyself.

22:40 On these two commandments hang all the law and the prophets.
-So... the only laws that really matter are love the Lord with all your heart and love your fellow man. Then what's the point in all the other dozens of arbitrary laws you've mentioned?
Jesus then points out that he can't be the son of David if David refers to him as the Lord. How can he be the Lord AND the son of David?
-Flippity to the floppity.
22:45 If David then call him Lord, how is he his son?

22:46 And no man was able to answer him a word, neither durst any man from that day forth ask him any more questions.
-Wow, that's all it takes to stump these people? Pay Caesar what is Caesars. You won't be married in heaven. And how can I be a man AND a god?
"Well that does it for me! Clearly he is who he says he is and we should cease all doubt and questioning!"
23:9 And call no man your father upon the earth: for one is your Father, which is in heaven.
-Don't call your father "father" because you only have one father. Your Father in heaven. Who's your daddy?
23:19 Ye fools and blind: for whether is greater, the gift, or the altar that sanctifieth the gift?
-Jesus, on a verbal tirade against the Pharisees, calls them fools (as well as "hypocrites" about 7 times in 5 verses). And according to Matthew, that means Jesus is now condemned to hell.
23:36 Verily I say unto you, All these things shall come upon this generation.
-And by that, of course, Jesus meant, "all these things shall come upon a future generation... probably about 30-40 generations or so from now."
24:3 And as he sat upon the mount of Olives, the disciples came unto him privately, saying, Tell us, when shall these things be? and what shall be the sign of thy coming, and of the end of the world?





SIGNS OF THE END OF THE WORLD




24:4 And Jesus answered and said unto them, Take heed that no man deceive you.
24:5 For many shall come in my name, saying, I am Christ; and shall deceive many.
24:6 And ye shall hear of wars and rumours of wars: see that ye be not troubled: for all these things must come to pass, but the end is not yet.
24:7 For nation shall rise against nation, and kingdom against kingdom: and there shall be famines, and pestilences, and earthquakes, in divers places.
24:8 All these are the beginning of sorrows.
24:9 Then shall they deliver you up to be afflicted, and shall kill you: and ye shall be hated of all nations for my name's sake.
24:10 And then shall many be offended, and shall betray one another, and shall hate one another.
24:11 And many false prophets shall rise, and shall deceive many.
24:12 And because iniquity shall abound, the love of many shall wax cold.
24:13 But he that shall endure unto the end, the same shall be saved.
24:14 And this gospel of the kingdom shall be preached in all the world for a witness unto all nations; and then shall the end come.
-So first there will be wars, nations rising against nations, famines, pestilences, and earthquakes. Great. So the sign of the end of the world are natural occurrences that have been commonplace since well before Jesus even got here.
-Next, people will hate and kill Christians... which might explain why Christians set about starting wars and persecuting everyone. "Come on, hit me back! Fulfill the prophecy!"
-False prophets will rise. That's nothing new. Prophets of every religion have always been abundant, and since every religion is fake, they are false prophets.
-The gospel shall be preached in all the world. Even the starving tribes of remote third world countries have been forced to hear the gospel. Have we missed anyone? Maybe a few eskimos in Antarctica are unaware.
I remain unimpressed Jesus.
24:19 And woe unto them that are with child, and to them that give suck in those days!
-I know I say this word often... WHY? If you're pregnant or nursing when the end times come, you're going to hell?
24:24 For there shall arise false Christs, and false prophets, and shall shew great signs and wonders; insomuch that, if it were possible, they shall deceive the very elect.
-If anyone comes along talking like me and acting like me and doing every single thing I'm doing, claiming to be the messiah... they're lying. But not me.
24:29 Immediately after the tribulation of those days shall the sun be darkened, and the moon shall not give her light, and the stars shall fall from heaven, and the powers of the heavens shall be shaken:

24:30 And then shall appear the sign of the Son of man in heaven: and then shall all the tribes of the earth mourn, and they shall see the Son of man coming in the clouds of heaven with power and great glory.

24:31 And he shall send his angels with a great sound of a trumpet, and they shall gather together his elect from the four winds, from one end of heaven to the other.
-Oh there we go. That will be much more obvious. Especially with an angelic brass section. I wonder if they took trumpet lessons before or after they died.
24:32 Now learn a parable of the fig tree; When his branch is yet tender, and putteth forth leaves, ye know that summer is nigh:

24:33 So likewise ye, when ye shall see all these things, know that it is near, even at the doors.
-That... wasn't a parable. That was just a thing you said. "Sit back, my children and listen to this story and its deep, complex messages as told through characters and analogies. When a fig tree blossoms, it will be summer, and the world will end. Ta-da!"
24:34 Verily I say unto you, This generation shall not pass, till all these things be fulfilled.
-He meant that part so much he said it twice. I guess we can all relax then, yes? Since the end of the world, if it were going to happen, would've already happened.

24:36 But of that day and that hour knoweth no man, no, not the angels of heaven, but my Father only.
-The best and earliest Greek manuscripts say, "not the angels of heaven, neither the son, but the Father only." But apparently it bothered the scribes that there were some things Jesus didn't know, so they fixed it by omitting the phrase, "neither the son." (Bart D. Ehrman, Misquoting Jesus (2005), p.95)
-Ah, purpose driven Bible alterations. The biggest red flag of all that religion is bullshit.
25:1 Then shall the kingdom of heaven be likened unto ten virgins, which took their lamps, and went forth to meet the bridegroom.
-Oh for Christ's sake, Christ. Again with these? Apparently the coming of the Lord shall be like 10 virgins who went out to meet their mate. 5 had oil for their lamps and 5 didn't. Suddenly at midnight the mate showed up and only the 5 virgins with oil got to have sex with him, because the 5 without oil were off looking for someone to sell oil to them. Moral of the story? You don't know when God is coming to fuck us all, so we better have our oil ready.
25:46 And these shall go away into everlasting punishment: but the righteous into life eternal.
-What if I don't want everlasting punishment OR eternal life? Both seem like kind of a drag. Can I please just not exist?
26:6 Now when Jesus was in Bethany, in the house of Simon the leper,

26:7 There came unto him a woman having an alabaster box of very precious ointment, and poured it on his head, as he sat at meat.

26:8 But when his disciples saw it, they had indignation, saying, To what purpose is this waste?

26:9 For this ointment might have been sold for much, and given to the poor.

26:10 When Jesus understood it, he said unto them, Why trouble ye the woman? for she hath wrought a good work upon me.

26:11 For ye have the poor always with you; but me ye have not always.
-Don't help the poor right now. I won't be around for much longer, so the poor can wait. Very condescending of you, Jesus.
Judas takes 30 pieces of silver to betray Jesus. Then the whole Last Supper thing takes place on Passover (one of you will betray me, blah blah). Jesus offers his flesh and blood via refreshments and sandwiches for no particular reason. Jesus tells Peter he will deny him thrice. Then the next day he tells his disciples to wait here, and goes off by himself and says:

26:39 And he went a little farther, and fell on his face, and prayed, saying, O my Father, if it be possible, let this cup pass from me: nevertheless not as I will, but as thou wilt.
-So on this day, Jesus ISN'T God and prays to him, asking if at all possible, not to be crucified. Of course, since Jesus is off by himself, praying telepathically, who knows how this information made it into Matthew's book.
Judas shows up with a bunch of armed men and tells them to wait for the signal:

26:48 Now he that betrayed him gave them a sign, saying, Whomsoever I shall kiss, that same is he: hold him fast.

26:49 And forthwith he came to Jesus, and said, Hail, master; and kissed him.
26:51 And, behold, one of them which were with Jesus stretched out his hand, and drew his sword, and struck a servant of the high priest's, and smote off his ear.

26:52 Then said Jesus unto him, Put up again thy sword into his place: for all they that take the sword shall perish with the sword.
-Call me bias, but this doesn't seem like it was meant as a life lesson to mankind, but rather just Jesus telling the men to put their swords away or else.
26:63 But Jesus held his peace, And the high priest answered and said unto him, I adjure thee by the living God, that thou tell us whether thou be the Christ, the Son of God.

26:64 Jesus saith unto him, Thou hast said: nevertheless I say unto you, Hereafter shall ye see the Son of man sitting on the right hand of power, and coming in the clouds of heaven.
-Jesus is asked directly if he is the son of God, and the reply sounds similar to "If you say so."
Peter denies knowing Jesus three times to a damsel, a maid, and some random people.
-But since the priests were only looking for people to speak out against Jesus, I don't see how this is a big deal. By denying that he believed Jesus to be the son of God, Peter is actually helping Christ's case by not adding to the blasphemy charges.
Judas is so full of guilt that he gives his 30 silver away and hangs himself.
27:12 And when he was accused of the chief priests and elders, he answered nothing.

27:13 Then said Pilate unto him, Hearest thou not how many things they witness against thee?

27:14 And he answered him to never a word; insomuch that the governor marvelled greatly.

27:15 Now at that feast the governor was wont to release unto the people a prisoner, whom they would.

27:16 And they had then a notable prisoner, called Barabbas.
-Pilate is "marvelled" at how quiet Jesus was? How amazing! And they release a prisoner... you know I have to do it...
WELEASE WOGER!
So they release Barabbas, Pilate "washes his hands" of the whole situation, the soldiers mock Jesus and beat him and crown of thorns and blah blah guilt trip. A man named Simon bears (or tries to?) Jesus' cross for a bit. The soldiers make Jesus drink "vinegar mingled with gall." They crucify him and put a sign over his head, which according to Matthew's version said:

27:37 And set up over his head his accusation written, THIS IS JESUS THE KING OF THE JEWS.
27:45 Now from the sixth hour there was darkness over all the land unto the ninth hour.

27:46 And about the ninth hour Jesus cried with a loud voice, saying, Eli, Eli, lama sabachthani? that is to say, My God, my God, why hast thou forsaken me?

27:50 Jesus, when he had cried again with a loud voice, yielded up the ghost.

27:51 And, behold, the veil of the temple was rent in twain from the top to the bottom; and the earth did quake, and the rocks rent;

27:52 And the graves were opened; and many bodies of the saints which slept arose,

27:53 And came out of the graves after his resurrection, and went into the holy city, and appeared unto many.

27:54 Now when the centurion, and they that were with him, watching Jesus, saw the earthquake, and those things that were done, they feared greatly, saying, Truly this was the Son of God.
-The land was pitched in darkness for 3 hours, then when Jesus died, the temple was destroyed and earthquakes occurred and zombies came out of graves and walked throughout Jerusalem... and yet there is not a record of ANY of this outside of the gospels. You're telling me that out of the "multitudes" of people that witnessed this, somehow these events didn't get passed along to any historian or record of events?
27:57 When the even was come, there came a rich man of Arimathaea, named Joseph, who also himself was Jesus' disciple:

27:58 He went to Pilate, and begged the body of Jesus. Then Pilate commanded the body to be delivered.

27:59 And when Joseph had taken the body, he wrapped it in a clean linen cloth,

27:60 And laid it in his own new tomb, which he had hewn out in the rock: and he rolled a great stone to the door of the sepulchre, and departed.
-Wealthy disciple Joseph (who apparently was ignoring the whole wealth and heaven bit) begged Pilate for the body of Jesus. So Joseph put Jesus in a tomb WHICH JOSEPH (A DISCIPLE) HAD RECENTLY BUILT. Alarm bells, anyone? And notice how the stone is so MASSIVE that Joseph is able to move it into place by himself?
Pilate sends soldiers to guard the tomb so there can be no trickery.
28:1 In the end of the sabbath, as it began to dawn toward the first day of the week, came Mary Magdalene and the other Mary to see the sepulchre.

28:2 And, behold, there was a great earthquake: for the angel of the Lord descended from heaven, and came and rolled back the stone from the door, and sat upon it.

28:3 His countenance was like lightning, and his raiment white as snow:

28:4 And for fear of him the keepers did shake, and became as dead men.

28:5 And the angel answered and said unto the women, Fear not ye: for I know that ye seek Jesus, which was crucified.

28:6 He is not here: for he is risen, as he said. Come, see the place where the Lord lay.

28:7 And go quickly, and tell his disciples that he is risen from the dead; and, behold, he goeth before you into Galilee; there shall ye see him: lo, I have told you.
-Ah, how convenient that the unbelieving soldiers who could have confirmed the angel and disappearance of Jesus... drop dead. Anyone else seeing it play out a tad different in their minds? Like, say, the soldiers are killed by Jesus' followers? Plus an angel descends and the only people who seem to notice are Jesus' mom and sex buddy. And the door rolled open due to an earthquake! Not because we opened it! An earthquake that no one else seemed to notice.
28:12 And when they were assembled with the elders, and had taken counsel, they gave large money unto the soldiers,

28:13 Saying, Say ye, His disciples came by night, and stole him away while we slept.
-Seems right to me. People discover two dead soldiers, the door to the tomb wide open, Jesus missing, and the all the disciples have run off someplace. A MIRACLE!
28:16 Then the eleven disciples went away into Galilee, into a mountain where Jesus had appointed them.

28:17 And when they saw him,they worshipped him: but some doubted.

28:18 And Jesus came and spake unto them, saying, All power is given unto me in heaven and in earth.

28:19 Go ye therefore, and teach all nations, baptizing them in the name of the Father, and of the Son, and of the Holy Ghost:

28:20 Teaching them to observe all things whatsoever I have commanded you: and, lo, I am with you alway, even unto the end of the world. Amen.
-Are you fucking shitting me? His meeting place of choice is A FUCKING SECLUDED MOUNTAIN with only his disciples around to witness. Motherfucker, you just came back to life exactly as you claimed, why would you not present this massive piece of evidence to entire cities!?!?! And the parting wisdom he gives before he goes? Go preach to people.
"They worshiped him but some doubted?" These are the craziest of the crazy, the most fundamental extremist followers that Jesus has, and some of them are doubtful?? I'm supposed to believe a story told by a group of fanatics when some of them aren't even sure themselves? ELEVEN MEN. I'm expected to completely accept the inaccurate ramblings of a group of ELEVEN fishermen/sheep herders who lived during the intellect-free Bronze Age and had already dedicated their life to following this person around. Of course they're going to say they saw him rise from the dead! That's like getting all your information about aliens from people claiming to have been abducted. It's going to be pretty one sided.

This entire critique of Matthew has made me 20 times more baffled in Christianity. Good Lord!
---
"Ain't got no last words to say, yellow streak right up my spine. The gun in my mouth was real and the taste blew my mind."

"We see you cry. We turn your head. Then we slap your face. We see you try. We see you fail. Some things never change."
24-06-2011, 08:19 PM
(This post was last modified: 24-06-2011 08:27 PM by GirlyMan.)
GirlyMan

My Own Personal Jesus



Likes Given: 30,186
Likes Received: 36,210 in 17,779 posts

Posts: 33,241
Joined: May 2011
Reputation: 209
RE: An atheist's critique of the Bible
(24-06-2011 08:05 PM)

Buddy Christ Wrote:

The Pharisees and Sadducees come to Jesus, asking for a sign that he is God. And again he calls them evil, adulterous hypocrites.



-Why is Jesus so reluctant to simply confirm that he is a God. It's quite a massive claim to be making, the least you could do is prove it instead of calling them names.
He's afraid of what might happen if the Pharisees and Sadducees prematurely came to realize that they too are God. Can't say as I blame him none.
---
There is but one truly serious philosophical problem. - Camus
25-06-2011, 01:15 PM
lucradis Resident Evil



Likes Given: 4,106
Likes Received: 3,704 in 1,786 posts

Posts: 4,260
Joined: May 2011
Reputation: 54
RE: An atheist's critique of the Bible
I was going to reply to something you wrote, but then I saw the zombie last supper picture and nearly shit myself laughing. That was the greatest thing I`ve ever seen in relation to jesus.

I remember now.

How do christians find it so easy to believe that Jesus was white.... Like the only white guy in the whole country. That alone should show the rest of the world how we warp even the most mundane details to fit our interests.

I stole that picture, it`s now my background.
---
"I think of myself as an intelligent, sensitive human being with the soul of a clown which always forces me to blow it at the most important moments." -Jim Morrison
29-06-2011, 11:29 PM
(This post was last modified: 01-07-2011 06:56 PM by Buddy Christ.)
Likes Given: 44
Likes Received: 2,365 in 837 posts

Posts: 1,987
Joined: Nov 2010
Reputation: 56
RE: An atheist's critique of the Bible
(25-06-2011 01:15 PM)

lucradis Wrote: How do christians find it so easy to believe that Jesus was white.... Like the only white guy in the whole country. That alone should show the rest of the world how we warp even the most mundane details to fit our interests.
There was a thread about this on here a while back. It linked to
this site
as what Jesus realistically would have looked like. I posted it on my facebook and somehow offended every religious relative I have. Denial denial denial.
Now, onto:
1:1 The beginning of the gospel of Jesus Christ, the Son of God;

1:2 As it is written in the prophets, Behold, I send my messenger before thy face, which shall prepare thy way before thee.
-Might as well start off with SAB quotes while I finish my mountain dew... "Mark claims that John the Baptist fulfilled the prophecy given in Malachi (3:1, 4:1, 5). But the Malachi prophecy says that God will send Elijah before "the great and dreadful day of the LORD" in which the world will be consumed by fire. Yet John the Baptist flatly denied that he was Elijah (Elias) in John 1:21 and the earth was not destroyed after John's appearance.
The phrase "as it is written in the prophets" is not found in the oldest and best Greek manuscripts which say, rather, "as it is written in Isaiah." Scribes made the change to correct the mistake of attributing the quotation to Isaiah, since the first part of the quote is not from Isaiah, but from Ex.23:20 and Mal.3:1."
Ah. That was good dew.
Mark recounts the stories in Matthew of the baptism of Jesus, the going into the wilderness to be tempted, the finding the fishermen and getting them to be his disciples. Then Jesus goes to a synagogue and preaches "as someone with authority" which was probably pretty impressive to submissive peasants.

The people bring a bunch of sick and demon possessed people to Jesus.

1:34 And he healed many that were sick of divers diseases, and cast out many devils; and suffered not the devils to speak, because they knew him.
-Reinforcing my theory that Jesus was actually Satan, which is why he's so skilled at "casting out demons," Jesus doesn't allow the demons to speak, lest they go, "Hey! What's up Satan? What are you up to these days?"
I'm just going to start summarizing stories that were already covered in Matthew that are featured in Mark as well. Unless there's a difference in the stories, then I will gladly point it out.

-(Matt) Jesus heals a man with palsy by forgiving him of his sins.
-(Matt) Jesus eats with politicians and sinners and the disciples get jealous.
-(Matt) The Pharisees call Jesus out for doing stuff on the Sabbath.
-(Matt) Jesus bestows his power of healing and exorcism on his disciples.

3:18 And Andrew, and Philip, and Bartholomew, and Matthew, and Thomas, and James the son of Alphaeus, and Thaddaeus, and Simon the Canaanite,
-Who the hell is Thaddaeus? Mark claims him to be one of the disciples.
3:21 And when his friends heard of it, they went out to lay hold on him: for they said, He is beside himself.

3:22 And the scribes which came down from Jerusalem said, He hath Beelzebub, and by the prince of the devils casteth he out devils.
-Jesus' friends think he's insane and the scribes agree with me that he's actually Satan in disguise.
3:23 And he called them unto him, and said unto them in parables, How can Satan cast out Satan?

3:24 And if a kingdom be divided against itself, that kingdom cannot stand.
-Jesus uses his mind reading and picks up on it, and confuses them with parables. "How can Satan cast out Satan?" We didn't say you were casting out yourself, dumbass. That's like saying, "How can God command angels? God can't command God!"
Then Jesus uses the logical next step...
3:29 But he that shall blaspheme against the Holy Ghost hath never forgiveness, but is in danger of eternal damnation.
-Threats of eternal torture. "How dare you challenge me!?"
4:11 And he said unto them, Unto you it is given to know the mystery of the kingdom of God: but unto them that are without, all these things are done in parables:

4:12 That seeing they may see, and not perceive; and hearing they may hear, and not understand; lest at any time they should be converted, and their sins should be forgiven them.
-Once again, Jesus confirms that he's not here to help the sinners, just to deliver the few who believe in him. He's handing out tests to get into heaven. To his favorite students, he gives a square peg and a square hole. To the rest of the students, he gives a Rubik's cube 3 times the normal size. Seems fair, yes?
-(Matt) Storm and the boat and Jesus calms the weather.
5:2 And when he was come out of the ship, immediately there met him out of the tombs a man with an unclean spirit,

5:3 Who had his dwelling among the tombs; and no man could bind him, no, not with chains:

5:8 For he said unto him, Come out of the man, thou unclean spirit.

5:9 And he asked him, What is thy name? And he answered, saying, My name is Legion: for we are many.
-Though in Matthew, he claims that 2 men were possessed with demons. Now it's one man possessed by many demons. Cue the line that remains a favorites with nerds and Hollywood producers everywhere. We are Legion.
5:17 And they began to pray him to depart out of their coasts.

5:18 And when he was come into the ship, he that had been possessed with the devil prayed him that he might be with him.

5:19 Howbeit Jesus suffered him not, but saith unto him, Go home to thy friends, and tell them how great things the Lord hath done for thee, and hath had compassion on thee.

5:20 And he departed, and began to publish in Decapolis how great things Jesus had done for him: and all men did marvel.
-The people hear about the drowned pigs and ask Jesus to GTFO. This (now one) man asks to be part of Jesus' crew. Jesus tells him to go preach his name instead. Then he "publishes" the great things the Lord does in Decapolis. Does this mean that he just spoke about it or did he actually publish something? Anyone with biblical history knowledge feel free to pipe up.
5:23 And besought him greatly, saying, My little daughter lieth at the point of death: I pray thee, come and lay thy hands on her, that she may be healed; and she shall live.

5:26 And had suffered many things of many physicians, and had spent all that she had, and was nothing bettered, but rather grew worse,

5:29 And straightway the fountain of her blood was dried up; and she felt in her body that she was healed of that plague.
-Doctors and medicine only make the sickness worse. Faith healing is the true way to health.
5:30 And Jesus, immediately knowing in himself that virtue had gone out of him, turned him about in the press, and said, Who touched my clothes?
-This sentence is so dumb that I actually laughed out loud. I truly LOL'd. Much like a superhero, it drains Jesus of his powers every time he uses them. Then he's completely confused and slightly pissed as to who touched his clothes. This is the same guy that can read thoughts, but he can't win a game of "Which Hand Is It In."
5:37 And he suffered no man to follow him, save Peter, and James, and John the brother of James.
-So Mark has absolutely no idea what happened at this point in the story. Did he meet up with John later and copy his notes? Why even write about it if you weren't there? Jesus takes his small posse and goes and heals a 12 year old, then tells the family not to tell anyone about it.
6:3 Is not this the carpenter, the son of Mary, the brother of James, and Joses, and of Juda, and Simon? and are not his sisters here with us? And they were offended at him.
-So Jesus' family tree is now up to 4 brothers and 2 sisters, all from the blessed "virgin" Mary. Oh, and also, the people of Nazareth don't like him. And for some reason, Jesus can "do no mighty work" aka major miracles in Nazareth, so he's limited to just spreading his teachings.
-(Matt) Once again people are divided on who Jesus is. A prophet, a resurrected John the Baptist, the prophet Elijah?
-(Matt) Jesus feeds thousands with 5 bread and 2 fishes.
-(Matt) Jesus walks on water and calms the storm again.
-(Matt) The Pharisees accuse Jesus of not washing his hands again.
-(Matt) Woman begging for healing for her sick daughter, Jesus throws the "dog" a bone. Condescending Jesus.



7:32 And they bring unto him one that was deaf, and had an impediment in his speech; and they beseech him to put his hand upon him.

7:33 And he took him aside from the multitude, and put his fingers into his ears, and he spit, and touched his tongue;
-Jesus heals a deaf man by sticking his fingers in his ears, spitting... and then licking the man's earwax apparently.
8:22 And he cometh to Bethsaida; and they bring a blind man unto him, and besought him to touch him.

8:23 And he took the blind man by the hand, and led him out of the town; and when he had spit on his eyes, and put his hands upon him, he asked him if he saw ought.

8:24 And he looked up, and said, I see men as trees, walking.

8:25 After that he put his hands again upon his eyes, and made him look up: and he was restored, and saw every man clearly.
-Jesus spits on the eyes of a blind man (really necessary?) to cure him. Takes a few tries though, since at first he sees men as walking trees.
At this point, Mark's story is basically the exact same as Matthews (I realize the gospel of Mark came first). Mountaintop miracles, unfulfilled prophecies, calling his disciples worthless for not being able to cast out demons. I'm going to start skipping everything we've heard before and just mentioning the new stuff, if there is any.
9:38 And John answered him, saying, Master, we saw one casting out devils in thy name, and he followeth not us: and we forbad him, because he followeth not us.
-Apparently, anyone can cast out devils, even without Jesus' consent or knowledge. It's a very popular and lucrative profession during the age of morons.
10:13 And they brought young children to him, that he should touch them: and his disciples rebuked those that brought them.

10:14 But when Jesus saw it, he was much displeased, and said unto them, Suffer the little children to come unto me, and forbid them not: for of such is the kingdom of God.
-Jesus gets pissed that his disciples are keeping the children from coming unto him. Yeah, I said it.
10:19 Thou knowest the commandments, Do not commit adultery, Do not kill, Do not steal, Do not bear false witness, Defraud not, Honour thy father and mother.
-This time, Jesus' random 6th commandment is "defraud not" when in Matthew it was "love thy neighbor as thyself."
10:40 But to sit on my right hand and on my left hand is not mine to give; but it shall be given to them for whom it is prepared.
-The disciples ask Jesus if they can sit at his left and right hand when they die and go to heaven. Jesus says it's not up to him. Clearly Jesus definitively believes that he is NOT God. I understood this before from all the "Jesus was a Jew" comments, but why do Christians say he IS God? Is it later in the NT or did they just completely ignore him and believe in it anyways, just to spite him?
Same crap... blah blah
...throwing people out of the temple
...parables
...render unto Caesar
...end of the world signs
...ointment on Jesus' head
...cannibal dinner
...Judas kisses Jesus to signal the ambush (must be why God hates man on man action so much)



14:61 But he held his peace, and answered nothing. Again the high priest asked him, and said unto him, Art thou the Christ, the Son of the Blessed?

14:62 And Jesus said, I am: and ye shall see the Son of man sitting on the right hand of power, and coming in the clouds of heaven.
-In Matthew, when asked directly if Jesus is Christ the messiah... he shrugs it off with a "thou hast said it" but in Mark, he confidently answers "I AM."
As to who Peter denies knowing Jesus to, here's a fun vid.
15:25 And it was the third hour, and they crucified him.

15:26 And the superscription of his accusation was written over, THE KING OF THE JEWS.
-Whereas Matthew claims it says "THIS IS JESUS THE KING OF THE JEWS." All the gospels have a slightly different version of the sign. It's small, but effective at showing how messages and teachings can be muddled via word of mouth stories.
16:1 And when the sabbath was past, Mary Magdalene, and Mary the mother of James, and Salome, had bought sweet spices, that they might come and anoint him.

16:2 And very early in the morning the first day of the week, they came unto the sepulchre at the rising of the sun.

16:3 And they said among themselves, Who shall roll us away the stone from the door of the sepulchre?

16:4 And when they looked, they saw that the stone was rolled away: for it was very great.

16:5 And entering into the sepulchre, they saw a young man sitting on the right side, clothed in a long white garment; and they were affrighted.

16:6 And he saith unto them, Be not affrighted: Ye seek Jesus of Nazareth, which was crucified: he is risen; he is not here: behold the place where they laid him.
-So this time, instead of the 2 women approaching and an angel descending and the guards dying and an earthquake opening the tomb... it's already open and a dude is chilling in there to tell them where Jesus is. Seems even more like a disciple-job deception in this gospel than in Matthew. There aren't even guards this time.
Then instead of appearing to all his disciples on a mountainside, he appears randomly to small groups of them at a time. And no one believes them when they tell the story.

16:9 Now when Jesus was risen early the first day of the week, he appeared first to Mary Magdalene, out of whom he had cast seven devils.

16:12 After that he appeared in another form unto two of them, as they walked, and went into the country.

16:14 Afterward he appeared unto the eleven as they sat at meat, and upbraided them with their unbelief and hardness of heart, because they believed not them which had seen him after he was risen.
-And why is Jesus taking different forms? This time he isn't even "resurrected," he's just appearing to people as visions. What a letdown.
16:17 And these signs shall follow them that believe; In my name shall they cast out devils; they shall speak with new tongues;

16:18 They shall take up serpents; and if they drink any deadly thing, it shall not hurt them; they shall lay hands on the sick, and they shall recover.

16:19 So then after the Lord had spoken unto them, he was received up into heaven, and sat on the right hand of God.

16:20 And they went forth, and preached every where, the Lord working with them, and confirming the word with signs following. Amen.
-Christians should be able to handle snakes and drink poison. I know there are some churches that still do this, but it's non poisonous snakes and not actually poison that they're drinking. And now there's now ascension to heaven, he was just "received" into heaven. The Book of Mark is the most non-miraculous, unconvincing hunk of shit ever.

Jesus is no longer in the tomb, but instead there's a follower to tell people where Jesus went. The fact that a follower is already IN the tomb kinda tips you off as to what happened to the body of Jesus. Then Jesus takes different forms to appear as visions to a dozen people? Where's the miracle here? Where's the proof that this truly is a deity to be worshiped and followed?
---
"Ain't got no last words to say, yellow streak right up my spine. The gun in my mouth was real and the taste blew my mind."

"We see you cry. We turn your head. Then we slap your face. We see you try. We see you fail. Some things never change."
30-06-2011, 04:38 AM
Likes Given: 86
Likes Received: 62 in 44 posts

Posts: 313
Joined: Jun 2011
Reputation: 4
RE: An atheist's critique of the Bible
excellent as ever, though I think the new testament is rather boring and monotonous. That's due to it pretty much repeating the same stories over and over again, which you make a point.

If the bible is really god's word, why would he keep telling these men to repeat the same stories (albeit very different versions of the story). Seems counterproductive to me.
---

30-06-2011, 05:24 AM
Hughsie Ferdinand's Waifu



Likes Given: 1,236
Likes Received: 4,810 in 2,737 posts

Posts: 9,264
Joined: Apr 2011
Reputation: 109
RE: An atheist's critique of the Bible
Quote:Clearly Jesus definitively believes that he is NOT God. I understood this before from all the "Jesus was a Jew" comments, but why do Christians say he IS God?
I have pretty limited knowledge on this but from what I remember God IS Jesus but Jesus ISN'T God, if that makes any sense at all.
---
Best and worst of Ferdinand .....
Best
Ferdinand
: We don't really say 'theist' in Alabama. Here, you're either a Christian, or you're from Afghanistan and we fucking hate you.
Worst
Ferdinand
: Everyone from British is so, like, fucking retarded.
30-06-2011, 10:58 AM
Likes Given: 86
Likes Received: 62 in 44 posts

Posts: 313
Joined: Jun 2011
Reputation: 4
RE: An atheist's critique of the Bible
(30-06-2011 05:24 AM)

Hughsie Wrote:

Quote:Clearly Jesus definitively believes that he is NOT God. I understood this before from all the "Jesus was a Jew" comments, but why do Christians say he IS God?


I have pretty limited knowledge on this but from what I remember God IS Jesus but Jesus ISN'T God, if that makes any sense at all.
I think it's just another one of the bible's many many many contradictions. However, the mental gymnastics Christians use to defend this is "Well... the holy spirit is within all of us, so God is all of us"... or something to that affect. Truth be told, the whole Jesus-god-holy spirit thing has always deeply confused me.
---

02-07-2011, 03:47 PM
(This post was last modified: 04-07-2011 03:32 PM by Buddy Christ.)
Likes Given: 44
Likes Received: 2,365 in 837 posts

Posts: 1,987
Joined: Nov 2010
Reputation: 56
RE: An atheist's critique of the Bible
1:3 It seemed good to me also, having had perfect understanding of all things from the very first, to write unto thee in order, most excellent Theophilus,
-While I still don't understand what Luke is babbling about 3 verses in, at least our forum theist gets a shout out.
1:13 But the angel said unto him, Fear not, Zacharias: for thy prayer is heard; and thy wife Elisabeth shall bear thee a son, and thou shalt call his name John.
-Zacharias and Elizabeth pray and the angel Gabriel appears and blesses Elizabeth's old useless uterus (damn women!) with a child, who will grow up and do God's work. Why does God always take an interest in what the child is named? And that whole "Jesus was born of a virgin!" miracle thing seems less impressive since John the Baptist was born from a barren womb a few months before Jesus.
1:18 And Zacharias said unto the angel, Whereby shall I know this? for I am an old man, and my wife well stricken in years.

1:19 And the angel answering said unto him, I am Gabriel, that stand in the presence of God; and am sent to speak unto thee, and to shew thee these glad tidings.

1:20 And, behold, thou shalt be dumb, and not able to speak, until the day that these things shall be performed, because thou believest not my words, which shall be fulfilled in their season.
-Zacharias questions Gabriel so he makes Zach a mute just for asking. This is why I refuse to follow the Lord. His blessings often come with a curse on his faithful.
1:26 And in the sixth month the angel Gabriel was sent from God unto a city of Galilee, named Nazareth,

1:27 To a virgin espoused to a man whose name was Joseph, of the house of David; and the virgin's name was Mary.

1:28 And the angel came in unto her, and said, Hail, thou that art highly favoured, the Lord is with thee: blessed art thou among women.

1:31 And, behold, thou shalt conceive in thy womb, and bring forth a son, and shalt call his name JESUS.
-Gabriel swings by Nazareth just to give Mary a head's up about her future child. And to tell her what to name him. As for why they decided to translate the name of Yeshua into Jesus eludes me, since Yeshua translated into English would be closer to Joshua.
1:32 He shall be great, and shall be called the Son of the Highest: and the Lord God shall give unto him the throne of his father David:

1:33 And he shall reign over the house of Jacob for ever; and of his kingdom there shall be no end.
-Well... not quite, Gabriel. Jesus was actually more of a rebel outcast or a cult leader. Definitely not a great ruler over Israel. And the only people that called him the Son of God were his 12 disciples... everyone else thought he was lying or John the Baptist reincarnated.
1:34 Then said Mary unto the angel, How shall this be, seeing I know not a man?
-(Flinches) WATCH OUT BITCH!
1:35 And the angel answered and said unto her, The Holy Ghost shall come upon thee, and the power of the Highest shall overshadow thee: therefore also that holy thing which shall be born of thee shall be called the Son of God.
-Oh... nothing happened. Strange how Mary does the exact same thing as Zacharias and goes unpunished. Not much of a strict moral code among angels.
Mary goes to visit Elizabeth for their annual "Women Who Were Knocked Up By God" meeting.

1:41 And it came to pass, that, when Elisabeth heard the salutation of Mary, the babe leaped in her womb; and Elisabeth was filled with the Holy Ghost:
-John the Fetus is celebrating the presence of Mary in Beth's womb. He can sense righteousness.
1:59 And it came to pass, that on the eighth day they came to circumcise the child; and they called him Zacharias, after the name of his father.

1:60 And his mother answered and said, Not so; but he shall be called John.

1:61 And they said unto her, There is none of thy kindred that is called by this name.

1:62 And they made signs to his father, how he would have him called.

1:63 And he asked for a writing table, and wrote, saying, His name is John. And they marvelled all.

1:64 And his mouth was opened immediately, and his tongue loosed, and he spake, and praised God.
-The people are against the strange name choice, but the dad insists (and the easily marveled people are marveled), and Zacharias is able to speak again, so he praises God... for removing the curse that God put on him.
2:7 And she brought forth her firstborn son, and wrapped him in swaddling clothes, and laid him in a manger; because there was no room for them in the inn.

2:8 And there were in the same country shepherds abiding in the field, keeping watch over their flock by night.
-This time it's a manger... because some arbitrary inn was full. Matthew claims that Mary and Joseph lived in a house in Bethlehem, had Jesus, then moved to Nazareth. Luke claims that they lived in Nazareth, then moved to Bethlehem and had Jesus in a manger.
2:21 And when eight days were accomplished for the circumcising of the child, his name was called JESUS, which was so named of the angel before he was conceived in the womb.
-Jesus was circumcised. And the best part is that over the years many priests have claimed to have the
foreskin of Jesus
. Strange that even Jesus has to comply with the ritual of the covenant with God.
2:22 And when the days of her purification according to the law of Moses were accomplished, they brought him to Jerusalem, to present him to the Lord;
-Even though it was Jesus, Mary was still made "unclean" by her childbirth.
2:24 And to offer a sacrifice according to that which is said in the law of the Lord, A pair of turtledoves, or two young pigeons.
-Animal sacrifice is still approved in the New Testament, and the laws of the OT are still followed. But how many Christians do you see sacrificing animals after each menstrual cycle or birth?
2:33 And Joseph and his mother marvelled at those things which were spoken of him.
-Many manuscripts say "his father and his mother," but scribes later changed this to "Joseph and his mother" to avoid calling Joseph Jesus's father. (SAB)
(Does the "Bible being altered to better suit the Christian agenda" dance)
12 year old Jesus disobeys his parents and secretly stays behind in Jerusalem when they begin to journey back to Nazareth. They look for him a day later and find him in a temple, talking to priests.
-This is most likely when Jesus learned about all these prophecies that needed fulfilling.
2:52 And Jesus increased in wisdom and stature, and in favour with God and man.
-How can a god "increase in wisdom" or "gain favor with God"? Shouldn't the Son of God pretty much be omniscient? And are they saying it's possible for Jesus to fall out of favor with God? "I sent my son to die for mankind's sins, but he was a dick so I just left him down there."
Enter adult John the Baptist, calling everyone vipers and telling people to treat each other fairly and to give to the poor. John then baptizes Jesus... and a short while later is thrown in jail because the ruler Herod is banging his own brother's wife and John disapproves. Hopefully it turns out better for John in this book because in the other ones he was beheaded.
A long genealogy tracing Jesus back to Adam, who is also one of the many people referred to as the "son of God."
4:1 And Jesus being full of the Holy Ghost returned from Jordan, and was led by the Spirit into the wilderness,
-So if Jesus is full of the Holy Ghost and prays to God... then the 3 are all separate entities, not some interchangeable trinity most people try and claim ("it's like water... it can be ice, liquid, or vapor!").
(Does this explanation make sense to anyone?)
Jesus goes to a synagogue in Nazareth and preaches and claims his godliness. The people are baffled and dismiss him with a "Is this not Joseph's son?" to which Jesus sighs and goes "No prophet is accepted in his own country." And continues until he pisses everyone off.

4:28 And all they in the synagogue, when they heard these things, were filled with wrath,

4:29 And rose up, and thrust him out of the city, and led him unto the brow of the hill whereon their city was built, that they might cast him down headlong.

4:30 But he passing through the midst of them went his way,
-Jesus' own neighbors are so pissed at his self-righteous blasphemy that they try to throw him off a cliff, but he manages to run away.
5:5 And Simon answering said unto him, Master, we have toiled all the night, and have taken nothing: nevertheless at thy word I will let down the net.

5:6 And when they had this done, they inclosed a great multitude of fishes: and their net brake.

5:7 And they beckoned unto their partners, which were in the other ship, that they should come and help them. And they came, and filled both the ships, so that they began to sink.

5:8 When Simon Peter saw it, he fell down at Jesus' knees, saying, Depart from me; for I am a sinful man, O Lord.

5:11 And when they had brought their ships to land, they forsook all, and followed him.
-It's finally explained how Jesus convinced the fishermen to be his disciples. He tells them to lower their nets and they catch so much fish that the net rips and almost sinks their ships. This is apparently enough for every man to abandon their families and follow Jesus around.
6:27 But I say unto you which hear, Love your enemies, do good to them which hate you,

6:28 Bless them that curse you, and pray for them which despitefully use you.

6:29 And unto him that smiteth thee on the one cheek offer also the other; and him that taketh away thy cloak forbid not to take thy coat also.
-Jesus preaches to embrace submissive behavior. If your fellow human being beats you mercilessly, you should love him for it, and take part in your torture (turn the other cheek, give more than asked for). So if a man stabs you, you should grab the handle and help him out, then thank him for the stabbing.
A sinful woman washes Jesus' feet with her tears and dries them with her hair and kisses his feet... so Jesus forgives her of her sins.
-That has nothing to do with love or morals or who deserves to be forgiven. Jesus the Narcissistic loves submission and since his ego was stroked, he forgave someone who didn't even ask for forgiveness.
8:2 And certain women, which had been healed of evil spirits and infirmities, Mary called Magdalene, out of whom went seven devils,
-You think it would get a bit crowded in a soul with seven devils. I wonder how many devils are in us godless atheists?
8:27 And when he went forth to land, there met him out of the city a certain man, which had devils long time, and ware no clothes, neither abode in any house, but in the tombs.
-It's still one man with many demons... only this time he's naked.
9:40 And I besought thy disciples to cast him out; and they could not.

9:41 And Jesus answering said, O faithless and perverse generation, how long shall I be with you, and suffer you? Bring thy son hither.
-I've mentioned this before, but it amazes me that Jesus is an uppity dick even to his closest followers.
(Could you put the damn sheep down for a second, Jesus? I get the symbolism already.)
A lot of shit happens, most of it the same stuff as before.

10:21 In that hour Jesus rejoiced in spirit, and said, I thank thee, O Father, Lord of heaven and earth, that thou hast hid these things from the wise and prudent, and hast revealed them unto babes: even so, Father; for so it seemed good in thy sight.
-For some reason Jesus is delighted that only morons and children listen to him.
10:30 And Jesus answering said, A certain man went down from Jerusalem to Jericho, and fell among thieves, which stripped him of his raiment, and wounded him, and departed, leaving him half dead.

10:31 And by chance there came down a certain priest that way: and when he saw him, he passed by on the other side.

10:32 And likewise a Levite, when he was at the place, came and looked on him, and passed by on the other side.

10:33 But a certain Samaritan, as he journeyed, came where he was: and when he saw him, he had compassion on him,

10:34 And went to him, and bound up his wounds, pouring in oil and wine, and set him on his own beast, and brought him to an inn, and took care of him.

10:35 And on the morrow when he departed, he took out two pence, and gave them to the host, and said unto him, Take care of him; and whatsoever thou spendest more, when I come again, I will repay thee.

10:36 Which now of these three, thinkest thou, was neighbour unto him that fell among the thieves?
-Like a good neighbor, Samaritan is there.
11:19 And if I by Beelzebub cast out devils, by whom do your sons cast them out? therefore shall they be your judges.
-Jesus says, "If I'm casting out devils through Satan, then who do your people use to cast out devils?" ...Other people cast out devils.
11:27 And it came to pass, as he spake these things, a certain woman of the company lifted up her voice, and said unto him, Blessed is the womb that bare thee, and the paps which thou hast sucked.

11:28 But he said, Yea rather, blessed are they that hear the word of God, and keep it.
-Jesus is clearly proud of his mother, as displayed when someone praises the mother who birthed him... and he blows her off and says God's followers are more worthy of praise.
12:4 And I say unto you my friends, Be not afraid of them that kill the body, and after that have no more that they can do.

12:5 But I will forewarn you whom ye shall fear: Fear him, which after he hath killed hath power to cast into hell; yea, I say unto you, Fear him.
-Don't fear other humans, because the worst they can do is kill you. Fear God, because he can kill you, then cast you into hell forever. I'm assuming Christ is referring to God, because it wouldn't be very Jesus-y to say "fear Satan."
12:51 Suppose ye that I am come to give peace on earth? I tell you, Nay; but rather division:

12:52 For from henceforth there shall be five in one house divided, three against two, and two against three.

12:53 The father shall be divided against the son, and the son against the father; the mother against the daughter, and the daughter against the mother; the mother in law against her daughter in law, and the daughter in law against her mother in law.
-Jesus Christ; the only man that can bring peace, while not actually bringing peace at all.
13:14 And the ruler of the synagogue answered with indignation, because that Jesus had healed on the sabbath day, and said unto the people, There are six days in which men ought to work: in them therefore come and be healed, and not on the sabbath day.

13:15 The Lord then answered him, and said, Thou hypocrite, doth not each one of you on the sabbath loose his ox or his ass from the stall, and lead him away to watering?
-Jesus heals a lady in a synagogue on the Sabbath, and the priests are mad because the people who obeyed their religion and stayed home on the Sabbath weren't able to be healed. And Jesus the Wise, instead of saying something insightful, calls them names and basically says,"If you guys do things on the Sabbath, then why can't I?" Instead of setting a shining example, Jesus sins because the rest of us choose to.
13:23 Then said one unto him, Lord, are there few that be saved? And he said unto them,

13:24 Strive to enter in at the strait gate: for many, I say unto you, will seek to enter in, and shall not be able.
-So much for the "he who seeketh heaven shall find it" line from Matthew. It sounds like heaven is a gated community and if you don't know where the secret door is, then you can't get in.
14:26 If any man come to me, and hate not his father, and mother, and wife, and children, and brethren, and sisters, yea, and his own life also, he cannot be my disciple.

14:33 So likewise, whosoever he be of you that forsaketh not all that he hath, he cannot be my disciple.
-Sounds like someone has daddy issues. You must hate your whole family and yourself and give away all you have if you want to follow Jesus. God only likes poor emo kids.
16:16 The law and the prophets were until John: since that time the kingdom of God is preached, and every man presseth into it.
-So the OT laws were only to be followed until John the Baptist, well thanks for clearing that u....
16:17 And it is easier for heaven and earth to pass, than one tittle of the law to fail.
-Well, now which is it Jesus? This is a pretty important piece of information, can you try to be more concise?
THE PARABLE OF LAZARUS
16:19 There was a certain rich man, which was clothed in purple and fine linen, and fared sumptuously every day:

16:20 And there was a certain beggar named Lazarus, which was laid at his gate, full of sores,

16:21 And desiring to be fed with the crumbs which fell from the rich man's table: moreover the dogs came and licked his sores.

16:22 And it came to pass, that the beggar died, and was carried by the angels into Abraham's bosom: the rich man also died, and was buried;

16:23 And in hell he lift up his eyes, being in torments, and seeth Abraham afar off, and Lazarus in his bosom.

16:24 And he cried and said, Father Abraham, have mercy on me, and send Lazarus, that he may dip the tip of his finger in water, and cool my tongue; for I am tormented in this flame.

16:25 But Abraham said, Son, remember that thou in thy lifetime receivedst thy good things, and likewise Lazarus evil things: but now he is comforted, and thou art tormented.

16:26 And beside all this, between us and you there is a great gulf fixed: so that they which would pass from hence to you cannot; neither can they pass to us, that would come from thence.

16:27 Then he said, I pray thee therefore, father, that thou wouldest send him to my father's house:

16:28 For I have five brethren; that he may testify unto them, lest they also come into this place of torment.

16:29 Abraham saith unto him, They have Moses and the prophets; let them hear them.

16:30 And he said, Nay, father Abraham: but if one went unto them from the dead, they will repent.

16:31 And he said unto him, If they hear not Moses and the prophets, neither will they be persuaded, though one rose from the dead.
-So there's a rich man who dies and a poor man named Lazarus who dies. The rich man goes to hell because he had a good life... and Lazarus goes to heaven because he was poor and had a shitty life. And apparently you can see heaven from hell and talk to angels. So the rich man asks the angel to send Lazarus to his house to convince his brothers so they won't end up in hell also. The angel tells him to go fuck himself.
-The first thing the rich man is concerned with is the well being of his family, so clearly he's not evil. And yet he deserves hell because he was lucky enough to be born into a good life?
17:27 They did eat, they drank, they married wives, they were given in marriage, until the day that Noe entered into the ark, and the flood came, and destroyed them all.
-Jesus believes in the story of Noah. So if you don't believe it, you are calling Jesus a liar. Your move, logic part of the brain.
Jesus just starts spouting out random nonsense.

17:32 Remember Lot's wife.

17:33 Whosoever shall seek to save his life shall lose it; and whosoever shall lose his life shall preserve it.

17:34 I tell you, in that night there shall be two men in one bed; the one shall be taken, and the other shall be left.

17:35 Two women shall be grinding together; the one shall be taken, and the other left.

17:36 Two men shall be in the field; the one shall be taken, and the other left.

17:37 And they answered and said unto him, Where, Lord? And he said unto them, Wheresoever the body is, thither will the eagles be gathered together.
-I do remember Lot's wife and I still have no idea why God felt it necessary to turn her into salt. Did you have a point you wanted to make with that Jesus? And the "two women grinding together" just sounds naughty. And apparently those who wish to die will live. And eagles will eat the bodies of the missing people. Thanks for the clear messages, Lord.
18:11 The Pharisee stood and prayed thus with himself, God, I thank thee, that I am not as other men are, extortioners, unjust, adulterers, or even as this publican.

18:12 I fast twice in the week, I give tithes of all that I possess.

18:13 And the publican, standing afar off, would not lift up so much as his eyes unto heaven, but smote upon his breast, saying, God be merciful to me a sinner.

18:14 I tell you, this man went down to his house justified rather than the other: for every one that exalteth himself shall be abased; and he that humbleth himself shall be exalted.
-Submission submission submission. I'm sorry. I can't be a Christian, because I take pride in who I am and what I believe. I won't bow to some douche of a god.
18:19 And Jesus said unto him, Why callest thou me good? none is good, save one, that is, God.

18:20 Thou knowest the commandments, Do not commit adultery, Do not kill, Do not steal, Do not bear false witness, Honour thy father and thy mother.
-This time Jesus only goes with five. He routinely ignores the ones about having other gods and the sabbath and god's name in vain.
19:27 But those mine enemies, which would not that I should reign over them, bring hither, and slay them before me.
-It's hard to tell if this is Jesus talking, or if he's still telling the parable from the last 20 verses, but since the ruler in the parable is supposed to be God in this instance, I guess it doesn't really matter.
21:1 And he looked up, and saw the rich men casting their gifts into the treasury.

21:2 And he saw also a certain poor widow casting in thither two mites.

21:3 And he said, Of a truth I say unto you, that this poor widow hath cast in more than they all:

21:4 For all these have of their abundance cast in unto the offerings of God: but she of her penury hath cast in all the living that she had.
-Jesus was a fan of the progressive tax.
22:3 Then entered Satan into Judas surnamed Iscariot, being of the number of the twelve.
-This is the first mention that Judas was actually possessed by Satan. It seems rather odd that Jesus would allow this to happen.
22:30 That ye may eat and drink at my table in my kingdom, and sit on thrones judging the twelve tribes of Israel.
-Apparently Judas is still getting into heaven.
22:35 And he said unto them, When I sent you without purse, and scrip, and shoes, lacked ye any thing? And they said, Nothing.

22:36 Then said he unto them, But now, he that hath a purse, let him take it, and likewise his scrip: and he that hath no sword, let him sell his garment, and buy one.
-Sell whatever you own and buy a sword? How will that help me get into heaven? Do I have to battle the guards of the pearly gates?
22:42 Saying, Father, if thou be willing, remove this cup from me: nevertheless not my will, but thine, be done.

22:43 And there appeared an angel unto him from heaven, strengthening him.

22:44 And being in an agony he prayed more earnestly: and his sweat was as it were great drops of blood falling down to the ground.
-Jesus goes off to pray by himself to ask God to reconsider this whole crucifixion thing. Only this time, Jesus sweats big drops of blood. These verses are found in only some of the oldest manuscripts, so it's unsure as to their validity.

Peter denies this time to a maid, a man, and another man. Then:

22:70 Then said they all, Art thou then the Son of God? And he said unto them, Ye say that I am.
-Back to the original story of "if you say so." For a couple dudes telling the exact same story, it is riddled with inconsistencies.
23:42 And he said unto Jesus, Lord, remember me when thou comest into thy kingdom.

23:43 And Jesus said unto him, Verily I say unto thee, to day shalt thou be with me in paradise.
-This time around, instead of two thieves who both mock him, Jesus is now buddies with one of them and promises him heaven. Jesus is very random about who he hands out his VIP access cards. If you happen to be around him and say something nice, you're in.
24:1 Now upon the first day of the week, very early in the morning, they came unto the sepulchre, bringing the spices which they had prepared, and certain others with them.

24:2 And they found the stone rolled away from the sepulchre.

24:3 And they entered in, and found not the body of the Lord Jesus.

24:4 And it came to pass, as they were much perplexed thereabout, behold, two men stood by them in shining garments:
-Sigh. Now there's two men in the tomb. Get your shit together, disciples.
24:6 He is not here, but is risen: remember how he spake unto you when he was yet in Galilee,

24:7 Saying, The Son of man must be delivered into the hands of sinful men, and be crucified, and the third day rise again.
-Apparently these men are here just to remind people about the prophecy. Remember that he said it? Look, he's not here anymore! Ta-da!
24:10 It was Mary Magdalene and Joanna, and Mary the mother of James, and other women that were with them, which told these things unto the apostles.

24:11 And their words seemed to them as idle tales, and they believed them not.
-For devoting their lives to following Jesus, the apostles seem constantly skeptical of Jesus and his miracles.
Later two of Jesus' disciples are walking in a town called Emmaus and Jesus approaches them but they don't recognize him, so he asks them why they're so sad and they ask Jesus (who is apparently in disguise) how he hasn't heard the tale about Jesus of Nazareth's death. They ask him if he's new to the area.
-So Jesus finally walks around somewhere besides a secluded mountaintop, and his disciples don't recognize him. How very interesting.
These two men ask Jesus Incognito to come home for dinner with them.

24:30 And it came to pass, as he sat at meat with them, he took bread, and blessed it, and brake, and gave to them.

24:31 And their eyes were opened, and they knew him; and he vanished out of their sight.
-Jesus makes himself identifiable... and then vanishes into thin air? Sounds like a believable story to me.
24:36 And as they thus spake, Jesus himself stood in the midst of them, and saith unto them, Peace be unto you.

24:37 But they were terrified and affrighted, and supposed that they had seen a spirit.
-As the two are telling the story to the other disciples, Jesus appears in the middle of them and says Peace, motherfuckers! And understandably they shit their pants.
24:40 And when he had thus spoken, he shewed them his hands and his feet.

24:41 And while they yet believed not for joy, and wondered, he said unto them, Have ye here any meat?

24:42 And they gave him a piece of a broiled fish, and of an honeycomb.

24:43 And he took it, and did eat before them.
-Jesus shows them his hands and feet to prove that it's him. Then he's asks for some food, because resurrection is tiring and builds an appetite.
24:44 And he said unto them, These are the words which I spake unto you, while I was yet with you, that all things must be fulfilled, which were written in the law of Moses, and in the prophets, and in the psalms, concerning me.

24:45 Then opened he their understanding, that they might understand the scriptures,

24:46 And said unto them, Thus it is written, and thus it behoved Christ to suffer, and to rise from the dead the third day:
-Another OT "prophecy" pulled straight from his ass.
24:51 And it came to pass, while he blessed them, he was parted from them, and carried up into heaven.
-The carried up into heaven part is believed to be a later addition to the manuscript. Originally, he just blesses them and walks away.
Alright so here's the deal. The only people to see a resurrected Jesus are the 11 disciples, and in every gospel, it's a completely different story. They were all up in a mountain... then he appears to them individually as a vision... now he pops up in the middle of them all in a house somewhere in Jerusalem. These are pretty big fucking discrepancies, riddled with disciples filled with disbelief, doubt, and don't recognize the various Jesuses.
---
"Ain't got no last words to say, yellow streak right up my spine. The gun in my mouth was real and the taste blew my mind."

"We see you cry. We turn your head. Then we slap your face. We see you try. We see you fail. Some things never change."
The following 1 user Likes Buddy Christ's post:
1 user Likes Buddy Christ's post
monkeyshine89
(03-07-2011)
09-07-2011, 09:35 PM
(This post was last modified: 22-08-2011 04:09 PM by Buddy Christ.)
Likes Given: 44
Likes Received: 2,365 in 837 posts

Posts: 1,987
Joined: Nov 2010
Reputation: 56
RE: An atheist's critique of the Bible
1:1 In the beginning was the Word, and the Word was with God, and the Word was God.
-I find this first verse to be highly offensive and false. Have you heard about the word? Everybody knows that the bird is the word.
A well a
Bird bird bird
Bird is the word
-See? This is a fun environment. Welcome to Buddy Christ's house, now take off your pants... and get comfortable, cause comfort is the name of the game and bird is the word.
1:2 The same was in the beginning with God.

1:3 All things were made by him; and without him was not any thing made that was made.

1:4 In him was life; and the life was the light of men.

1:5 And the light shineth in darkness; and the darkness comprehended it not.

1:6 There was a man sent from God, whose name was John.

1:7 The same came for a witness, to bear witness of the Light, that all men through him might believe.

1:8 He was not that Light, but was sent to bear witness of that Light.
-The Gospel of John has the structure and prose of a first year poetry student. "All things were made by him; and without him was not any thing made that was made." And by first year poetry student, I mean all coherency is discarded for nonsense in an effort to impress. The second part of that verse is worthless and nonsensical.
1:21 And they asked him, What then? Art thou Elias? And he saith, I am not. Art thou that prophet? And he answered, No.
-John seems to disagree with Christ's claims that John is actually Elias.
1:28 These things were done in Bethabara beyond Jordan, where John was baptizing.
-According to historians, Bethabara doesn't seem to have ever existed.
Jesus goes to a marriage and they run out of wine.

2:3 And when they wanted wine, the mother of Jesus saith unto him, They have no wine.

2:4 Jesus saith unto her, Woman, what have I to do with thee? mine hour is not yet come.
-And Jesus responds with his usual amount of respect for his mother, "Woman, what am I gonna do with you?"
2:8 And he saith unto them, Draw out now, and bear unto the governor of the feast. And they bare it.

2:9 When the ruler of the feast had tasted the water that was made wine, and knew not whence it was: (but the servants which drew the water knew) the governor of the feast called the bridegroom,

2:10 And saith unto him, Every man at the beginning doth set forth good wine; and when men have well drunk, then that which is worse: but thou hast kept the good wine until now.
-Jesus Brand Wine is apparently of a high alcohol content. Jesus embraces alcoholism.
2:14 And found in the temple those that sold oxen and sheep and doves, and the changers of money sitting:

2:15 And when he had made a scourge of small cords, he drove them all out of the temple, and the sheep, and the oxen; and poured out the changers' money, and overthrew the tables;
-Jesus the Peaceful makes a fucking scourge and flips over tables.
3:1 There was a man of the Pharisees, named Nicodemus, a ruler of the Jews:

3:2 The same came to Jesus by night, and said unto him, Rabbi, we know that thou art a teacher come from God: for no man can do these miracles that thou doest, except God be with him.

3:3 Jesus answered and said unto him, Verily, verily, I say unto thee, Except a man be born again, he cannot see the kingdom of God.

3:4 Nicodemus saith unto him, How can a man be born when he is old? can he enter the second time into his mother's womb, and be born?

3:5 Jesus answered, Verily, verily, I say unto thee, Except a man be born of water and of the Spirit, he cannot enter into the kingdom of God.
-Jesus throws out yet another arbitrary thing that humans must do to enter heaven. You must be reborn through water. Why? And what about all the people who died before you told us this? They didn't have to be reborn, so why are you even enforcing this law?
3:13 And no man hath ascended up to heaven, but he that came down from heaven, even the Son of man which is in heaven.
-I clearly remember Elijah riding up to heaven in a whirlwind.
3:15 That whosoever believeth in him should not perish, but have eternal life.

3:16 For God so loved the world, that he gave his only begotten Son, that whosoever believeth in him should not perish, but have everlasting life.
-Everyone's favorite. Jesus is referring to himself in the third person.
4:5 Then cometh he to a city of Samaria, which is called Sychar, near to the parcel of ground that Jacob gave to his son Joseph.

4:6 Now Jacob's well was there. Jesus therefore, being wearied with his journey, sat thus on the well: and it was about the sixth hour.

4:7 There cometh a woman of Samaria to draw water: Jesus saith unto her, Give me to drink.

4:8 (For his disciples were gone away unto the city to buy meat.)
-Jesus can animate the dead and cure lepers no problem, but boy does all that walking tire him out. So he sees a woman getting water and demands that she give him water, since his usual slaves are off getting him food.
4:9 Then saith the woman of Samaria unto him, How is it that thou, being a Jew, askest drink of me, which am a woman of Samaria? for the Jews have no dealings with the Samaritans.

4:10 Jesus answered and said unto her, If thou knewest the gift of God, and who it is that saith to thee, Give me to drink; thou wouldest have asked of him, and he would have given thee living water.
-The woman to Jesus: Who the hell do you think you are?
-Jesus to the woman: Bitch, if you knew who I was you'd be begging ME for water.
5:16 And therefore did the Jews persecute Jesus, and sought to slay him, because he had done these things on the sabbath day.

5:17 But Jesus answered them, My Father worketh hitherto, and I work.

5:18 Therefore the Jews sought the more to kill him, because he not only had broken the sabbath, but said also that God was his Father, making himself equal with God.
-Jesus heals a bunch of people on the Sabbath and again, the people get pissed because he's ignoring the laws of the OT. Jesus plays the role of the spoiled rich kid, "My dad does it, so I can too."
5:46 For had ye believed Moses, ye would have believed me; for he wrote of me.
-Moses... definitely didn't mention you, Jesus. The idea of you hadn't been thought up yet.
Jesus multiplies the bread/fish, walks on water, and is rejected by his neighbors in Nazareth again.
6:48 I am that bread of life.

6:49 Your fathers did eat manna in the wilderness, and are dead.

6:50 This is the bread which cometh down from heaven, that a man may eat thereof, and not die.

6:51 I am the living bread which came down from heaven: if any man eat of this bread, he shall live for ever: and the bread that I will give is my flesh, which I will give for the life of the world.
-Jesus the Poet confusing more people with his bread/flesh analogy, while apparently promoting cannibalism. Can I put butter on my Jesus Bread Flesh? The Son of God is a little bland.
6:52 The Jews therefore strove among themselves, saying, How can this man give us his flesh to eat?

6:53 Then Jesus said unto them, Verily, verily, I say unto you, Except ye eat the flesh of the Son of man, and drink his blood, ye have no life in you.

6:54 Whoso eateth my flesh, and drinketh my blood, hath eternal life; and I will raise him up at the last day.

6:55 For my flesh is meat indeed, and my blood is drink indeed.

6:56 He that eateth my flesh, and drinketh my blood, dwelleth in me, and I in him.

6:57 As the living Father hath sent me, and I live by the Father: so he that eateth me, even he shall live by me.

6:58 This is that bread which came down from heaven: not as your fathers did eat manna, and are dead: he that eateth of this bread shall live for ever.

6:60 Many therefore of his disciples, when they had heard this, said, This is an hard saying; who can hear it?

6:61 When Jesus knew in himself that his disciples murmured at it, he said unto them, Doth this offend you?

6:62 What and if ye shall see the Son of man ascend up where he was before?

6:63 It is the spirit that quickeneth; the flesh profiteth nothing: the words that I speak unto you, they are spirit, and they are life.

6:64 But there are some of you that believe not. For Jesus knew from the beginning who they were that believed not, and who should betray him.

6:65 And he said, Therefore said I unto you, that no man can come unto me, except it were given unto him of my Father.

6:66 From that time many of his disciples went back, and walked no more with him.
-Read these verses carefully. Jesus is seriously asking his followers to eat him. My flesh is meat and my blood is drink. People are so grossed out by his Cult of Cannibalism, they departed from him.
6:67 Then said Jesus unto the twelve, Will ye also go away?

6:68 Then Simon Peter answered him, Lord, to whom shall we go? thou hast the words of eternal life.

6:69 And we believe and are sure that thou art that Christ, the Son of the living God.

6:70 Jesus answered them, Have not I chosen you twelve, and one of you is a devil?
-The only ones to stay are the 12 disciples, mainly because "Well... we can't really leave, can we? We want eternal life." Then Jesus points out that one of his chosen apostles is actually a devil? And no one finds this weird or asks him about it?
7:1 After these things Jesus walked in Galilee: for he would not walk in Jewry, because the Jews sought to kill him.

7:2 Now the Jew's feast of tabernacles was at hand.

7:3 His brethren therefore said unto him, Depart hence, and go into Judaea, that thy disciples also may see the works that thou doest.

7:4 For there is no man that doeth any thing in secret, and he himself seeketh to be known openly. If thou do these things, shew thyself to the world.

7:5 For neither did his brethren believe in him.
-Hey Jesus, the Jews want to kill you and your own family doesn't believe you, how bout you come with us to the feast and prove yourself?
Jesus secretly sneaks into a temple while the feast is going on and spews more misquotes from the Bible.

7:38 He that believeth on me, as the scripture hath said, out of his belly shall flow rivers of living water.
-Where does it say this exactly?
The story of the woman adulterer and the quote:

8:7 So when they continued asking him, he lifted up himself, and said unto them, He that is without sin among you, let him first cast a stone at her.
-This is one of the best-known and most-loved of all Bible stories, but it shouldn't be in the Bible. For although some manuscripts put it here, others after John 7:36 or 21:35, or Luke 21:38, it is not found anywhere in the oldest and best manuscripts. (SAB)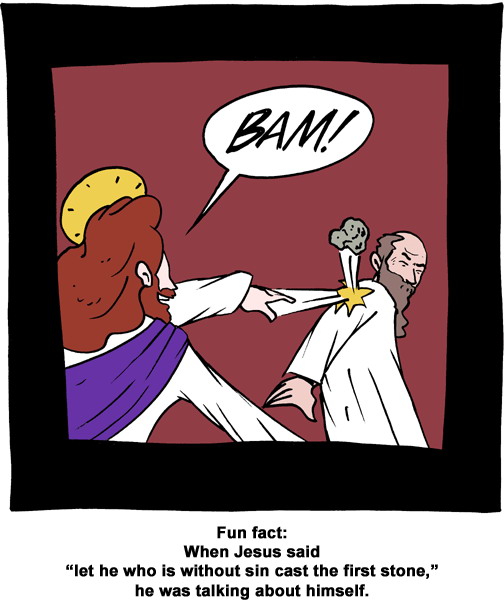 8:15 Ye judge after the flesh; I judge no man.
-Well that's just plain incorrect, Jesus. You judge men all the time.
8:16 And yet if I judge, my judgment is true: for I am not alone, but I and the Father that sent me.
-Ok. I judge no man... but when I DO judge man, I am right to do so. Dynamite stuff.
8:32 And ye shall know the truth, and the truth shall make you free.
-Says the greatest liar in history.
8:40 But now ye seek to kill me, a man that hath told you the truth, which I have heard of God: this did not Abraham.
-Jesus referring to himself as simply a man who is doing God's work. Christians... why are you worshiping this human again?
The Jews become convinced that Jesus is a devil born from Satan, and after a debate, they reach a conclusion.

8:51 Verily, verily, I say unto you, If a man keep my saying, he shall never see death.

8:52Then said the Jews unto him, Now we know that thou hast a devil. Abraham is dead, and the prophets; and thou sayest, If a man keep my saying, he shall never taste of death.
-Gotcha. 11 people think Jesus is the Son of God, and the entire Jewish nation thinks he's a servant of Satan. Majority rules.
Jesus is losing them so he starts speaking jibberish:

8:56 Your father Abraham rejoiced to see my day: and he saw it, and was glad.

8:57 Then said the Jews unto him, Thou art not yet fifty years old, and hast thou seen Abraham?

8:58 Jesus said unto them, Verily, verily, I say unto you, Before Abraham was, I am.

8:59 Then took they up stones to cast at him: but Jesus hid himself, and went out of the temple, going through the midst of them, and so passed by.
-Your beloved Abraham liked me, why don't you? "How could you have seen Abraham, you're not even 50?" Um... I was there... before Abraham... "Right, let's stone this crazy motherfucker." (RABBLE!)
They run into yet another blind man (seem to be quite a bit of them wandering around) and Jesus claims that this man was born blind just so Jesus could heal him. So Jesus spits on the ground and rubs muddy spit into the man's eyes. Healed!
9:39 And Jesus said, For judgment I am come into this world, that they which see not might see; and that they which see might be made blind.
-Completely contradicting 8:15, Jesus now claims his purpose for coming to Earth is to judge people, to cure the blind, and to make blind those who can see.. all metaphorically of course. So after Jesus heals the blind, does he make them blind again?
10:1 Verily, verily, I say unto you, He that entereth not by the door into the sheepfold, but climbeth up some other way, the same is a thief and a robber.

10:2 But he that entereth in by the door is the shepherd of the sheep.
-Look Jesus, you made the effort to come to Earth and tell people this really important message directly from God... could you just once be precise and clear? Does everything you say have to be a riddle or a metaphor? Could you just go, "Hey, don't kill people, don't steal their stuff, and try to appreciate everything God has done"? Must you always go, "Alright, a man has 2 sticks of bubblegum, and one stick he breaketh in 2, and the other he dippeth in chocolate and cast it into the sea. Likewise, men must break and cast of themselves" ?
10:6 This parable spake Jesus unto them: but they understood not what things they were which he spake unto them.
-Of course not. So Jesus goes, "Look...
10:7 Then said Jesus unto them again, Verily, verily, I say unto you, I am the door of the sheep.

10:8 All that ever came before me are thieves and robbers: but the sheep did not hear them.

10:9 I am the door: by me if any man enter in, he shall be saved, and shall go in and out, and find pasture.
-It's simple. I'm a door, and if you enter me you'll end up in a sheep pasture. Duh.
10:19 There was a division therefore again among the Jews for these sayings.

10:20 And many of them said, He hath a devil, and is mad; why hear ye him?
-Even the people who lived
with
Jesus called him insane, and we are supposed to embrace him as a deity 2000 years later, with mistranslation and guesswork as our sources?
10:29 My Father, which gave them me, is greater than all; and no man is able to pluck them out of my Father's hand.

10:30 I and my Father are one.
-Ah, a source of Christian claims? Of course that verse does follow one that praises God as a separate entity. But then why even expect clarity from the Bible?
10:31 Then the Jews took up stones again to stone him.
-That would be my response as well.
10:33 The Jews answered him, saying, For a good work we stone thee not; but for blasphemy; and because that thou, being a man, makest thyself God.

10:34 Jesus answered them, Is it not written in your law, I said, Ye are gods?
-Jesus the Silver Tongued uses his wordsmith abilities and claims, "Sure I claim to be God, but we are ALL Gods!"
10:37 If I do not the works of my Father, believe me not.

10:38 But if I do, though ye believe not me, believe the works: that ye may know, and believe, that the Father is in me, and I in him.

10:39 Therefore they sought again to take him: but he escaped out of their hand,
-Jesus now claims that he is IN God and God is IN him. And once again, the people chase Jesus out of town (must be hard to run in sandals).
11:4 When Jesus heard that, he said, This sickness is not unto death, but for the glory of God, that the Son of God might be glorified thereby.
-Lazarus is only sick, but Jesus says that he has to die since a resurrection would bring more glory than a simple heal.
Lazarus becomes part of the gospel stories when previously he wasn't mentioned. When Jesus is wasting expensive oil on himself instead of the poor, Lazarus is now in the room. When Jesus rides into town on a colt/ass, the people lead the way proclaiming, "This is the man who rose Lazarus from the dead."
-You would think that a man raising another man from the dead would be mentioned in the other gospels.
13:4 He riseth from supper, and laid aside his garments; and took a towel, and girded himself.

13:5 After that he poureth water into a bason, and began to wash the disciples' feet, and to wipe them with the towel wherewith he was girded.
-Jesus gets naked at supper, puts on a towel loincloth, and washes his disciples feet, drying them on his loincloth in the most homoerotic way possible.
13:8 Peter saith unto him, Thou shalt never wash my feet. Jesus answered him, If I wash thee not, thou hast no part with me.

13:9 Simon Peter saith unto him, Lord, not my feet only, but also my hands and my head.

13:10 Jesus saith to him, He that is washed needeth not save to wash his feet, but is clean every whit: and ye are clean, but not all.
-Peter says, "You don't need to wash my feet, Jesus" and Jesus is like, either let me wash your feet or gtfo. So Peter is like, "Fine, while you're at it, wash my hands and head too."
"One of you shall betray me" ... then Jesus pretty much gives Satan the go ahead sign.

13:26 Jesus answered, He it is, to whom I shall give a sop, when I have dipped it. And when he had dipped the sop, he gave it to Judas Iscariot, the son of Simon.

13:27 And after the sop Satan entered into him. Then said Jesus unto him, That thou doest, do quickly.
-Satan possesses Judas AFTER Jesus points out which one will betray him. Then Jesus says, "Do it quickly" and Judas leaves to go do evil things.
14:4 And whither I go ye know, and the way ye know.

14:5 Thomas saith unto him, Lord, we know not whither thou goest; and how can we know the way?

14:6 Jesus saith unto him, I am the way, the truth, and the life: no man cometh unto the Father, but by me.
-All Jews (God's chosen people) are going to hell.
14:10 Believest thou not that I am in the Father, and the Father in me? the words that I speak unto you I speak not of myself: but the Father that dwelleth in me, he doeth the works.
-Now Jesus is claiming that he's possessed by God and not responsible for any miracles.
14:13 And whatsoever ye shall ask in my name, that will I do, that the Father may be glorified in the Son.

14:14 If ye shall ask any thing in my name, I will do it.
-So technically, the Pope could get rid of all human suffering and make the world a perfect place just by asking for it. That or Jesus is lying.
15:1 I am the true vine, and my Father is the husbandman.

15:2 Every branch in me that beareth not fruit he taketh away: and every branch that beareth fruit, he purgeth it, that it may bring forth more fruit.

15:3 Now ye are clean through the word which I have spoken unto you.
-You know what, Jesus? I'm tired of trying to figure out what the fuck you are talking about. If I had a friend who constantly responded to my questions with statements such as, "I am as a pile of corn, to be given to widows, and eaten with a mighty heart" ...I would stop hanging out with that friend.
15:6 If a man abide not in me, he is cast forth as a branch, and is withered; and men gather them, and cast them into the fire, and they are burned.
-Ah, so this was all just a convoluted way to tell me you want to burn people.
15:12 This is my commandment, That ye love one another, as I have loved you.
-Love ONE ANOTHER, not love other Christians. Stop bombing abortion clinics and waging holy wars against Muslims. It also doesn't say love one another, unless they're homosexual.
15:14 Ye are my friends...
-Well that's nice of you, Lord.
...if ye do whatsoever I command you.
-Oh. Well then...
15:23 He that hateth me hateth my Father also.
-Good one. If you hate me, then you hate God also... and you don't want THAT, do you?
17:1 These words spake Jesus, and lifted up his eyes to heaven, and said, Father, the hour is come; glorify thy Son, that thy Son also may glorify thee:

17:2 As thou hast given him power over all flesh, that he should give eternal life to as many as thou hast given him.

17:3 And this is life eternal, that they might know thee the only true God, and Jesus Christ, whom thou hast sent.

17:4 I have glorified thee on the earth: I have finished the work which thou gavest me to do.
-Jesus gives a final, dramatic soliloquy just to really bring it home.
18:3 Judas then, having received a band of men and officers from the chief priests and Pharisees, cometh thither with lanterns and torches and weapons.

18:4 Jesus therefore, knowing all things that should come upon him, went forth, and said unto them, Whom seek ye?

18:5 They answered him, Jesus of Nazareth. Jesus saith unto them, I am he. And Judas also, which betrayed him, stood with them.
-This time, instead of Judas kissing Jesus in the middle of the desert, the guards straight up ask for Jesus in a garden and Jesus identifies himself. Inconsistent like a champion.
18:10 Then Simon Peter having a sword drew it, and smote the high priest's servant, and cut off his right ear. The servant's name was Malchus.

18:11 Then said Jesus unto Peter, Put up thy sword into the sheath: the cup which my Father hath given me, shall I not drink it?
-And this time, instead of "those who live by the sword, die by the sword" we get "should I drink from a heavenly cup?"
Simon denies Jesus to 3 completely different people again and Jesus says a lot of things to Pilate when before he was silent.
19:7 The Jews answered him, We have a law, and by our law he ought to die, because he made himself the Son of God.
-The Jews are just doing what God commanded of them.
19:19 And Pilate wrote a title, and put it on the cross. And the writing was JESUS OF NAZARETH THE KING OF THE JEWS.
-4 different sayings from 4 different gospels. It's a big ass sign over your messiah's head as he hangs on a cross. You would think the saying would be burned in your head.
19:20 This title then read many of the Jews: for the place where Jesus was crucified was nigh to the city: and it was written in Hebrew, and Greek, and Latin.
-And it was even translated into several languages, just so no one has to guess.
19:25 Now there stood by the cross of Jesus his mother, and his mother's sister, Mary the wife of Cleophas, and Mary Magdalene.
-So Mary, Mary, and Mary were all present. Seriously, can we come up with a different name for women?
19:30 When Jesus therefore had received the vinegar, he said, It is finished: and he bowed his head, and gave up the ghost.
-No darkness, no earthquakes, or temple destruction. No crying out to God about being forsaken, just "It is finished."
Joseph comes to claim Jesus' body, only this time he's accompanied by Nicodemus, in the spirit of biblical contradictions.
20:1 The first day of the week cometh Mary Magdalene early, when it was yet dark, unto the sepulchre, and seeth the stone taken away from the sepulchre.

20:2 Then she runneth, and cometh to Simon Peter, and to the other disciple, whom Jesus loved, and saith unto them, They have taken away the LORD out of the sepulchre, and we know not where they have laid him.

20:3 Peter therefore went forth, and that other disciple, and came to the sepulchre.

20:4 So they ran both together: and the other disciple did outrun Peter, and came first to the sepulchre.

20:5 And he stooping down, and looking in, saw the linen clothes lying; yet went he not in.

20:6 Then cometh Simon Peter following him, and went into the sepulchre, and seeth the linen clothes lie,
-AND YET AGAIN, four gospels, four completely different stories. The contradictions will be in bold.
Mary shows up by herself
...
while it's dark out
... sees the door open and
runs away to go get some disciples. There's no one in the tomb so they assume he rose from the dead.
20:9 For as yet they knew not the scripture, that he must rise again from the dead.
-The disciples had no idea that Jesus was supposed to rise from the dead since they were not big on reading the Bible and Jesus never told them (except for all the other gospels).
20:11 But Mary stood without at the sepulchre weeping: and as she wept, she stooped down, and looked into the sepulchre,

20:12 And seeth two angels in white sitting, the one at the head, and the other at the feet, where the body of Jesus had lain.

20:13 And they say unto her, Woman, why weepest thou? She saith unto them, Because they have taken away my LORD, and I know not where they have laid him.

20:14 And when she had thus said, she turned herself back, and saw Jesus standing, and knew not that it was Jesus.
-Suddenly 2 angels appear in the tomb along with Jesus... only he apparently didn't look like Jesus.
20:19 Then the same day at evening, being the first day of the week, when the doors were shut where the disciples were assembled for fear of the Jews, came Jesus and stood in the midst, and saith unto them, Peace be unto you.

20:20 And when he had so said, he shewed unto them his hands and his side. Then were the disciples glad, when they saw the LORD.
-Since the doors were locked, Jesus apparently walked through walls and had to show the disciples his crucifixion wounds to prove it was him. They're like, "but Thomas the disciple isn't here, Lord!" So Jesus comes back 8 days later when Thomas is there with them and shows his wounds again.
20:30 And many other signs truly did Jesus in the presence of his disciples, which are not written in this book:

20:31 But these are written, that ye might believe that Jesus is the Christ, the Son of God; and that believing ye might have life through his name.
-Great verse. Oh, and Jesus did some other stuff too, but we're not going to bother writing it down.
Like I said earlier. Four gospels, four completely different stories. Completely different. Mary showed up and the guards died, no wait there were no guards and Mary brought other women, and the earthquake opened the tomb, no wait the door was already open... there was a guy sitting in the tomb, no there were two guys, no it was empty and then two angels and Jesus show up... Jesus talks to his disciples on a mountainside, no as a vision to each disciple individually, no in a house, well it was a house, but Thomas wasn't there so he had to come back eight days later. This is a fucking recollection of eleven people. Eleven people can't seem to remember the who, what, when, and where of the most amazing, life confirming event to ever happen to them.
This is a load of horseshit.
---
"Ain't got no last words to say, yellow streak right up my spine. The gun in my mouth was real and the taste blew my mind."

"We see you cry. We turn your head. Then we slap your face. We see you try. We see you fail. Some things never change."
User(s) browsing this thread: 1 Guest(s)