Banner Vote
24-07-2014, 11:59 PM
Jagare

Matriculated



Likes Given: 19
Likes Received: 42 in 16 posts

Posts: 50
Joined: Jul 2014
Reputation: 5
RE: Banner Vote
(23-07-2014 11:13 PM)

WeAreTheCosmos Wrote: It probably hasn't been said;

The font sucks
The italics suck
The lightning is lame

I like the... where you...

Anyway, the rest of the forum has straight 0 and 90 degree lines, so the italics throw it off. The font is a bit thick, and the roundness of the letters could probably better match the bevel radius of the forum boxes; or not. The lightning is busy, and detracts from the professional look I would prefer.

I guess it looks a bit juvenile.
Could I do better? Maybe...
Would I know where to start? Hell no...

This is abnormally harsh from me, but nobody else seemed to be able to say it.
I'm going to Rep you +1 for honesty. Unnecessarily harsh - but honest.
(24-07-2014 12:03 AM)

kingschosen Wrote:

(23-07-2014 06:46 PM)

Jagare Wrote: Thank you all for your responses. With exception to Kingschosen, it would seem you all had valid points. In truth, the fact that I only had one angry member is probably pretty good considering. However he did leave me with nowhere to go regarding other designs since presenting them now paints me as a "vain" artist of some kind.

That being said, I am a freelance graphic designer and if anyone from the site wishes to make use of my skills, I would still be certainly willing to produce this or other designs for your approval.


KC, I'll put a disclaimer on the next one warning you of my own disgusting vanity.






You and a few others have reading comprehension problems.

I never once said anything against your vanity or perceived vanity.
All
evidence
points to the contrary sir:
kingschosen Wrote:You made this for your own vanity... at least own it.
Quote:I spoke up against the passive guise of designing a new banner when you really just wanted to show off your work.
This is your own assessment as well as your own opinion. There is no way you can prove my motivations.
You sir, are not in my head nor are you the judge and jury of anyone's true intent.
Quote:And stop projecting your insecurities... I am in no way angry, I was actually just trying to help a brother out and identify how your post came across (to me anyway) and reassure you that there is nothing wrong with being straight up and proud of your work aka a controlled amount of vanity.
I fail to see how I'm projecting anything. I made a humorous remark in an attempt to defuse your aggressive stance. If anyone here is projecting, it is you sir.
Quote:I even praised your work and advocated your vanity... don't go all victim complex on me. You're right on the cusp with the "woe is me can't post anymore of my stuff because someone call me vain".
I was making lite of your aggressive and hostile tone. I truly didn't think you'd get this butthurt over it. If you'll refer to my response to WeAretheCosmos, you can plainly see that I have no problem whatsoever with criticism.
Quote:Post your stuff. It's good. Own it. Don't make excuses for it. Don't disguise it.
I did post it. It is good. I did own it. I didn't make an excuse. In fact, I was very clear about my intent for it - Thus the poll. I'm always proud of my work and I don't think there's any way possible for me to have been any more transparent. In truth, I have no idea what your objection is? I can post pictures of my work all day long, but because I attached a poll to it, somehow it wasn't done in good faith? Thats just absurd. You're an Administrator here????
Quote:*takes 14 norcos, 20 tramadols, and 11 fioricets*
Why? You sir, are the only one who is upset here. I'm still trying to figure out why you have all this anger. Maybe you need Jesus?
Quote:All right, heathens... who's next?

*sips a beer*
Maybe sip a few extra man. No one here is upset except for you sir. I'm all good.
25-07-2014, 07:08 AM
kingschosen derp



Likes Given: 2,247
Likes Received: 10,572 in 4,258 posts

Posts: 13,264
Joined: Nov 2011
Reputation: 188
RE: Banner Vote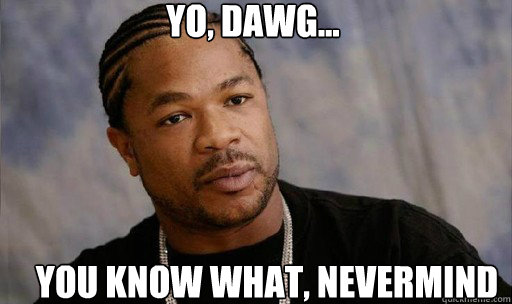 ---
User(s) browsing this thread: 1 Guest(s)