But why?
28-03-2013, 01:19 PM
KVron

B̶a̶n̶n̶e̶d̶



Likes Given: 785
Likes Received: 536 in 236 posts

Posts: 578
Joined: Nov 2011
Reputation: 16
RE: But why?
(28-03-2013 12:46 AM)

Egor Wrote: The fact is the sacrifice wasn't

to

God; it was

from

God. We didn't have to kill Jesus on the cross--but we did. Now God is pissed, and rightly so. It's a George Bush kind-of-thing after 9/11, "You're either with us or against us." We killed Jesus. Now God is like, you're either with Christ or against him--and the only way you can prove you're with him is to consume the substance of Christ, thus killing off your human spirit and being reborn into the spirit of Christ.
A much easier,
logical
explanation: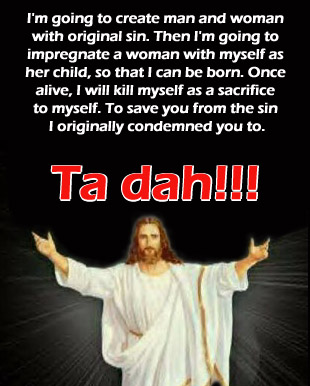 ---
DISCLAIMER

: If you find a message from me offensive, inappropriate, or disruptive, please ignore it.
If you don't know how to ignore a message, complain to me and I will be happy to demonstrate.
The following 3 users Like KVron's post:
3 users Like KVron's post
Chas
(28-03-2013)
,
Vosur
(28-03-2013)
,
GirlyMan
(28-03-2013)
User(s) browsing this thread: 1 Guest(s)