Chariklo- the newly discovered asteroid with rings
26-03-2014, 02:21 PM
Bows and Arrows

Creeped out by cults



Likes Given: 6,437
Likes Received: 4,746 in 1,982 posts

Posts: 4,033
Joined: May 2013
Reputation: 76
Chariklo- the newly discovered asteroid with rings
CNN article - asteroid with rings
from the article:
Chariklo is fairly small -- 250 kilometers (150 miles) in diameter. It is classified as a "centaur," an object that has an unstable orbit and crosses giant planets' orbits. Mythological centaurs had both human and horse features, while centaurs in the solar system may have both comet and asteroid characteristics.
The asteroid is only the fifth solar system object whose rings have been detected. Jupiter, Saturn, Uranus and Neptune also have rings.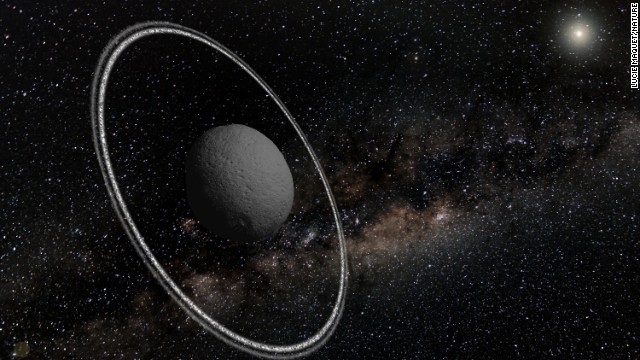 ---
"Life is a daring adventure or it is nothing"--Helen Keller
The following 4 users Like Bows and Arrows's post:
4 users Like Bows and Arrows's post
Marozz
(26-03-2014)
,
itsnotmeitsyou
(26-03-2014)
,
Jeffasaurus
(26-03-2014)
,
Hafnof
(27-03-2014)
26-03-2014, 02:30 PM
Marozz

dn ʎɐʍ sᴉɥ┴



Likes Given: 3,865
Likes Received: 1,841 in 960 posts

Posts: 2,046
Joined: Jan 2014
Reputation: 21
RE: Chariklo- the newly discovered asteroid with rings
First I've heard of it. Very interesting. Will check out a few sites for more info.
---
"The first duty of a man is to think for himself" ― José Martí
User(s) browsing this thread: 1 Guest(s)