Complaint About Thanksgiving Prayer
26-11-2012, 10:09 AM
KidCharlemagne1962

The Great Infidel II



Likes Given: 9,662
Likes Received: 2,614 in 1,455 posts

Posts: 4,093
Joined: Jan 2012
Reputation: 83
RE: Complaint About Thanksgiving Prayer
(23-11-2012 01:02 PM)

LadyJane Wrote:

(23-11-2012 12:52 PM)

KidCharlemagne1962 Wrote: The nice thing about hosting was getting to skip any prayer. The in-laws were in town but we also a friend over and she isn't Christian so I opted for going right to a toast wishing everyone welcome and thanking them for coming to dinner (much more sincere than any grace/prayer I've heard).

So jealous! This happened a couple weeks ago here and the minute I stepped out of the room my father in law took his God given role to lead the prayer. Unfortunately I dropped something loudly and slammed a cutting board on the counter by accident at the same time so it was kind of interrupted a wee bit.

I love the idea of a toast. To rainbows. And cupcakes with sprinkles.
I came out to them the next day. I thought for sure there would be some drama. Absolutely none! Later my mother in law told me she isn't religious she just likes the community of the church and her choir.
I was surpised my father in law didn't try what yours did because he always does grace at big meals.
Sorry he pulled that crap on you when you left the room but that was a nice retort on your part
---
" Generally speaking, the errors in religion are dangerous; those in philosophy only ridiculous."
David Hume
26-11-2012, 10:29 AM
cheapthrillseaker

Stupid & Childish (so I'm told)



Likes Given: 3,008
Likes Received: 3,624 in 1,872 posts

Posts: 4,562
Joined: Jul 2012
Reputation: 58
RE: Complaint About Thanksgiving Prayer
(22-11-2012 11:48 PM)

Misanthropik Wrote:

(22-11-2012 11:36 PM)

Erxomai Wrote: We had my mom's pastor and his family over so that meant the prayer was extra special because it came from a Reverend.


My my...that

is

special. Is he the one who sacrificed the turkey?
OHHMYGODPLEASETELLMEHEWASTHEONEWHOSACRIFICEDTHETURKEY!!!
It's sort of a reply to both you and Erx. Cramming it in there like stuffing.
OMG, I read your post as if Morgan Freeman was reading it.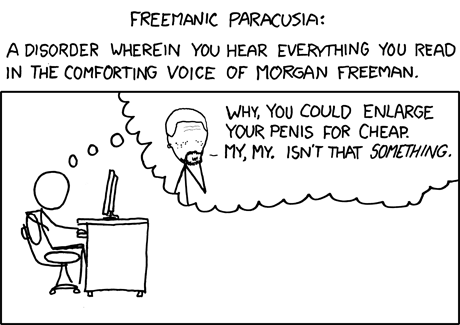 At least it's not that bad!
Now for Erx: I remember when a Circuit Overseer (sort of a traveling band thing for Elders in Jehovah's Witnesses), and his prayers were received the same way. They were 'the shit' to all of us. Also, for the next few days my dad would try to one-up the guy in grandiose prayers. I was like "Okay, dad, I get it. You lack prayer skills, and the bunny rabbit you're pulling out of your
ass
hat just doesn't seem to cut it."
I get reminded of all sorts of shit on this message board that didn't click the first 1000 times it happened. Thanks for that.
My my, isn't that
something
.
---

The following 1 user Likes cheapthrillseaker's post:
1 user Likes cheapthrillseaker's post
Erxomai
(26-11-2012)
User(s) browsing this thread: 1 Guest(s)