Darth Vader and Son/Vader's little princess
12-05-2014, 04:52 AM
ELK12695

Drummer. Not much else.



Likes Given: 4,289
Likes Received: 4,452 in 2,213 posts

Posts: 4,808
Joined: Mar 2013
Reputation: 63
Darth Vader and Son/Vader's little princess
Some of you might have already seen these two books, but I noticed them first time yesterday, and it's most adorable thing ever for a Star Wars fan. Here are some snippets of the two: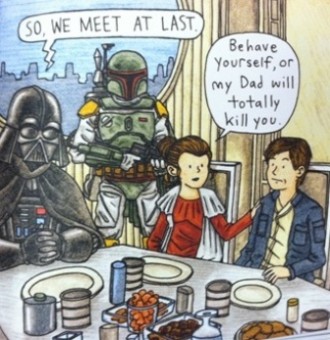 Google the name of the books and you'll find the rest of the pics in the books, or better yet, buy them to support Jeffrey Brown who made this awesomeness.
---

"Don't answer that. A rhetorical question."
The following 2 users Like ELK12695's post:
2 users Like ELK12695's post
Hafnof
(12-05-2014)
,
Revenant77x
(12-05-2014)
User(s) browsing this thread: 1 Guest(s)