Dwarf Fortress Community Thread
06-07-2012, 11:43 PM
Unbeliever

Summon Bigger Fool



Likes Given: 1
Likes Received: 147 in 80 posts

Posts: 1,834
Joined: Dec 2009
Reputation: 25
Dwarf Fortress Community Thread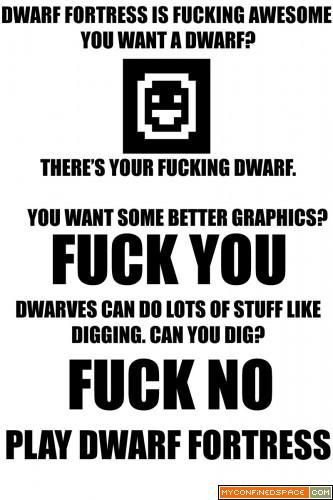 Dwarf Fortress
It's
Minecraft's
bigger, angrier, beardier cousin. It's the most hardcore game ever made. It's so hardcore that its motto is that
Losing = Fun
. It's entirely free to play.
And it's ridiculously fun.
So here you go. It's time to strike the earth - but I want you guys to decide how this goes.
I can do one of two things here: run a community fortress, wherein I play the game but you guys give input, or start off a succession game, wherein we each play one year of game time before handing the save off to the next person*. For those new to the game, check out the following links. They're quite helpful. And don't be afraid to ask about stuff!
*: Being good at the game isn't necessary, and is actually discouraged.
The Saga of Boatmurdered
- A Sampling of the Crazy
Dwarf Fortress Is Hardcore
- An Illustrated Guide
Dwarf Fortress
- /tg/'s Guide to the Beardiest Game Ever Made
Your First Fortress
- A Step-By-Step Intro
---
"Sometimes it is better to light a flamethrower than to curse the darkness."
- Terry Pratchett
Messages In This Thread
Dwarf Fortress Community Thread
- Unbeliever - 06-07-2012 11:43 PM
User(s) browsing this thread: 1 Guest(s)