Everything Else - Global News Tracker
07-03-2018, 06:27 AM
Szuchow

Comrade cat



Likes Given: 17,877
Likes Received: 11,898 in 5,043 posts

Posts: 8,830
Joined: Apr 2015
Reputation: 87
RE: Everything Else - Global News Tracker
Poland's nationalists are burying their antisemitic past – this is dangerous.
A war is being fought over collective memory in Poland. In the absence of a convincing vision of the future, the ability to control definitions of the past has become one of the most important sources of legitimacy in Polish politics. But if the historicisation of policy is a game played by all sides, the conservative, nationalist right is the most consistent and effective player. Its strategy is well illustrated by the current conflict over the act that enshrines the legal status of the Institute of National Remembrance (IPN).
The government presented the bill as a way to eliminate a discourse about "Polish death camps" during the Holocaust. The government says this discussion falsely accuses Poles of complicity in the murder of 3 million Polish Jews under Nazi occupation and is spreading throughout the world. The majority of the opposition either abstained or supported the government, with the main objection coming from liberal media where the law was criticised for provisions that introduced historical censorship.
Under the guise of defending the good name of "The Polish Nation" the bill opens the way to criminalising anyone who seeks to reveal dark chapters of Polish history, such as antisemitic pogroms before, during and after the war. But this is a veneer. What is truly at stake is not Poland's reputation, but Polish nationalist rightwing tradition. The ruling Law and Justice party (PiS) makes no secret of the fact that it is part of this tradition. The language and ideas of PiS leaders, as well as their policies towards refugees, minorities and political opposition, draw directly from the rhetoric and strategy of Polish nationalism in the first half of the 20th century. [...]
Russia has yet to recover from the trauma of the Stalin era.
Earlier this year the Russian ministry of culture banned the satirical film The Death of Stalin, supposedly because it contained "information whose dissemination is prohibited by law". On Russian-language social media, the withdrawal of the film's screening licence was met with widespread laughter and scorn: what sort of secrets could this movie possibly have disclosed? Could it be that Stalin is indeed dead? – so went the irony.
It looked ridiculous. But back in December, there had been an ominous precursor: Alexander Bortnikov, the head of Russia's FSB intelligence services, told the Rossiyskaya Gazeta government newspaper that Stalin-era repressions had been justified. He mentioned the need to counter Trotsky's networks, and plots that had "ties with foreign secret services". He also claimed that "mass-scale political repression" had ended by 1938 – a blatant rewriting of history.
As Vladimir Putin prepares for re-election on 18 March, Russia's Soviet past has become a constant object of manipulation by a regime that is for ever sending out mixed messages. Prior to Bortnikov's comments, Putin had inaugurated the Wall of Grief in Moscow, a memorial dedicated to the victims of repression. "This terrifying past cannot be deleted from national memory," Putin said. "These crimes cannot be justified by anything." [...]
---
The first revolt is against the supreme tyranny of theology, of the phantom of God. As long as we have a master in heaven, we will be slaves on earth.

Mikhail Bakunin.
The following 2 users Like Szuchow's post:
2 users Like Szuchow's post
morondog
(07-03-2018)
,
Deesse23
(09-03-2018)
09-03-2018, 02:00 AM
Szuchow

Comrade cat



Likes Given: 17,877
Likes Received: 11,898 in 5,043 posts

Posts: 8,830
Joined: Apr 2015
Reputation: 87
RE: Everything Else - Global News Tracker

Ireland's government approves abortion referendum bill.
The Irish government has agreed the wording of a national referendum on abortion to be held by the end of May which could radically transform the lives of thousands of women and signal a further loosening of the grip of the Catholic church.
The cabinet, meeting on International Women's Day, approved a bill on Thursday allowing the long-anticipated referendum to go ahead.
Voters will be asked if they want to repeal article 40.3.3 – known as the eighth amendment – which since 1983 has given unborn foetuses and pregnant women an equal right to life, effectively enshrining a ban on abortion in the country's constitution.
If Ireland votes in favour of repeal, the government has said it will introduce legislation permitting unrestricted abortion during the first 12 weeks of pregnancy. [...]
Europe's (not so) free press.
Until recently, press freedom groups dismissed the risk of physical attacks on journalists in Europe. They can no longer afford to do so.
The shooting last month of the 27-year-old Slovak investigative journalist Ján Kuciak and his fiancée Martina Kusnirova, coming just months after the murder by car bomb of Maltese reporter Daphne Caruana Galizia, has dispelled the perception that Europe is a continent at peace.
Media watchdogs mostly assumed that "it can't happen here," pointing at most EU countries' good rankings in Reporters Without Borders' (RSF) annual press freedom index. They focused their attention on Europe's accession countries, the Western Balkans and, of course, Turkey, where governmental attacks against the press have reached surreal levels, with dozens of journalists behind bars and more facing trial.
When it came to the EU, they had other concerns: the misuse of defamation laws, the lack of protection for whistleblowers, the authoritarian mood in Hungary and Poland, media concentration in countries like Italy, or the impact of the decline of legacy media on pluralism and independence. [...]
---
The first revolt is against the supreme tyranny of theology, of the phantom of God. As long as we have a master in heaven, we will be slaves on earth.

Mikhail Bakunin.
The following 1 user Likes Szuchow's post:
1 user Likes Szuchow's post
Kaneda
(11-03-2018)
11-03-2018, 07:04 AM
Likes Given: 2,101
Likes Received: 2,271 in 976 posts

Posts: 2,005
Joined: Feb 2015
Reputation: 47
RE: Everything Else - Global News Tracker
Gun background check system riddled with flaws
AP News
March 10, 2018
"
SEATTLE (AP) — Recent mass shootings have spurred Congress to try to improve the nation's gun background check system that has failed on numerous occasions to keep weapons out of the hands of dangerous people.
The problem with the legislation, experts say, is that it only works if federal agencies, the military, states, courts and local law enforcement do a better job of sharing information with the background check system — and they have a poor track record in doing so. Some of the nation's most horrific mass shootings have revealed major holes in the database reporting system, including massacres at Virginia Tech in 2007 and at a Texas church last year.
Despite the failures, many states still aren't meeting key benchmarks with their background check reporting that enable them to receive federal grants similar to what's being proposed in the current legislation.
"It's a completely haphazard system — sometimes it works; sometimes it doesn't," said Georgetown University law professor Larry Gostin. "When you're talking about school children's lives, rolling the dice isn't good enough."
"
---
You know, living in hell is a lot more boring than I thought it would be.
11-03-2018, 07:15 AM
Likes Given: 2,101
Likes Received: 2,271 in 976 posts

Posts: 2,005
Joined: Feb 2015
Reputation: 47
RE: Everything Else - Global News Tracker
Oklahoma state officials to join teachers' strike if lawmakers don't meet demands
BY JOHN BOWDEN
The Hill | 03/10/18 10:28 PM EST
State employees in Oklahoma voted Saturday to join a planned teachers' walkout next month if state lawmakers don't meet their demands for pay raises by April 2.
NewsOK reports that the Oklahoma Public Employees Association board of directors voted to move forward with the strike set to begin next month unless lawmakers approve more than $213 million in state employee pay raises by then.
Union officials told the website that they are beginning to work on work stoppage plans for use in the event of a strike next month.
"We are going to have to design different plans for different types of (state agency) work sites, and that's what we are going to be doing over the next week," said the union's communications director Tom Dunning.
Teachers in the state, which has the lowest education salaries in the nation, began planning a strike last week after a successful teachers' strike in West Virginia earlier this month led to lawmakers capitulating and agreeing to a statewide 5 percent raise for public employees.
More than 25,000 people had joined the Facebook group "Oklahoma Teacher Walkout – The Time Is Now!" by last weekend, and local news service KTUL reported that a group had met to discuss plans for a strike.
The teachers' plans to strike the first week of April is not a coincidence. That week marks the time Oklahoma's public school system begins standardized testing, a statewide effort that would be thrown into chaos by a work stoppage at even some schools.
"Frustration levels are high, so a strike is not a touchy word anymore," Molly Jaynes, an Oklahoma City teacher told KTUL. "I think we have surpassed the point of conversations, and I don't think that there's anything the legislators have provided us recently to give us any sort of hope that they're going to take actual actions this time."
---
You know, living in hell is a lot more boring than I thought it would be.
11-03-2018, 07:28 AM
Likes Given: 2,101
Likes Received: 2,271 in 976 posts

Posts: 2,005
Joined: Feb 2015
Reputation: 47
RE: Everything Else - Global News Tracker
Canadian families stunned by 3,000% increase in price of life-saving drug
Drug for patients with cystinosis being replaced by new form with same active ingredient
Kelly Crowe · Medical science · CBC News
March 10, 2018
"
Across Canada, dozens of parents are shaking their heads in disbelief that Health Canada is making them switch their sick children to a drug that costs more than $300,000 a year. Especially when they've been happily using an older version of the same drug that costs a fraction of the price.
"It's a ridiculous spot to put parents in," said Trevor Strauss, of Waterloo, Ont., who was stunned to learn that access to his daughter's life-saving drug was being cut off now that a new, more expensive version of the same drug had been approved by Health Canada.
'There's no reason for the drug to be this expensive except for profit margins.'
- Trevor Strauss
Strauss's 10-year-old daughter Gabbie has cystinosis — a deadly genetic disease that destroys her kidneys. She's been taking a drug called Cystagon (cysteamine) for most of her life, but she won't be able to get the drug anymore.
The new form of the drug licensed in Canada, called Procysbi (cysteamine delayed-release), contains the same active ingredient as Cystagon. The difference is that the new form has a special coating that delays the drug's absorption so the chemical is released more slowly in the body. It means taking the drug every 12 hours instead of every six.
Cystagon cost $10,000 a year for Gabbie and it was covered by the Ontario government. Strauss has been told Procysbi will cost $320,000 a year, every year, for the rest of his daughter's life.
The provinces have not yet agreed to cover the cost of Procysbi, and Strauss doesn't have private insurance.
"There's no reason for the drug to be this expensive except for profit margins," he said, adding that the new drug is less convenient for his daughter because her meals must be precisely timed and her schedule for other drugs will be disrupted.
'Angst and concern from families'
Specialists who treat cystinosis patients are caught in the middle. They would like to have the choice to prescribe both drugs; some patients would prefer the new formulation because it means they can take fewer drugs.
"It's created an awful lot of angst and concern from families who are very worried that they'll have a gap in treatment," said Dr. Julian Midgley, a pediatric nephrologist with Calgary Health Region who treats most of the cystinosis patients in Alberta.
"It's also caused a lot of angst because some families have taken the view that it's so ridiculously expensive, how can I possibly be using something that costs as much as my house every year."
"
---
You know, living in hell is a lot more boring than I thought it would be.
11-03-2018, 07:33 AM
Likes Given: 2,101
Likes Received: 2,271 in 976 posts

Posts: 2,005
Joined: Feb 2015
Reputation: 47
RE: Everything Else - Global News Tracker
Israel passes law to strip residency of Jerusalem's Palestinians
Palestinians slam new 'breach of loyalty' legislation as 'extremely racist' and a violation of international law.
7 Mar 2018
"
The Israeli parliament has passed a law that allows the minister of interior to revoke the residency rights of any Palestinian in Jerusalem on grounds of a "breach of loyalty" to Israel.
The bill, ratified on Wednesday, will also apply in cases where residency status was obtained on the basis of false information, and in cases where "an individual committed a criminal act" in the view of the interior ministry.
Under the new measure, Israel's Interior Minister Aryeh Deri, leader of the ultra-Orthodox political party Shas, will be able to strip the residency documents of any Palestinian whom he deems a threat.
Hanan Ashrawi, a senior member of the Palestine Liberation Organisation (PLO), described the law as "an extremely racist piece of legislation.
"By unethically stripping the residency of Palestinians from Jerusalem and depriving the rights of those Palestinians to remain in their own city, the Israeli government is acting in defiance of international law and is violating international human rights and humanitarian laws," said Ashrawi, according to a statement published on Wafa, the official Palestinian news agency.
'Security of Israeli citizens'
Despite Israel's claims that occupied East Jerusalem is part of its "eternal, undivided" capital, the Palestinians who are born and live there do not hold Israeli citizenship, unlike their Jewish counterparts.
Palestinians in the city are given "permanent residency" ID cards and temporary Jordanian passports that are only used for travel purposes. They are essentially stateless, stuck in legal limbo - they are not citizens of Israel, nor are they citizens of Jordan or Palestine.
The new bill will only worsen the difficult conditions for the 420,000 Palestinians living in occupied East Jerusalem, who are treated as foreign immigrants by the state.
Any Palestinian who has lived outside of Jerusalem for a certain period of time, whether in a foreign country or even in the occupied West Bank, is at risk of losing their right to live there.
"
---
You know, living in hell is a lot more boring than I thought it would be.
11-03-2018, 07:41 AM
Likes Given: 2,101
Likes Received: 2,271 in 976 posts

Posts: 2,005
Joined: Feb 2015
Reputation: 47
RE: Everything Else - Global News Tracker
How Segregation Shapes Fatal Police Violence
March 2, 2018 | 9:04 AM ET
"
On the afternoon of April 13, 2014, Dontre Hamilton was lying on the ground near a bench in a Milwaukee city park. A police officer on patrol walked over to Hamilton and asked him to stand up. Their encounter would end in disaster.
The officer patted Hamilton down for weapons — which the police chief later said was not in line with department policy as Hamilton posed no apparent danger — and Hamilton, who had a history of mental health issues, grabbed the officer's baton. The officer in turn pulled out his service weapon. By the end of the interaction, Hamilton was dead, shot 14 times.
What happened to Hamilton part of a larger national phenomenon, in which unarmed black people are more likely to be shot and killed by the police than unarmed white people. And according to new research from the Boston University School of Public Health, there is no state where that disparity is larger than in Wisconsin.
The study's authors say that the biggest reason for that difference is segregation.
That finding was part of a study that the authors say is the first of its kind: an examination of how much structural racism shapes fatal police shootings. But in order to examine structural racism, the researchers first needed a way to capture it. So they created a metric called the "state racism index." It took state-level data on black-white residential segregation, as well as disparities in educational attainment, employment status, economic status, and incarceration status, and scored each of these variables. Those scores were then tabulated into a number on on a zero to 100 scale; the higher the number, the more pronounced the structural racism in a state.
Wisconsin topped the researchers' list with a state racism index of 74.9, followed by Minnesota (70.0), New Jersey (68.5) , Illinois (67.8) and Connecticut (63.9). (For comparison, the lowest state racism score belonged to Montana, at 25.9, followed by Hawaii, Kentucky, New Hampshire, and Nevada, which all had scores below 35.)
According to Michael Siegel, one of the study's authors, one variable in their racism index mattered more than the rest. "The more racially segregated the neighborhoods in a state, the more striking the ratio of black to white police shootings of unarmed victims," Siegel said.
"It came as a surprise to me personally," Siegel said. "Traditionally, we're taught that racism is [most visible] in the South, but we're seeing here that it's the Midwest and the Northeast."
"
More at npr.org
---
You know, living in hell is a lot more boring than I thought it would be.
11-03-2018, 07:46 AM
Likes Given: 2,101
Likes Received: 2,271 in 976 posts

Posts: 2,005
Joined: Feb 2015
Reputation: 47
RE: Everything Else - Global News Tracker
Asian companies 'planning big shift to automation'
Upskilling needed for workers, but less than 5% of employers are ready
NIKKEI Asian Review - TOMOMI KIKUCHI, Nikkei staff writer
March 1, 2018 8:55 pm JST
HONG KONG -- Companies in the Asia-Pacific region are planning to automate 23% of their work on average in the next three years, reducing the need for full-time employees, according to a survey by U.S.-based consultancy Willis Towers Watson.
The survey covered 909 companies across the world, including 507 from the Asia-Pacific region, and spanned manufacturing, financial, retail and other major industries. It found that work automated through artificial intelligence and robotics accounted for 13% of the workload for companies today, compared to 7% three years ago.
Of the surveyed companies in the region, 85% said they plan to expand their use of automation in the next three years. As a result, 48% of employers said they will likely require fewer employees three years down the road, while 20% said they can work with fewer employees today.
Rather than putting many people completely out of work, automation will likely bring about changes in employment contracts, the companies said. Some 52% of respondents said they are planning or considering "deconstructing" jobs into component tasks to determine the parts that can be automated. A total 58% said they will utilize non-employee workers, such as freelancers and contractors.
"Organizations aren't really thinking about automation as purely replacing people, but rather augmenting or supplementing human productivity and performance," said Hamish Deery, leader for talent for the Asia-Pacific region at Willis Towers Watson, in a telephone interview with Nikkei Asian Review.
Deery said the popular belief -- or "myth" according to the report -- that workplace automation will negatively impact workers as machines take over jobs from humans, was not true for companies around the world. In fact, technology could "democratize" labor for many workers in Asia as the spread of high-speed internet in the region lets people work from anywhere, allowing Asian companies to make use of the so-called "gig economy" to access skills and talents, said Deery.
But are companies in the region prepared to embrace the latest technology and ready their workers for new working environments?
In the survey, less than 5% of Asia-Pacific companies said their human resources functions were fully prepared for the changing requirements of digitization. When it comes to upgrading skills for their workers, only 51% said they are planning or considering re-skilling their employees. All of this could mean workers will be earning less, unless they already have skills that are demanded by many organizations.
Automation could fundamentally change the economic structures of emerging and middle-income countries in Asia that have been attracting foreign investments on the back of cheap labor. These countries could lose their competitiveness when automation begins to play a significant role in companies' cost-cutting initiatives.
India's former central bank chief Raghuram Rajan warned in an recent interview with Nikkei Asian Review that jobs are disappearing not because of global competition but "via technology," and the spread of automation technology could cause inequality in the world. "I don't think we are prepared" for all the changes that are coming, said Rajan.
---
You know, living in hell is a lot more boring than I thought it would be.
11-03-2018, 07:54 AM
Likes Given: 2,101
Likes Received: 2,271 in 976 posts

Posts: 2,005
Joined: Feb 2015
Reputation: 47
RE: Everything Else - Global News Tracker
Wine prices to rise as bad weather brings worst harvest for 50 years
Global production slumps to lowest level since 1961 as major growers hit by freakish weather
Zoe Wood


The Guardian

| Fri 9 Mar 2018 11.35 EST
Wine producers in Italy, Spain and France were ravaged by both hot and cold weather in 2017.
It's the kind of bad news best served with a stiff drink: the price of standard supermarket wines such as prosecco and pinot grigio could rise by up to 30% this year as the impact of 2017's disastrous harvest is felt on the high street.
Global wine production slumped to its lowest level in more than 50 years in 2017 after vines in the world's top three producers – France, Spain and Italy – were ravaged by both freakishly hot and cold weather. Hard-hit regions include those producing Rioja and prosecco, which make large quantities of the affordable wines sold in supermarkets.
"We'll start to see those [2017] wines coming to the market now and I think for higher volume, lower price wine you will see cost increases," says Dan Jago, chief executive of high end wine merchant Berry Bros & Rudd.
"Prices for things like pinot grigio or generic Spanish reds will rise by between 10% and 30% and it's [a question of] how much of that retailers will pass on," says Jago, who previously headed up the Tesco wine business. "Prosecco was very hard hit by frost, so there will be less of it and the price will go up."
The International Organisation of Vine and Wine estimates global wine production dropped 8% to 247m hectolitres in 2017 – the worst global harvest since 1961. A hectolitre is the equivalent to 133 standard wine bottles, so the fall in output equates to about 2.9bn fewer bottles.
Last month the Bordeaux wine council said production in what is France's largest wine growing region was down 40% with vineyards in Saint-Émilion worst affected by the severe frost. But while some chateaux lost up to 90% of their harvest, others escaped unscathed, the council added.
"In Bordeaux the top 150 chateaux have not really been affected but the grand surface – the total acreage of Bordeaux – has been ravaged," says Jago. "The Bordeaux harvest, like the overall harvest across Italy and Spain, has been decimated but it tends to be the more flat lying, higher volume production land that has been hit."
The devaluation of sterling in the wake of the Brexit vote has already had an impact on the cost of wine in supermarkets which is up by an average of 4% over the past year, according to research firm Nielsen. French wine cost 5.5% more, while the price tag for Portuguese and Italian varieties increased by 5.1% and 3.5% respectively.
The UK's still and sparking wine market is worth more than £10bn a year and is the biggest market by volume of EU wine exports. Last year alone Britons got through 81.7m bottles of pinot grigio and 85m bottles of prosecco at home.
"The UK wine industry is facing a range of pressures that has seen the average priced bottle of wine reach an all-time high," says Miles Beale, chief executive of the Wine and Spirit Trade Association (WSTA). "This includes fall in the value of the pound – compounded by rising inflation and the uncertainty of Brexit."
The average amount spent on a bottle of wine in the last three months of 2017 was £5.74, according to the WSTA but the wine itself only makes up around a tenth of the price of entry level wines as nearly £3 goes on duty and VAT.
"Once the retailer margin, transport and logistical costs are taken into account on top of this tax burden, there is significant pressure on wine producers and retailers who are looking to provide customers good value for money as well as a quality product," says Beale.
One senior wine industry source said it had faced a "perfect storm" in 2017 because there had been so many problems in wine producing regions around the world. "There is price pressure in two places: right at the top end, in premium claret, and in entry level wine," the executive says. In a £5 bottle only 50p is for the wine so you are looking at a small increase of say 12.5p … on a £100 bottle of wine you've got a material price change.
"In a good year producers will try and profit and in a bad year they will try and eat some of the losses – it's in their interests to do so. At some point prices will have to reflect the cost of production but supermarkets will work hard to keep wine affordable because like eggs, milk and a loaf of white bread, people know the price of a bottle of pinot grigio."
---
You know, living in hell is a lot more boring than I thought it would be.
11-03-2018, 07:58 AM
Likes Given: 2,101
Likes Received: 2,271 in 976 posts

Posts: 2,005
Joined: Feb 2015
Reputation: 47
RE: Everything Else - Global News Tracker
Big firms push to overturn uranium mining ban near Grand Canyon
Companies say mining poses scant threat but conservation groups say ban should remain until environmental risks have been fully explored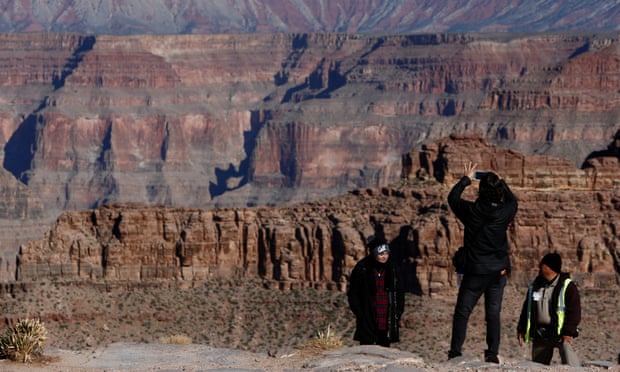 Eagle Point, on the west rim of the Grand Canyon. The land around the canyon is relied upon for water by Native American tribes.
Joanna Walters and agencies
The Guardian

- Sat 10 Mar 2018 12.10 EST
The US mining industry has asked the supreme court to overturn an Obama-era rule prohibiting the mining of uranium on public lands adjacent to the Grand Canyon.
The National Mining Association (NMA) and the American Exploration and Mining Association (AEMA) filed petitions on Friday asking the court to reverse the 2012 ban on new uranium mining claims on more than 1 million acres of public land surrounding Grand Canyon national park.
In December, the ninth circuit court of appeals upheld the ban after a legal challenge by the industry, to the relief of environmental groups and Native American tribes in northern Arizona.
Ken Salazar, then secretary of the interior, instituted the ban for 20 years on public land that the Havasupai tribe relies on for water.
NMA spokesman Luke Popovich said his organization was challenging Salazar's constitutional authority and said uranium mining did not harm the land.
"There is scant evidence that uranium mining outside the park boundaries poses any threat to either the environment or visitor experience," Popovich said, adding that Salazar ignored a finding by the interior department's Bureau of Land Management that showed mining would have little impact.
Conservation groups disagreed and said the ban should remain in place until scientists have time to study the contamination risks.
"Is it worth gambling the future of the Grand Canyon to allow private companies to line their pockets when the risks to groundwater are unknown?" said Roger Clark, a program director at the Grand Canyon Trust, an environmental advocacy group.
The supreme court only takes up a minority of cases presented to it. The lawsuit is filed against Donald Trump's interior secretary, Ryan Zinke. Zinke is generally pro-mining and has been lobbied by the industry to expand their interests on public lands in the west; it is the government that is being sued.
The global uranium market is currently flooded, meaning that mining in the US is not profitable. That could change as the Trump administration considers protections that could increase domestic demand.
In December, in a parallel decision in the ninth circuit, the court rejected an appeal by the Havasupai and others against Canyon Mine, which belongs to Energy Fuels Resources and is being sunk on National Forest land five miles south of the rim of the Grand Canyon. The mine avoids the Salazar ban because it is based on a historic claim and is a revival of a dormant site.
The mine sits above groundwater that ultimately flows into a side canyon just west of Grand Canyon national park and becomes the sole water source for the Havasupai's traditional homeland deep in the gorge, which is famous for its turquoise waterfalls.
Scientists studying the effects of uranium mining around the Grand Canyon say they lack information on whether the radioactive element is hurting plants, animals and a water source for more than 30 million people – the Colorado river, which is used by people in Arizona, Nevada, California and Mexico.
The US Geological Survey said its experts will not get to fully gather vital research if Trump's 2019 budget, which scraps money for the project, is approved.
---
You know, living in hell is a lot more boring than I thought it would be.
User(s) browsing this thread: 2 Guest(s)