Evolution is a psuedoscience, myth, and simply just a religion
21-08-2015, 10:33 AM
LostLocke

Semi-Regular Poster



Likes Given: 377
Likes Received: 670 in 336 posts

Posts: 759
Joined: Feb 2012
Reputation: 17
RE: Evolution is a psuedoscience, myth, and simply just a religion
(21-08-2015 07:13 AM)

Davidjayjordan Wrote: NO in evolutionary terms you must always keep adding eons onto your impossible dreams to somehow get your flocks to think your impossible is possible, just give us more years of rolling the dice, to get the right outcome through luck and chance.

How very sad....
It is very sad. It is very sad that what you say can NOT have happened over millions of years MUST have taken place over 4 thousand years.
Simple facts..... if it didn't happen in millions of years it can NOT have then happen in just thousands of years.
Yes, very sad indeed.
---
21-08-2015, 10:38 AM
(This post was last modified: 21-08-2015 10:44 AM by Reltzik.)
Reltzik

Purportedly Autological



Likes Given: 786
Likes Received: 5,127 in 1,875 posts

Posts: 3,064
Joined: Oct 2012
Reputation: 89
RE: Evolution is a psuedoscience, myth, and simply just a religion
(20-08-2015 08:32 PM)

Reltzik Wrote:

(20-08-2015 05:35 PM)

Davidjayjordan Wrote: Yes Evolution is a mere unproven theory and that does not qualify it as a Science, it is just a religion that millions are forced into submitting to...

Science was created by the Lord, it did not creat itself, neither did laws creat themselves and balance themselves out, until new laws evolved to harmonize with old laws... etc etc...

Explosions did not creat the design we see and can prove in every living creature.

But we should allow the adherrants of evolution to speak their peace and espouse their religion, even if they have nothing to back it up.

I shall shortly post the DESIGN that proves a DESIGNER.

Its math, its science, its rational, its proveable.


.... math.

MATH.

.... okay. Challenge accepted.

I know you're inevitably going to post some ID screed. But first, let's see how much math you actually know.

(1) What is the definition of an event that has virtually zero probability?
(2) Can a set of events that each have virtually zero probability individually have, in combination, a probability distinguishable from zero?
(3) What is the difference between a stable and unstable equilibrium?
(4) What is a Markov chain? How might this be applicable to this discussion?
(5) What objections do you have to evolutionary game theory? Why does it still produce valid results?
(6) What is the definition of entropy in information theory? If one were to apply information theory to biological evolution, what would qualify as information and what would be entropy? What about in the model of a designer? What would qualify as information or entropy there?
(7) Is evolutionary science as described by its proponents continuous?
(8) Is the model of evolutionary science better modeled with chaos theory or complexity theory?
(9) In technical terms, what does it mean for something to be infinite?
(10) (This one from computer science, which is often regarded as a sub-discipline of math. Not without controversy, save your flames!) Does a genetic algorithm qualify as an artificial intelligence, and do the products of a genetic algorithm count as intelligently designed? Why or why not?

I know it's tempting for everyone else to jump in and answer, but please, give him a chance to reply first. I want to see if he's got the chops to address evolution using math.
All right, DJJ has shown he doesn't know much math past arithmetic, geometry, and MAYBE trig, and that he screws that up pretty easily. He's had time to answer these questions and declined to do so. I thought what I did here was clever, and I enjoy explaining math, so I thought I'd go through these and explain what all this means so that maybe people who have read this far will gain more brain cells than they've lost. ... that's not LIKELY, mind you, but still.
(1) Something has virtually zero probability if it is technically a possible outcome of an experiment, but any attempt to assign a positive probability to it results in a value that is too high. For example, consider randomly picking a number on the interval [0,1] (uniform probability distribution). What are the odds that you get 0.5? Not close to it, no, that value EXACTLY. It's technically possible, but any positive value we might assign the probability will be too high. It's virtually zero.
(2) Yes, it's possible. Going back to the example from (1), EVERY SINGLE number on the interval [0,1] would have virtually zero probability. But combine them all into the set of all values on the interval [0,1], and you'd get something with 100% probability.
I included 1 and 2 in overly-optimistic anticipation of some of the probability games that anti-evolutionists like to play.
(3) Equilibriums are locations in dynamic systems where the particle (state, person, whatever we're tracking) holds steady over time, perfectly balanced by the dynamics acting upon it. Stable equilibriums are achieved when the dynamics of the local neighborhood tends to direct the particle to the equilibrium -- think of a marble at or near the bottom of a bowl. If you're off by a little bit, local forces will move you back there, in a manner that will dampen error and deviation. Unstable equilibriums are achieved when the dynamics direct particles away from the equilibrium. If you're off by a little bit, you get driven further off, in a manner that will magnify error and deviation. Think of a marble balanced on top of a globe.
While I would hesitate to imply that a stable equilibrium corresponds to perfect fitness for an evolutionary niche (these are complicated concepts and I wouldn't wish to oversimplify), the CONCEPT of a stable equilibrium (or, perhaps better, a steady cycle) is very relevant. Lots of anti-evolutionary arguments fail to grasp how the dynamics of fitness and natural selection serve to keep species stable.
(4) Markov chains are memoryless random processes in which a state undergoes a transformation to another state, with the probability of potential new states a function of the present state. A good simple example is the game chutes and ladders. You've got pieces on the board in particular places and it's one person's turn -- that's the state. It doesn't matter how you got there, the rules are the same regardless -- that's what memoryless means. That person rolls a die, moves their piece to a new location based on the roll of the die and the layout of the chutes and ladders on the board, and the turn passes to the next person. That's the random process which transforms the state of the board.
Markov chains are powerful tools useful in modelling all sorts of things that go through a transformation process over time. Population dynamics are a good example. Using them requires a good understanding of conditional probability, which many anti-evolutionist arguments lack.
(5) This question was a trap. Evolutionary game theory deals with games (scenarios where multiple players select strategies and the outcome for each player depends on the strategies selected by all players) that are iterated multiple times, with strategies and payoffs varying based on past outcomes. It's only connection with biological evolution is that the game changes over time (though it can be useful in modelling biological evolution). I wanted to see how much of a Pavlovian attack response I could get to anything with the word "evolution" in it.
(6) Information theory deals with how information can be preserved, distorted, lost, and reconstructed. A good metaphor for information theory is trying to decipher a radio signal that's got a lot of static in it... say, an audio stream of someone talking. Some pops of static don't stop us from making out the words at all. Others can eat up a syllable, word, or phrase, and yet we can reconstruct it from context. More static can be filtered out with good equipment. Still more information loss can be avoided with redundancy -- if the speaker repeats herself, or rebroadcasts a copy of the message. The original message is the "information" of information theory. Entropy is information that is lost to the static beyond any mathematical hope of reconstruction. In both biological evolution and intelligent design, the "information" is the genetic traits of the original life form, and the entropy are mutations that alter it beyond recognition.
Anti-evolutionists love to conflate this with the entropy described in the Second law of Thermodynamics. Aside from using the same word and having a similar theme, the two are quite distinct, but to hear them talk they're actually the same concept and the same scientific rule. They will demand to know how we can get new information in a universe where the second law of thermodynamics is inviolate. The answer is that new traits adapted to environmental pressures arising and proliferating following the original organism are not, in information theory, the information. They're the STATIC. Evolution IS information entropy. It's like trying to listen to a transmission of pop music that's getting more and more corrupted by hip-hop from a nearby station until all you can hear is hip-hop. The original is increasingly lost, irretrievably deformed by the fingerprint left by the environment.
(7) This was another "gotcha, you don't know basic math vocabulary" question. It's continuous in a lay sense of the word, in that it's an ongoing process. But in a mathematical sense, it is discrete and not continuous, as it is made up of several individual atomic changes (from one generation to the next) rather than a smooth, unbroken process.
(8) In lay terms, chaos is a situation where very minor differences in starting conditions produce huge differences in outcomes. This is a problem in science and engineering because we usually have a limit to how precisely we can engineer or measure starting conditions, and if starting conditions vary by amount smaller than that limit it can produce catastrophic deviations from our expectations. The "butterfly effect" of a sequence in events in which a butterfly flapping its wings produces a hurricane is meant as an illustration of this. Another example might be how a few genetic mutations produced blue-green algae, leading to a huge transformation in the environment and probably the largest mass extinction Earth has ever known.
Complexity is where very complicated and optimized processes can arise from simple combinations. Colonies of ants can act in extremely intelligent ways even if the individual ants are pretty dumb. Market economies can optimize distribution better than centrally-controlled ones, just by freeing individual agents to act for their individual good. Incredibly stable and interdependent ecologies can arise from organisms acting according to their own unthinking, self-centered instincts. In a way this is a thematic opposite of chaos theory, in which wide-spread freedom of variables produces a steady, optimized outcome.
There's no straightforward answer for this one. This is essay-question material. I put it in as a test of thinking process, skill in selecting the right tool for the right job, and either knowledge or ability to research. The short answer is probably "both, using this one in this way and that one in that way". It's really a test of creativity and ability to apply math. Someone who doesn't know how to construct a complicated model using multiple mathematical disciplines wouldn't be able to provide a coherent answer. It also forces a person to grapple with the rigged probabilities of evolution, which is something that anti-evolutionists avoid like the plague.
(9) Definitions of infinity vary depending on the class of object being considered and the metric being used for distance, but thematically, a set, field, interval, region, whatever, is infinite if no object of finite measure can contain it. If I'm considering a shape drawn on the real number plane, if I can contain it by drawing a circle of a finite radius (eg, a radius that's an actual number like 1068) that contains the entire shape within its boundaries, then the shape itself is finite. If no such finite containing shape can be drawn, then it is infinite. Circles are preferred because they can do the job just as well as anything else and are closely tied in their definition to the distance measure.
Anti-evolutionists love to abuse infinity, especially on the subject of time and probability, usually without knowing what the term means or how it is applied.
(10) This is a great go-to question for challenging intelligent design people. On my first day of AI class, the professor emphasized to us that we don't have a good definition for intelligence. An artificial intelligence is, basically speaking, any computer program that does things that we think of as requiring intelligence to do (play chess, process human language, do math)... and we can't define it better than that. Our only test for what is or isn't intelligent is the Turing test, which amounts to "can it do it as well as a human or better?". It's a bit like what the judge said about what is and isn't pornography: "I can't define it exactly, but I know it when I see it."
This is a bit of a problem for intelligent design and their demand that their designer be intelligent. What counts as intelligent?
A genetic algorithm is what happens when a computer programmer turns laziness into genius, in a manner that overrides the laziness and replaces it with OCD perfectionism. (If you know many programmers, you'll know that this is more plausible than it sounds.) Basically, the programmer either can't figure out how to write a program, or doesn't want to go to the hard work of doing so. Instead, he writes a program to write the program, and the program-writing program that he writes (say that 10 times fast) works on evolutionary principles of fitness, mutation, and inheritance. The genetic algorithm (the program-writing-program) is given a set of parameters to gauge how good a program it writes is -- some measure of fitness, usually a set of performance benchmarks to meet or a weighting of costs to avoid. It then creates a "herd" of programs, gauges their fitness, culls the worst of them, adds copies of the best, and randomly changes some of the code. Iterate through this a few thousand times, and you've evolved your final product.
This is either one of the most brilliant or most idiotic things the human species has ever done. Possibly both.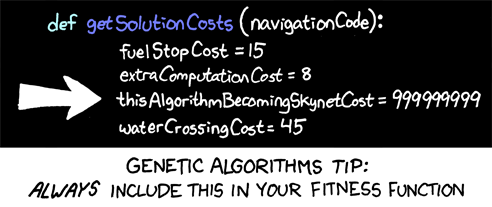 So here's the thing. This IS evolution by selection... just of algorithms rather than biological species. And it works. It's time-consuming and resource-intensive, but for some really hard problems it produces better algorithms than humans can, and can solve some problems that humans can't. If the genetic algorithm (the program governing mutation, reproduction, and selection by fitness) is an artificial intelligence, then its biological analogue, evolution, is a natural intelligence.
Which would mean that, yes, we are intelligently designed.
The following 5 users Like Reltzik's post:
5 users Like Reltzik's post
houseofcantor
(21-08-2015)
,
RocketSurgeon76
(21-08-2015)
,
EvolutionKills
(21-08-2015)
,
Mathilda
(21-08-2015)
,
Full Circle
(21-08-2015)
21-08-2015, 10:41 AM
houseofcantor

living word of gwynnite



Likes Given: 14,363
Likes Received: 18,811 in 8,070 posts

Posts: 14,134
Joined: Oct 2011
Reputation: 130
RE: Evolution is a psuedoscience, myth, and simply just a religion
(21-08-2015 02:23 AM)

pablo Wrote: What, no Fractals? Lol @big meanies.
It's turtles all the way down and fractals all the way up.
The following 3 users Like houseofcantor's post:
3 users Like houseofcantor's post
RocketSurgeon76
(21-08-2015)
,
Octapulse
(21-08-2015)
,
GirlyMan
(21-08-2015)
21-08-2015, 11:16 AM
RocketSurgeon76

Ne dederis consolationem, sed veritas!



Likes Given: 16,167
Likes Received: 14,929 in 4,722 posts

Posts: 6,452
Joined: Jun 2015
Reputation: 106
RE: Evolution is a psuedoscience, myth, and simply just a religion
(21-08-2015 10:21 AM)

Reltzik Wrote:

(21-08-2015 09:37 AM)

RocketSurgeon76 Wrote: I'm trying to figure out how he figures the Nobel is for "warmongers" etc.

Does he think that the Nobel Peace Prize is one of the five Nobel awards? It's not. It's a sixth, separate prize given by a completely different process. Though, to be fair, even though the Peace Prize was invented separately, it is now considered a fully-valid prize, though I would agree it sometimes is given for political purposes, or to those who have ironically committed actions that are questionable and/or anti-peace. It has nothing to do with the original, real Nobel Prizes. The categories for the original Nobel Prizes are:

Chemistry
Physics
Medicine/Physiology
Economics
Literature

Of course, I tend to focus on the first three, which are in the actual sciences. Even if we accept what you say is true about the Peace Prize, it does not mean you would not win in Chemistry or Physics if you proved evolution or the age of the universe wrong.



Edit to Add:

Of course, you'd better bring your A-game. You'd be competing with these people and their level of work.



Second Edit to Add:

Incidentally, the Nobel Peace Prize 2014 was awarded jointly to Kailash Satyarthi and Malala Yousafzai "for their struggle against the suppression of children and young people and for the right of all children to education". Total warmongers.


Correction! Economics isn't technically a Nobel Prize. A bunch of bankers added their own category, their own award ceremony, and their own award 73 years later because they felt left out.

EDIT-ADDITION: The original list was physics, chemistry, physiology/medicine, literature, and peace. Alfred Nobel, who had amassed a fortune inventing and patenting explosives used for warlike purposes, was worried about his legacy and wanted to be remembered for having created something other than implements of death and destruction. Hence the categories for literature and peace.
My mistake! Thank you.
---
"Theology made no provision for evolution. The biblical authors had missed the most important revelation of all!

Could it be that they were not really privy to the thoughts of God?

" - E. O. Wilson
21-08-2015, 11:55 AM
Thumpalumpacus

Six-string slinger.



Likes Given: 17,844
Likes Received: 12,210 in 5,125 posts

Posts: 8,348
Joined: Mar 2015
Reputation: 86
RE: Evolution is a psuedoscience, myth, and simply just a religion
(20-08-2015 04:55 PM)

Davidjayjordan Wrote: Whats your opinion..... ?
That you lack an understanding of evolutionary theory, the scientific method,
and
skeptics.
The following 1 user Likes Thumpalumpacus's post:
1 user Likes Thumpalumpacus's post
Chas
(21-08-2015)
21-08-2015, 11:58 AM
Thumpalumpacus

Six-string slinger.



Likes Given: 17,844
Likes Received: 12,210 in 5,125 posts

Posts: 8,348
Joined: Mar 2015
Reputation: 86
RE: Evolution is a psuedoscience, myth, and simply just a religion
(20-08-2015 05:01 PM)

Davidjayjordan Wrote: [...] but thats my opinion as a scientist, as a rational thinker, and as a realist and biologist and outdoorsman.
The only believable claim in that litany is that you're an outdoorsman. (eta: Unbeliever got there first!) Everything else smells like bullshit.
Where do you work, and in what job? Let's see your
bona fides
.
21-08-2015, 12:10 PM
Likes Given: 34,353
Likes Received: 47,935 in 20,439 posts

Posts: 39,108
Joined: Nov 2011
Reputation: 205
RE: Evolution is a psuedoscience, myth, and simply just a religion
(20-08-2015 08:08 PM)

Davidjayjordan Wrote:

(20-08-2015 07:58 PM)

Bucky Ball Wrote: You're entitled to your opinion. You're entitled to believe in fairies and wizards if you so decide.

The fact is, every major university in the entire world teaches it as the best explanation we have. There are mountains of evidence to support it, and nothing to support rejection of it. DNA proves it is true. "Luck" had nothing to do with anything. You clearly know no math or science or genetics or probability.

If "Jebus done it'' floats your boat, then wallow in your ignorance.
No skin off our nose.

Evolution is based on evidence. Evidence that you are too ignorant to even begin to discuss. You are to be pitied.


No, DNA proves we came from a original couple.... FULL STOP

Earth timelines do not go back billions of years !!!

There are no transition species, even though evolutionists try to dig them up. None are present now when the world should be full of them. A Major SET BACK for evolutionists. NO present living changing species.. Only inbreeding and man made
genetic manipulation....


Yes every university is
money oriented and controlled by money and power oriented

Yes to get a job there you must preach the same religion as others and cow tow to the religion absolutely....
LOL conspiracy theory.
---
Skepticism is not a position; it is an approach to claims.
Science is not a subject, but a
method
.
The following 1 user Likes Chas's post:
1 user Likes Chas's post
RocketSurgeon76
(21-08-2015)
21-08-2015, 12:12 PM
Likes Given: 34,353
Likes Received: 47,935 in 20,439 posts

Posts: 39,108
Joined: Nov 2011
Reputation: 205
RE: Evolution is a psuedoscience, myth, and simply just a religion
(20-08-2015 08:14 PM)

TheBeardedDude Wrote:

(20-08-2015 08:14 PM)

TheInquisition Wrote: Well, here's the latest version of nutball to visit this forum, so this nutball believes:

The moon landings were a hoax

Astrology is a thing

Numerology

Science is insane, but crystal energy is real

And here he claims that pyramids posses some kind of mystical power
Though everyone of his links go to a defunct geocities site that Rickrolls you on every link.

I call Poe.


The pyramid one is fucking real
Nuh-uh. If it were, your razor blades would be sharp and you wouldn't have a beard.
---
Skepticism is not a position; it is an approach to claims.
Science is not a subject, but a
method
.
21-08-2015, 12:15 PM
Likes Given: 34,353
Likes Received: 47,935 in 20,439 posts

Posts: 39,108
Joined: Nov 2011
Reputation: 205
RE: Evolution is a psuedoscience, myth, and simply just a religion
(20-08-2015 09:42 PM)

GirlyMan Wrote:

(20-08-2015 09:27 PM)

Davidjayjordan Wrote: No, I have the math that proves the design which absolutely proves their had to be a DESIGNER......


GirlyMan would like to see that data and your math..
Me, too, although I expect it's all phi and Fibonacci.
---
Skepticism is not a position; it is an approach to claims.
Science is not a subject, but a
method
.
The following 1 user Likes Chas's post:
1 user Likes Chas's post
RocketSurgeon76
(21-08-2015)
21-08-2015, 12:20 PM
Mathilda

Obsessive Poster



Likes Given: 5,032
Likes Received: 8,323 in 3,068 posts

Posts: 5,110
Joined: Jan 2014
Reputation: 124
RE: Evolution is a psuedoscience, myth, and simply just a religion
User(s) browsing this thread: 1 Guest(s)