Food Nerd Talk
31-08-2010, 02:48 PM
SecularStudent

Curiouser and Curiouser...



Likes Given: 21
Likes Received: 54 in 33 posts

Posts: 296
Joined: Aug 2010
Reputation: 4
RE: Food Nerd Talk
Damn whoever brought up sushi first
I've been craving it for weeks! Mmmm, raw salmon!
Stark Raving, that sounds delicious! I love fresh garden veggies!
My boyfriend is the resident cook of our place (I've been known to burn water), but I can bake anything that I've attempted to bake, and if anybody wants any tips on healthy alternatives in baking, I've got a few. I'm allergic to dairy, so I use applesauce (although crushed bananas work too) and a little bit of olive oil as a substitute for butter. I also use honey as a substitute for processed, white sugar. And I don't use salt at all in any of my baking.
---
"Remember, my friend, that knowledge is stronger than memory, and we should not trust the weaker." - Dr. Van Helsing,
Dracula
31-08-2010, 03:22 PM
Stark Raving Obey The Stark Lord



Likes Given: 2,823
Likes Received: 12,356 in 4,089 posts

Posts: 7,825
Joined: Feb 2010
Reputation: 138
RE: Food Nerd Talk
(31-08-2010 02:15 PM)

planetmagnus Wrote: Food should take just as long to cook as it takes to eat it. In a perfect world...
Bork, bork!
Now that's a good attutude. I take it even further. I've really gotten into slow cooking. (Not in a slow cooker nescessarily, mainly real barbecue as opposed to grilling) To make a 5 pound chicken, I start marinating at 10am. Takes me three and a half hours to BBQ, and we usually eat around 7pm. I truly LOVE to cook. Especially good, healthy, full of flavor food!
At the risk of showing what a nerd I really am....anybody have some recipes you invented that you'd like to share? I love trying new things. Especially when it's an origional recipe.
---
So many cats, so few good recipes.
31-08-2010, 04:10 PM
Cetaceaphile

Dogma Rejector



Likes Given: 137
Likes Received: 373 in 191 posts

Posts: 1,335
Joined: Aug 2010
Reputation: 16
RE: Food Nerd Talk
I think I will try a rice steamer maybe.

@ Stark: Personally I'm not too good with original recipes, but I do have one that I stumbled on. Not really a recipe, just a real simple pie like thing xD Perfect for a once a month thing to give to kids I find.

Basically you get yourself 500g of good eating chocolate (I used 25% once and 80% another time. I wouldn't recommend anything lower than 25%) About half the amount of fresh cream and a sheet of pastry. Also need a pie dish.
First get the pastry into a pie shell in the dish and cook how guided so you have a base.
Melt the chocolate, then mix it with about half the amount of fresh cream in a large bowl.
Stir it well so that it works out the odd texture that eating chocolate gets when liquid is added.
When it's sort of like bread dough texture spread it into the pie shell, then put it in the fridge.
Comes out sort of like a soft chocolate bar in pastry.

Ya I know, simple and a bit weird, but thats me :3
---

Leonard Nimoy
1931-2015
Live long and prosper.
20-07-2012, 03:00 PM
kingschosen derp



Likes Given: 2,247
Likes Received: 10,563 in 4,257 posts

Posts: 13,263
Joined: Nov 2011
Reputation: 188
RE: Food Nerd Talk
---
The following 2 users Like kingschosen's post:
2 users Like kingschosen's post
Erxomai
(20-07-2012)
,
Filox
(24-07-2012)
20-07-2012, 04:13 PM
Leerob

Darth Vader



Likes Given: 2,278
Likes Received: 3,549 in 1,731 posts

Posts: 3,822
Joined: Dec 2011
Reputation: 65
RE: Food Nerd Talk
Oh yeah! I think I like this thread > I love food!
20-07-2012, 05:16 PM
GirlyMan

My Own Personal Jesus



Likes Given: 29,864
Likes Received: 37,703 in 17,544 posts

Posts: 32,797
Joined: May 2011
Reputation: 212
RE: Food Nerd Talk
Just reminding Stark about the food forum he promised, huh KC?
Here's a recipe for Buffalo Chili from the National Museum of the American Indian's
cookbook
. I had it last weekend in their cafeteria and it was brilliant. They also had one helluva good Peach/Habanero salsa.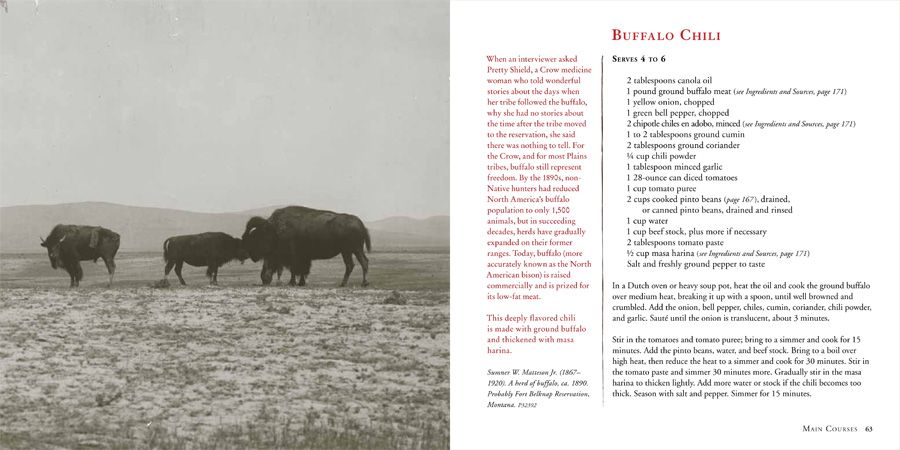 ---
#sigh
The following 1 user Likes GirlyMan's post:
1 user Likes GirlyMan's post
Erxomai
(20-07-2012)
User(s) browsing this thread: 1 Guest(s)