Ghost Adventurers and the like......
06-03-2011, 10:02 AM
tonyahunting

Unregistered

Ghost Adventurers and the like......
My husband and I, both atheists love to watch Ghost Adventurers. We love making fun it. It is hilarious. I would actually like to do one these ghost shows but actually use science to prove or disprove the "ghosts" existence. I would not use their emf detectors, or other ridiculous tools of the trade. The tools of the trade detect nothing. My favorite part are their voice recordings. They sound like nothing to me but they have them saying things like go home, I will kill you, help ect.....They know the haunted stories before they go into the "haunted" place, thus already putting scary ideas into their heads. Go into the place with no knowledge of what ghosts are presumed to haunt the place. If you record images, or voices, or whatever would constitue proof and that happens to coinside with what others have seen or heard than all the better. Also, why does it always have to happen at night? Can ghosts not manifest themselves during the day, assuming of course their are ghosts!!!!!LOL! I don't believe their are ghost. I could undestand energy from a human that has passed still hanging around, since we are all made up of atoms and matter. matyter cannot be destroyed, but when we die, our consiouness dies, thus we dont exist as we do now. We could not as a ghost talk, or look human, or behave like a human. As people have stated before on this topic, this is a extention of religion. people believe in ghosts because they want to believe in an afterlife. I understand and have no problem with it. I assume all of this, but if proof comes my way i will check it out.
06-03-2011, 11:35 AM
Kikko

Almost Somebody



Likes Given: 16
Likes Received: 39 in 21 posts

Posts: 955
Joined: Jun 2010
Reputation: 6
RE: Ghost Adventurers and the like......
http://www.youtube.com/watch?v=viQwedj9V...re=related
Yea, ghost shows are ridiculously funny.
---
07-03-2011, 07:39 PM
MasterRottweiler

Heresiarch



Likes Given: 112
Likes Received: 111 in 41 posts

Posts: 338
Joined: Oct 2010
Reputation: 3
RE: Ghost Adventurers and the like......
Oh dear, I'm glad that you dont live in Mexico
. There is a show called "Extranormal" which is, well, an INSULT to my intelect, their "EVIDENCE" is fake as hell, seriously. I watched it once and I wanted to throw up after watching that crapfest.
Once they "investigated" a house haunted by "demons" they heard a "demonic growl", and after I paid atention to that roar, I noticed that it was a sound effect from DooM 3 from a monster called Mancubus (If you played all the DooM games, specially DooM 3 you know what I'm talking about). If not there is a picture of a Mancubus from DooM 3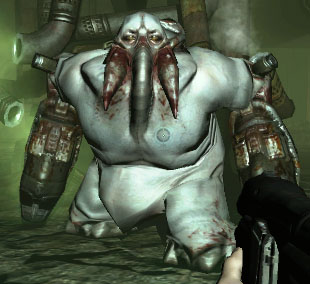 And the funny part is that most people I know are gullible enough to believe their so called evidence which are crappy special effects. And the "researchers" are nothing but so called shamans and "energy harmonizers", total crap... Peace.
---
"The tendency to turn human judgments into divine commands makes religion one of the most dangerous forces in the world."


-Georgia Harkness.
"La fe es patrimonio de los pendejos. (Faith is patrimony of the dumbfucks)."


-Diego Rivera
08-03-2011, 08:42 AM
TheSixthGlass

Multiple Heretic



Likes Given: 9
Likes Received: 43 in 26 posts

Posts: 323
Joined: Mar 2010
Reputation: 6
RE: Ghost Adventurers and the like......
I don't have much time right now, but I used to be big into ghost shows, particularly Ghost Hunters - oddly enough, out of all the ones I've seen, I do think it is (or was) more skeptical than the other groups of investigator shows out there. At least on their show, not every freaking noise and shadow is a spirit or ghost or manifestation.
I'll try to go into more detail later, but in the long run Ghost Hunters actually helped deconvert me from theism and spirit belief. So, they can be helpful.
---
Our brains deceive us on a regular basis, so we have to find ways to fight back.
08-03-2011, 04:16 PM
riseinside

Junior Member



Likes Given: 26
Likes Received: 99 in 68 posts

Posts: 359
Joined: May 2010
Reputation: 4
RE: Ghost Adventurers and the like......
I enjoy watching the shows. I don't believe in most of the stuff and laugh at the lack of evidence they provide but I do enjoy the show. Not sure why really.
03-04-2011, 10:18 PM
The Doctor

Trust me. I'm the Doctor.



Likes Given: 16
Likes Received: 39 in 21 posts

Posts: 315
Joined: Nov 2010
Reputation: 4
RE: Ghost Adventurers and the like......
My wife and I got hooked on the show on Netflix. I used too be a Ghost Hunters fan, but the show seemed too lost it's originality.

Ghost Adventures is a fun show. I love the cast. If they really believe they are hunting ghosts, so be it. The show seems to really try to prove ghosts better than Ghost Hunters. Ghost Hunters is now faking stuff too make a profit.

I also like Destination Truth. I enjoy it for the fun cast as well. Also if you watched the first three seasons. The show was really skeptic on some of the stuff they have to deal with. Things got annoying once they added the GH crew too promote Ghost Hunters.
---
"Believe nothing, no matter where you read it, or who said it, no matter if I have said it, unless it agrees with your own reason and your own common sense." ~ Gautama Buddha
User(s) browsing this thread: 1 Guest(s)