Glad to know there are others.
28-09-2012, 10:31 AM
Dom Freethinker



Likes Given: 16,741
Likes Received: 21,810 in 9,889 posts

Posts: 19,934
Joined: Feb 2012
Reputation: 153
RE: Glad to know there are others.
Your mom - no point pulling the carpet out from under her feet. She likely will cling to her faith and rather let you go - and it will ruin her life. Let the older generation be, they will fade out.

Your kids - totally different story. They are fresh with still open minds and tons of potential. Don't let it go to waste, don't let them be indoctrinated. Should THEY - the kids - ask to go to church without their mom's input, you can look at it like a field trip and let them explore. Just make sure you raise them knowing that there are real, logical answers to everything and they'll sort it.

You will need to speak to your wife.
---
Science is the process we've designed to be responsible for generating our best guess as to what the fuck is going on. Girly Man
The following 2 users Like Dom's post:
2 users Like Dom's post
KidCharlemagne1962
(28-09-2012)
,
F.A.C.T.
(11-04-2013)
28-09-2012, 03:55 PM
(This post was last modified: 28-09-2012 04:04 PM by GirlyMan.)
GirlyMan

My Own Personal Jesus



Likes Given: 30,393
Likes Received: 38,138 in 17,796 posts

Posts: 33,264
Joined: May 2011
Reputation: 212
RE: Glad to know there are others.
Welcome Aboard Squid! I was a Bilge Turd myself.
(27-09-2012 02:36 PM)

Cryo Wrote: I learned nothing of value and was at such a severe handicap, academically, that I needed to enlist in the Navy in order to be able to pay for school.
USN was the best thing to ever happen to me. Taught me how to study properly. Went from D student in High School to top of my class at University. I credit the Navy for that. I highly recommend it.
(27-09-2012 02:36 PM)

Cryo Wrote: During that time, there was great distance between myself and my upbringing. I discovered much about the world, and how it really worked.

I was angry.
...
My question now is, what now?
Meh, I'd just let it go. Water under the bridge, spilt milk and all that.
(28-09-2012 01:44 AM)

DLJ Wrote: The question your partner has to answer is... What does she want them to be when they grow up? Safe sheep or clever wolves?
Clever sheep are scariest.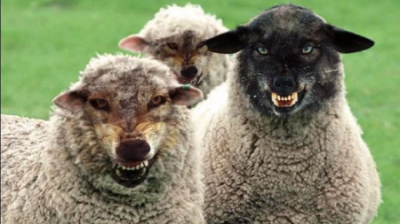 ---
There is but one truly serious philosophical problem. - Camus
The following 3 users Like GirlyMan's post:
3 users Like GirlyMan's post
Chas
(29-09-2012)
,
DLJ
(29-09-2012)
,
TheGulegon
(10-04-2013)
29-09-2012, 06:13 PM
Cryo

Newbie



Likes Given: 0
Likes Received: 3 in 2 posts

Posts: 6
Joined: Sep 2012
Reputation: 0
RE: Glad to know there are others.
Thanks for all the replies. I can tell this will be a good place to hang out. I also appreciate the advice.
10-04-2013, 09:35 PM
F.A.C.T.

Newbie



Likes Given: 19
Likes Received: 17 in 9 posts

Posts: 17
Joined: Apr 2013
Reputation: 0
RE: Glad to know there are others.
Hello, I'm quite new here myself. I can tell you from my experience, I agree with other posters and let the old generation be. I did come to a point where I had to tell my family about my atheism, they called it a sad moment since I was a minister and my parents viewed that as a respectable position.
They did, however, come around rather quickly and accepted it for what it was, an inevitable occurrence. Now, well over a decade later my mother's health has deteriorated quickly and has lost much of her mental faculties, she always asks me to pray for her because I'm closer to god...What do you say to that?
I simply couldn't let my pride for my stance on religion and faith be the determining factor.
These are the last months of her life and I hold the placebo that gives her some comfort, I certainly give her that, no shame in it. Besides to tell her I will obviously doesn't mean I do, but again, I see it as a placebo, "sure mom, I will" and that's the end of it. I know your situation is different but I hope you can take something out of mine.

Your kids... There I will not give my opinion as I have none but make your point heard.
Good luck and my thoughts with you in your mother's health situation, I know how it feels.
The following 1 user Likes F.A.C.T.'s post:
1 user Likes F.A.C.T.'s post
morondog
(11-04-2013)
User(s) browsing this thread: 1 Guest(s)