How to make a scientist laugh
30-12-2013, 10:26 PM
Taqiyya Mockingbird

Obsessive Poster



Likes Given: 5,396
Likes Received: 2,935 in 1,696 posts

Posts: 5,111
Joined: Nov 2013
Reputation: 21
RE: How to make a scientist laugh
(30-12-2013 11:03 AM)

Paleophyte Wrote: Three engineers are sitting at a bar arguing over which type of engineer God is.

"It's obvious that God is a mechanical engineer." proclaims the mechanical engineer as he tosses back his scotch. "All you have to do is look at the way the skeleton, muscles, tendons and ligaments all interact. The perfection of the shoulder ball and socket joint. The marvel of the human hand. Hell, you can balance a small car on a single femur without exceeding it's load-bearing capacity."

"God has to be an electrical engineer." muses the electrical engineer as he knocks back another shot of tequila. "I'll grant you that the physical aspects are impressive but when you get right down to it they're little more than hardware. The most powerful computing system on the planet made from a few hundred cc's of neurons, sodium-gated ion channels and neuropeptides. Now that's what I call elegant design!"

"God? God hazh got ta be a shivil engzineer!" slurs the civil engineer over his flat beer. "The hell you say!" cries the mechanical engineer. "How do you figure that?" sneers the electrical engineer. The civil engineer looks up at his two colleagues with blood-shot eyes and gleefully replies, "Who the fuck else would have piped the sewage outflow through the recreation area?"
I laughed SO fucking hard.....quoting you in the "UNintelligent Design" thread FTW!
---
It's Special Pleadings all the way down!

Magic Talking Snakes STFU -- revenantx77
You can't have your special pleading and eat it too.
-- WillHop
30-12-2013, 11:14 PM
Jeffasaurus

Proponent of reality



Likes Given: 494
Likes Received: 727 in 334 posts

Posts: 747
Joined: Feb 2013
Reputation: 23
RE: How to make a scientist laugh
A neutrino walks into a bar. The bartender says, "hey, we don't serve your type in here."
The neutrino replies, "that's okay; I was just passing through."
---
The following 3 users Like Jeffasaurus's post:
3 users Like Jeffasaurus's post
aurora
(30-12-2013)
,
Crulax
(31-12-2013)
,
Shoebutton
(03-01-2014)
08-01-2014, 12:26 PM
Crulax

There are some who call me... Tim.



Likes Given: 2,318
Likes Received: 2,337 in 878 posts

Posts: 1,394
Joined: Dec 2013
Reputation: 44
RE: How to make a scientist laugh
The physics geek in me really wants this bumper sticker!
---
Onward, my faithful steed!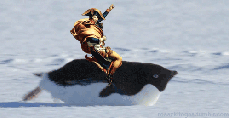 The following 4 users Like Crulax's post:
4 users Like Crulax's post
Chas
(08-01-2014)
,
Jeffasaurus
(08-01-2014)
,
Paleophyte
(09-01-2014)
,
ClydeLee
(10-01-2014)
User(s) browsing this thread: 1 Guest(s)