I can't stand bugs!
26-03-2014, 08:11 PM
Lightvader

funny level: hospitalized for broken rib



Likes Given: 1,431
Likes Received: 1,795 in 858 posts

Posts: 3,427
Joined: Jun 2013
Reputation: 54
RE: I can't stand bugs!
There are 2 bugs that freak me out.
Flying cockroaches and carpenter bees.
Flying roaaches because fucking flying stinking shit bugs with crazy sounds landing everywhere.
My neighbour cleaned his house ,moved furniture outdoors,the next day i had like a whole swarm of roaches @ my home. Fuckers
carpenter bees because they are so hard to kill.
I looooove dragonflies. And butterflies. And grasshoppers.
---
I don't really like going outside.
It's too damn "peopley" out there....
27-03-2014, 06:13 AM
Hafnof

Frequent Poster



Likes Given: 6,830
Likes Received: 3,704 in 1,608 posts

Posts: 3,369
Joined: Apr 2012
Reputation: 68
RE: I can't stand bugs!
We have one of those circular trampolines with the mesh around it. Except the mesh is long gone, so it just has poles sticking up around the trampoline. My kids have made friend with the "mummy spiders" that tend to make their webs there and don't seem to mind the jumping all that much. Our guests are invariably these gals here[1][2]: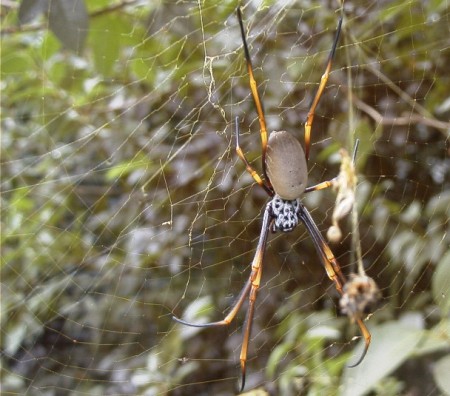 One disappeared a month or so back. The kids were heartbroken. We didn't find the body.
[1]
http://www.brisbaneinsects.com/brisbane_...den_OW.htm
[2]
http://www.findaspider.org.au/find/spiders/110.htm
---
Give me your argument in the form of a published paper, and then we can start to talk.
27-03-2014, 09:19 AM
Drunkin Druid

Regular Poster



Likes Given: 593
Likes Received: 1,302 in 670 posts

Posts: 1,971
Joined: Nov 2012
Reputation: 34
RE: I can't stand bugs!
I love the little fuckers! There's something alien about them. They are so different!
27-03-2014, 11:26 AM
dancefortwo

Naked Poster



Likes Given: 14,438
Likes Received: 16,177 in 6,999 posts

Posts: 11,533
Joined: May 2013
Reputation: 94
RE: I can't stand bugs!
(26-03-2014 09:08 AM)

Alex_Leonardo Wrote:

(25-03-2014 04:17 PM)

dancefortwo Wrote: Have you ever been to Florida? The whole state is saturated with BUGS! I don't care if it's 80 degrees year around I couldn't live there. Bugs, bugs and more bugs. And then when your running away from the bugs you geting eaten by an alligator. Damn!


That's one offensive stereotype. However, I'm not offended. I HATE FLORIDA! I FREAKING HATE LIVING HERE!

My husband is from South Carolina and they have those Palmetto Bugs. They're giant cockroaches that FLY! They fly! OMG!
These things fly!
---
Shakespeare's Comedy of Errors.... on Donald J. Trump:

He is deformed, crooked, old, and sere,
Ill-fac'd, worse bodied, shapeless every where;
Vicious, ungentle, foolish, blunt, unkind,
Stigmatical in making, worse in mind.
27-03-2014, 12:45 PM
Blackhand293

Cthulhu Cultist and Flaming Homo



Likes Given: 476
Likes Received: 933 in 430 posts

Posts: 749
Joined: Mar 2014
Reputation: 25
RE: I can't stand bugs!
These little nightmares have terrified me from a young age, and they are everywhere in my home city
They are around 3 inches in length, squirt foul liquids when threatened and can jump around 2 1/2 feet at a time.
Pleasant dreams
---
The requirement of evidence to back your claim does not disappear because it hurts your feelings, reality does not care about your feefees.
27-03-2014, 03:22 PM
GirlyMan

My Own Personal Jesus



Likes Given: 30,138
Likes Received: 37,944 in 17,674 posts

Posts: 33,033
Joined: May 2011
Reputation: 211
RE: I can't stand bugs!
Eat 'em.
Insects are food.
---
#sigh
User(s) browsing this thread: 1 Guest(s)