Im a facist...
13-03-2011, 06:30 PM
Im a facist...
hey all,
haven't posted much before
... ok i just got called a facist for arguing that we shouldn't teach christainity, but we can have our own beliefs, just don't be forcing your "shit" onto me..
So i have a question..
Do you think people in strong religous beliefs, and people who haven't actually challenged there belief and just accpet what the majority is, or your family beliefs, don't see the bigger picture in the world and how blind faith is killing us?
Religion - its all fun and games until someone gets hurt...
13-03-2011, 07:00 PM
TheKetola

God



Likes Given: 274
Likes Received: 173 in 74 posts

Posts: 479
Joined: Dec 2010
Reputation: 11
RE: Im a facist...
I am almost 100% sure that most Christians have not ever challenged their faith and just jump onto the bandwagon, because its' easier for them to do. Who needs to think anyway?
13-03-2011, 07:38 PM
Lilith Pride

Intersexed Transsexual Lesbian



Likes Given: 104
Likes Received: 833 in 506 posts

Posts: 2,137
Joined: Feb 2011
Reputation: 28
RE: Im a facist...
I think people who believe they are right without a doubt can't comprehend the idea of leniency. I don't think that I am perfectly right so I don't go demanding everyone know something. I feel I am right in my belief that people should question their own beliefs, so I do try and spread that.

Christians believe that there is only one answer, and also that they know it. So of course they think it has to be spread in any way possible. Except that for non Christians their answer is meaningless. You are not a fascist by believing that people should be free to live their lives without being forced into a religious doctrine, people fought and died for that. People also fought and died over each religion. Why fight and die for something? Because you feel it is that important that it must live on.

If a Christian discusses freedom of religion with you then make sure they understand that freedom of religion isn't a doctrine designed to protect only them. The belief that an answer is known is the worst danger possible. Without cynicism humans are monsters.
---
I'm not a non believer, I believe in the possibility of anything. I just don't let the actuality of something be determined by a 3rd party.
13-03-2011, 11:02 PM
trillium13

a Yankee in the South



Likes Given: 2
Likes Received: 34 in 23 posts

Posts: 531
Joined: Dec 2010
Reputation: 5
RE: Im a facist...
I really hate when people throw that word around. Anyone who doesn't think like a right-wing Christian is automatically a "fascist" or a "socialist". I'd like to hear any one of them correctly define those terms.

Anyway, to answer your question, no. They think we need MORE blind faith, so why would they even try to see the problems it can cause? The only thought process is, "I'm right, and you're wrong! And you're an evil fascist Nazi socialist communist pig-dog who is going to rot in the pits of hell!!!1!!1!"
---
My reason for being is to serve as a cat cushion. That is good enough for me.
14-03-2011, 01:13 AM
No J.

Rocker & Pundit



Likes Given: 49
Likes Received: 106 in 67 posts

Posts: 1,806
Joined: Aug 2010
Reputation: 9
RE: Im a facist...
fas·cism /ˈfæʃɪzəm/ Show Spelled
[fash-iz-uhm] Show IPA

–noun
1. ( sometimes initial capital letter ) a governmental system led by a dictator having complete power, forcibly suppressing opposition and criticism, regimenting all industry, commerce, etc., and emphasizing an aggressive nationalism and often racism.
2. ( sometimes initial capital letter ) the philosophy, principles, or methods of fascism.
3. ( initial capital letter ) a fascist movement, especially the one established by Mussolini in Italy 1922–43.

From what you have said, Pudsy, you don't match the description of facsist according to the dictionary meaning above. That means that the person who called you a facsist is a liar.
---
When I find myself in times of trouble, Richard Dawkins comes to me, speaking words of reason, now I see, now I see.
14-03-2011, 05:50 AM
Free_Thinker

Unregistered

RE: Im a facist...
Perhaps you should say to those types of Christians "Maybe we should enforce some blasphemy laws, like in Pakistan! Praise Jesus!"
14-03-2011, 06:42 AM
gaglamesh731

Fat skeptical bastard



Likes Given: 61
Likes Received: 145 in 73 posts

Posts: 1,660
Joined: Sep 2010
Reputation: 11
RE: Im a facist...
I wonder if most people making such accusations are aware how much the Vatican has supported fascist and dictatorial regimes throughout history - especially Nazi Germany.

The accusation is usually meaningless and just a slander word as most of the people making it are poorly educated in the fields of politics.
---
Atheism is a religion like OFF is a TV channel !!!
Proud of my genetic relatives
14-03-2011, 10:59 AM
RE: Im a facist...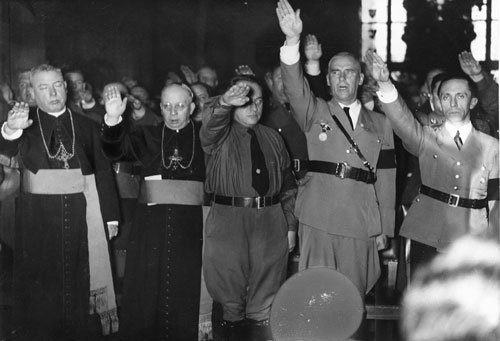 (14-03-2011 05:50 AM)

Free_Thinker Wrote: Perhaps you should say to those types of Christians "Maybe we should enforce some blasphemy laws, like in Pakistan! Praise Jesus!"
Most Fundamentalist Christians never think of that. If they did, we'd have less of them for they'd be about the business of killing their unruly brats by stoning them to death before the church steps. Their wives would be long suffering, literally, as they were treated as property of their husbands and beaten, walking at a distance behind him, etc... And those daughters that happened to be raped would either be sold to their rapist for 10 more pieces of silver than was the Christ sold to the Pharisees, so as to be taken as his wife. Or they'd be murdered in the event they enjoyed the ravishing.
And that's just a few examples.
It's why those who claim to believe the Bible is absolutely true and they live by it's tenets, are admitted ignorant's in the process of feeling so smug, as the only sect god approves.
What's especially amusing however, are those who excuse that all the above is part of the Old Testament and no longer applies, because Jesus fulfilled the covenant.
:rolleyes:Elective faith, makes it so much easier to ignore the fact they'd have to kill in the name of their god if they were truly about adhering to the Fundamental dogma of their faith.
Matthew 5:17-18 (King James Version)
*Jesus speaking*
Think not that I am come to destroy the law, or the prophets: I am not come to destroy, but to fulfill. For verily I say unto you, Till heaven and earth pass, one jot or one tittle shall in no wise pass from the law, till all be fulfilled.
User(s) browsing this thread: 1 Guest(s)