Joke of the Day
11-02-2014, 08:36 AM
(This post was last modified: 11-02-2014 08:41 AM by Rahn127.)
Rahn127

Kindred



Likes Given: 658
Likes Received: 4,767 in 2,063 posts

Posts: 3,734
Joined: Jan 2012
Reputation: 71
Joke of the Day
Why do Islamic terrorists bomb schools ?
Answer: How else are they going to get virgins into heaven ?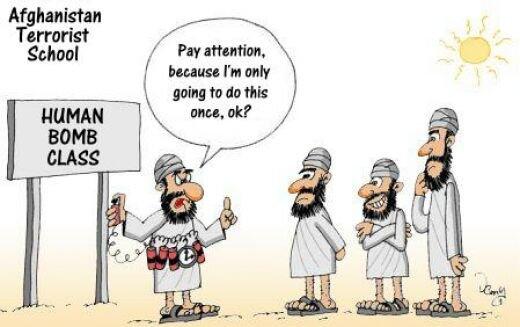 I make this point because from a religious stand point, it could be seen as perfectly understandable why someone would target a school and kill hundreds of kids just so this person or some other person would get their virgins in the after life.
Take this a step further and you could get kids raised on farms just for this purpose.
When people begin to see other people or groups of people as being on a less than equal footing than themselves, this is the point where the seeds of atrocity begin to grow
---
Insanity - doing the same thing over and over again and expecting different results
11-02-2014, 08:39 AM
Thinkerbelle

Regular Poster



Likes Given: 488
Likes Received: 1,928 in 908 posts

Posts: 1,595
Joined: Apr 2012
Reputation: 37
RE: Joke of the Day
I clicked on this thread expecting to see Dreck spilling more of his garbage. Surprise is on me, eh?
---
We have enough youth. How about looking for the Fountain of Smart?
User(s) browsing this thread: 1 Guest(s)