Kesäkeitto
16-08-2014, 04:35 AM
Shadow Fox

Enemy Of The State



Likes Given: 1,322
Likes Received: 1,622 in 891 posts

Posts: 2,605
Joined: May 2014
Reputation: 54
Kesäkeitto
Kesäkeitto (Kess-ah-Kay-toe)
The vegetables of early summer are prized in Finland because the season is so brief.
This light yet hearty soup is a favorite luncheon or late-supper main course, and the
shrimp are added as a touch of luxury on special occasions.
(Shadow Fox recommends the shrimp but its not needed)
To serve 6 to 8 people
4 Small carrots, cut into 1/4-inch dice (1 1/2 cups)
3/4 cup fresh Green Peas ( Get fresh or frozen NOT canned. )
1 small head cauliflower, separated into 1/2 inch buds (1 cup) - Trust me...even if you do not like it use it!
2 new potatoes - cut into 1/4-inch squares or pieces. Use medium or big ones.
1/2 pound fresh string/green beans ( NOT CANNED )
7 small red radishes, halfed or quarters.
1/4 pound fresh spinach, Washed very well, drained and finely chopped (about 2 cups or a little over)
1 teaspoons salt
2 tablespoons butter
2 tables spoons flour
1 cup milk
1 egg yolk
1/4 cup heavy whipping cream
1/2 pound medium shrimp "Cooked" (Optional)
1 teaspoon white pepper
2 tablespoons finely chopped fresh parsley or dill
Select the best and most fresh veggies you can find. Wash, scrape or cut them to the sizes above. Then, except for the spinach, places all of the vegetables in a 2-3 quart pot, cover with cold water and add the salt. Boil uncovered for 5 minutes or until the veggies are just tender. Add the spinach and cook another 5 minutes. Remove the pan from the heat and strain the liquid through a fine sieve into a bowl. Set aside the vegetable stock and veggies is different bowls. Melt 2 tablespoons of butter in a small sauce pan on moderate heat. remove from heat and stir in the flour Slowly pour in the hot vegetable stock, beating vigorously with a wire whisk, and then beat in the milk.
In a small bowl, combine egg yolk and cream. whisk in 1 cup of the hot soup, 2 tablespoons at a time. Now reverse the process and slowly whisk the warmed egg yolk and cream mixture back into the soup. Now the soup stock and veggies are back into the 2-3 quart pan together. As soon as it comes to an almost boil, reduce the heat, add the cooked shrimp and simmer uncovered over low for 3-5 minutes or until the shrimp and vegetables are heated through. Taste and season the soup with the white pepper as well as any additional salt you may need. Add salt slowly in small parts.
Pour into a soup tureen and sprinkle with finely chopped parsley or dill.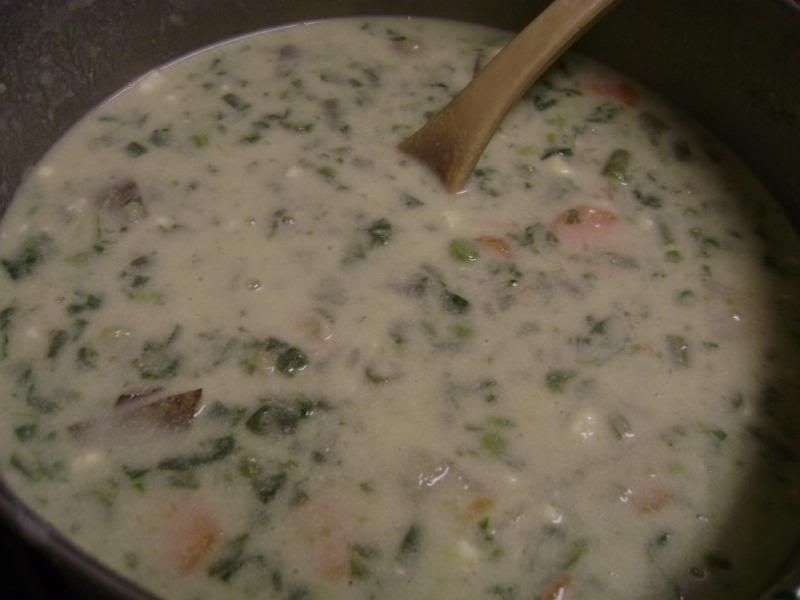 I have been getting much better at making the roux for the stock so I think next time I make this, it will come out much more creamy and gravy like than the watery kind that It has been coming out as.
gonna try it again in about a month or so.
---
My Youtube channel if anyone is interested.
https://www.youtube.com/channel/UCEkRdbq...rLEz-0jEHQ
16-08-2014, 04:52 AM
Dom Freethinker



Likes Given: 16,735
Likes Received: 21,802 in 9,883 posts

Posts: 19,929
Joined: Feb 2012
Reputation: 153
RE: Kesäkeitto
Never heard of cooked radishes before...
---
Science is the process we've designed to be responsible for generating our best guess as to what the fuck is going on. Girly Man
User(s) browsing this thread: 1 Guest(s)