North Korea's Meth Epidemic
02-09-2013, 10:46 AM
Carlo_The_Bugsmasher_Driver

Swimming laps in the Lake of Fire



Likes Given: 529
Likes Received: 1,798 in 896 posts

Posts: 2,398
Joined: Mar 2012
Reputation: 38
North Korea's Meth Epidemic
http://www.cnn.com/2013/08/30/world/asia...=allsearch
For years, the Hermit Kingdom has been suspected of drug trafficking as a source of income. The state has been hit hard by UN sanctions and the inner party leaders are desperate for hard cash to support their decadent lifestyle while its citizens starve.
But it appears this drug runnuing scheme has backfired on the North as there now is an epidemic of crystal meth use in the country. Nearly two thirds of the populus are believed to use or abuse it.
---
"IN THRUST WE TRUST"
"We were conservative Jews and that meant we obeyed God's Commandments until His rules became a royal pain in the ass."

- Joel Chastnoff, The 188th Crybaby Brigade
02-09-2013, 11:28 AM
GirlyMan

Ehyeh



Likes Given: 28,098
Likes Received: 35,402 in 16,414 posts

Posts: 30,837
Joined: May 2011
Reputation: 207
RE: North Korea's Meth Epidemic
Sounds like a self-correcting problem.
...
No, that's just wrong. Bad Girly.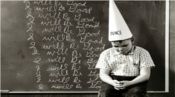 ---
#sigh
The following 1 user Likes GirlyMan's post:
1 user Likes GirlyMan's post
Tartarus Sauce
(02-09-2013)
User(s) browsing this thread: 1 Guest(s)