POW!! RIGHT IN THE FEELINGS!!!
08-03-2014, 11:51 PM
Misanthropik

Peach Batman



Likes Given: 3,036
Likes Received: 2,417 in 1,232 posts

Posts: 2,990
Joined: Aug 2012
Reputation: 50
RE: POW!! RIGHT IN THE FEELINGS!!!
*Holds his hat in his hands all timid*

Am I the only one who wants to see this made into a feature film?
---
Through profound pain comes profound knowledge.
Ridi, Pagliaccio, sul tuo amore infranto! Ridi del duol, che t'avvelena il cor!
09-03-2014, 12:44 AM
evenheathen

ribbed for your pleasure



Likes Given: 12,817
Likes Received: 6,073 in 2,857 posts

Posts: 6,201
Joined: Jan 2013
Reputation: 113
RE: POW!! RIGHT IN THE FEELINGS!!!
I am fortunate and grateful that I have what I have. I don't understand these things and hope that I'll never have to, and I hate that my life's opportunities, while not perfect, can't be shared with every person in this world. And I hate that we do it to eachother. I will never understand why.

We truly are animals. I don't mean that negatively, only observationally.
---
But now I have come to believe that the whole world is an enigma, a harmless enigma that is made terrible by our own mad attempt to interpret it as though it had an underlying truth.
~
Umberto Eco
09-03-2014, 01:54 AM
Tartarus Sauce Kitten_Lover_3000



Likes Given: 21,605
Likes Received: 5,178 in 2,234 posts

Posts: 4,704
Joined: Oct 2012
Reputation: 127
RE: POW!! RIGHT IN THE FEELINGS!!!
The serious side of me wants to commend it for successfully sending an important, although poignant, message.

The facetious side of me wants to comment on how we need to observe suffering happening to white people in order to care.
---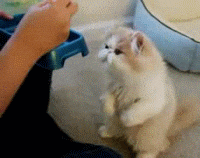 User(s) browsing this thread: 1 Guest(s)