Phuck the English language.
09-05-2014, 02:48 AM
undergroundp

ἀπὸ μηχανῆς θεά



Likes Given: 4,595
Likes Received: 3,614 in 1,383 posts

Posts: 2,829
Joined: May 2013
Reputation: 72
RE: Phuck the English language.
(08-05-2014 01:52 PM)

cjlr Wrote: Grammatical gender is certainly an

ordered

phenomenon, but hardly a useful, consistent, or systematic one!

Enforced linguistic conformity has a whiff of fascism about it, to those of us in the anglosphere...
(08-05-2014 01:52 PM)

cjlr Wrote: English is likewise littered when orthographical artifacts - right on down to the "silent" Greek 'p' (and the 'k' in knight and the 'gh' in through... there are many thousands of examples). That will never change precisely

because

there is no governing body to force the issue. But that is, in any case, a matter of orthography, and not grammar - representation rather than structure.
You call it "enforced linguistic conformity", I call it preserving culture and making things easier to understand.
By simplifying the language so much, you can't find the meaning behind every root, prefix, suffix. For example, the "conformity" you are talking about allows a person who learns Greek to know that "psych" signifies the soul and "psich" signifies... crumbs. That's pretty important if you ask me.
The only people who complain about how complex our language is are the uneducated, the ones who can't bother to learn how to spell.
(08-05-2014 01:52 PM)

cjlr Wrote: But "absurdity" is, rather, an

absurd

characterisation. Certainly

no

natural language is any more predictable; just more or less structured in any given respect. The alternative is for everyone to speak lojban...
Well, there is this fact though that, in Greek, if you don't know a word, you can infer its meaning (not to mention you can actually pronounce it, too) simply by breaking it down and finding the roots. This is usually impossible in English because the manipulation of foreign roots is almost arbitrary (funny fact, the word "empathy" has
evolved
in Greek after being borrowed and now it means the exact opposite
)
---
"Behind every great pirate, there is a great butt."
-Guybrush Threepwood-
09-05-2014, 06:48 AM
itsnotmeitsyou

I'm me. Who the hell are you?



Likes Given: 9,650
Likes Received: 4,668 in 1,919 posts

Posts: 2,857
Joined: Apr 2013
Reputation: 45
RE: Phuck the English language.
Just gonna leave this here...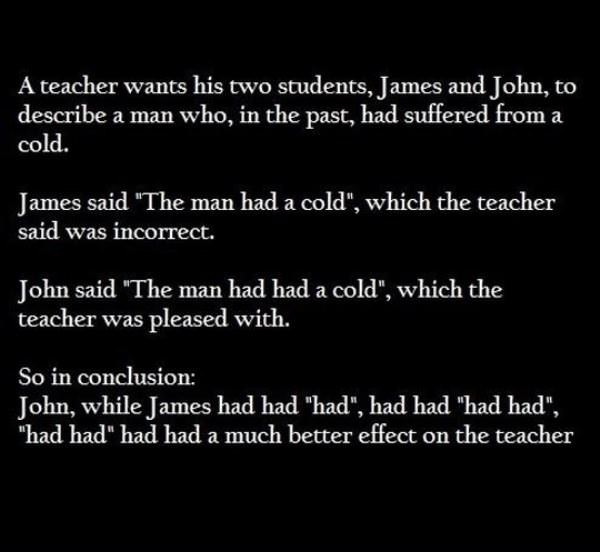 ---
Excuse me, I'm making perfect sense. You're just not keeping up.

"Let me give you some advice, bastard: never forget what you are. The rest of the world will not. Wear it like armor, and it can never be used to hurt you." - Tyrion Lannister
The following 2 users Like itsnotmeitsyou's post:
2 users Like itsnotmeitsyou's post
Vosur
(09-05-2014)
,
undergroundp
(10-05-2014)
User(s) browsing this thread: 1 Guest(s)