RENT
01-03-2011, 03:38 AM
Likes Given: 26
Likes Received: 99 in 68 posts

Posts: 359
Joined: May 2010
Reputation: 4
RENT
I just cannot get enough of this musical. My first experience was watching the movie then I had the opportunity to see it live in its last year down in Kennewick. That was absolutely breathtaking despite the poor seating. THEN I had the chance to watch it again when Anthony Rapp and Adam Pascal took it on another tour and stopped in Seattle. I was lucky enough to take my fiance to that one and had the time of my life. Sometimes I find myself humming a tune or just listening through the soundtrack and it always makes me happy.

Anyway I wanted to share. Anybody else like the musical? If you haven't watched it you need to.
01-03-2011, 04:22 AM
RE: RENT
My wife is an official Renthead. She's a bit fanatical in a good way about Rent. Our kids enjoy the music too. My wife and I saw it many years ago, and admittedly I liked it, but had little memory of it. Then recently when Adam and Anthony were in it we went together (great seats!) and saw it and I was very impressed. My wife went again with some fellow Rent fans, but I passed on that one. She's huge Adam fan, follows him and his wife on FB and Twitter. She met him briefly on the second date, but is quite shy. It is a fantastic musical though.
01-03-2011, 04:35 AM
Likes Given: 26
Likes Received: 99 in 68 posts

Posts: 359
Joined: May 2010
Reputation: 4
RE: RENT
Wow that is amazing. I am a huge fan of the entire original cast but Anthony Rapp has to be my favorite. I follow him on twitter and read through his book. He seems like a genuinely nice guy.
01-03-2011, 04:46 AM
RE: RENT
Yeah they are both great guys. Here's my wife with Adam she was quite proud. I think she met Anthony briefly too.: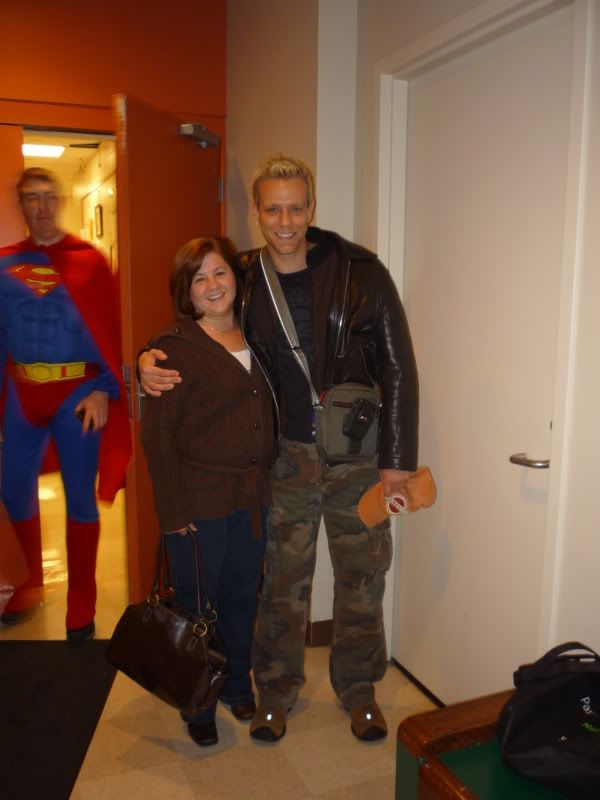 01-03-2011, 05:26 AM
Likes Given: 26
Likes Received: 99 in 68 posts

Posts: 359
Joined: May 2010
Reputation: 4
RE: RENT
Thats pretty cool. Well I am glad to hear there is somebody else out there that loves the show as much as I do.

Its weird though. Before watching RENT I had never given a musical a chance. After that it opened up a huge door. Not just in this department but music, foods, etc. I started trying new things, exploring new interests.
01-03-2011, 07:08 AM
RE: RENT
Awesome! My wife was a musical theater major so she's into musicals, but Rent is special. Oh and there are TONS og RENT devotees. Have fun on your journey of discovery!

PS BTW that show that my wife went to was on Halloween, hence superman in the background LOL
User(s) browsing this thread: 1 Guest(s)