Poll: Should the Health Care Law be repealed?


This poll is closed.

Yes! (Explain your answer please)
1
20.00%
NO! (Ditto)
3
60.00%
Parts of it should be (list those and why) but overall it's cool
1
20.00%
Total
5 votes
100%
Republicans repeal healthcare reforms in symbolic vote
19-01-2011, 07:51 PM
Republicans repeal healthcare reforms in symbolic vote

'Repealing the job-killing healthcare law act' passes with clear majority in vote going almost entirely along party lines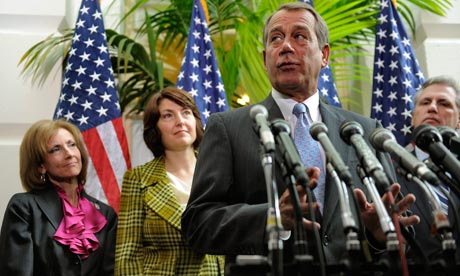 John Boehner, the new speaker of the house, has said the healthcare law will 'increase spending, increase taxes and destroy jobs in America'. Photograph: Mike Theiler/EPA
The new Republican-controlled House of Representatives has voted to repeal the health reform law it passed last year in a largely symbolic but politically loaded repudiation of Barack Obama's flagship policy.
The legislation, entitled the "Repealing the job-killing healthcare law act", passed with a clear majority of 245 to 189 as the vote went almost entirely along party lines, in contrast to the healthcare legislation last year which passed with a wafer thin majority as many conservative Democrats rejected it.(Continues @
The Guardian.co UK
)
19-01-2011, 08:51 PM
RE: Republicans repeal healthcare reforms in symbolic vote
Job-Killing? Screw Boehner. The only jobs this "kills" are the jobs lost as people voluntarily leave the workforce because they can afford it now that their health insurance costs aren't the highest in the industrialized world.
20-01-2011, 07:26 AM
gamutman

homo sapiens sapien



Likes Given: 0
Likes Received: 36 in 20 posts

Posts: 397
Joined: Sep 2010
Reputation: 5
RE: Republicans repeal healthcare reforms in symbolic vote
The only part of the health care bill that should be repealed is the mandate, and that should be replaced with the public option.

Although in a perfect world, we should have both the mandate AND the public option.
20-01-2011, 10:03 AM
AnthraxFan93

Unregistered

RE: Republicans repeal healthcare reforms in symbolic vote
I would state repeal, and rework the whole system of heath-care. Make insurance a non-profit organizations, which would end most of the debates over this. But, as ALL insurance companies are for Profits.. The system is broke.

Medicare/cad works.. and overall is more cost effective then private insurance.. the only difference, medicare/cad does have lobbyist in Washington and advertisement telling the public this information.

Overhead for medicare is 3%
Overhead for Private insurance is 26.5%

31% of heath-care costs is spent on Administrative Costs.

Sadly, Both sides of Washington are in the insurance companies pockets..So nothing will get done that helps you or I.
21-01-2011, 09:19 PM
sosa

Libertarian Socialist



Likes Given: 4
Likes Received: 12 in 5 posts

Posts: 221
Joined: Sep 2010
Reputation: 6
RE: Republicans repeal healthcare reforms in symbolic vote
Only the mandate. I don't like that
---
"Liberty without socialism is privilege, injustice; socialism without liberty is slavery and brutality." Mikhail Bakunin
User(s) browsing this thread: 1 Guest(s)