So.....who loves capitalism?
17-11-2012, 06:59 PM
(This post was last modified: 17-11-2012 07:02 PM by Tartarus Sauce.)
Tartarus Sauce Forum's Producer of Hairballs



Likes Given: 18,821
Likes Received: 4,420 in 1,937 posts

Posts: 4,220
Joined: Oct 2012
Reputation: 116
RE: So.....who loves capitalism?
So, you think that because we are social animals by nature that your average human would sacrifice EVERYTHING and ANYTHING as long as it helped the group proliferate?
You think that any human would sacrifice themselves for the well-being without question or though of consequences just because it would help the group?


I'm sorry, but humans are much more complex creatures than that. I think that the individual only truly cares for the group for as long as that group is beneficial for the individual. You could argue that every human being is selfish by nature and that any form of altruism and/or group cooperation really boils down to self-preservation and fulfillment of consciousness. In order to be empathetic, you must have a reflection back upon the self to relate. There is almost ALWAYS an "I, me, my" somewhere in the equation.
---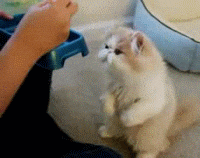 User(s) browsing this thread: 1 Guest(s)