Speak Freely To Hate: Westboro Baptist Sign Maker
07-05-2011, 03:58 PM
Speak Freely To Hate: Westboro Baptist Sign Maker
The real Westboro Baptist church is in the background. See the banner near the top of the roof edge? "God Hates America!"
Sign Generator
You just know Topeka's proud of that family.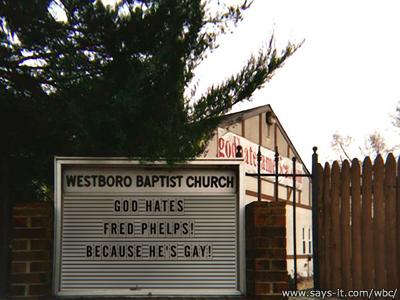 09-05-2011, 01:53 PM
Observer

<<<I'm here for her



Likes Given: 756
Likes Received: 1,623 in 731 posts

Posts: 2,624
Joined: Dec 2010
Reputation: 35
RE: Speak Freely To Hate: Westboro Baptist Sign Maker
Jesus says:
Hate thy neighbor
like you hate thyselve
It was funnier on the billboard but you can't upload or save it
---
Observer
Agnostic atheist
Secular humanist
Emotional rationalist
Disclaimer: Don't mix the personal opinion above with the absolute and objective truth. Remember to think for yourself. Thank you.
09-05-2011, 07:28 PM
RE: Speak Freely To Hate: Westboro Baptist Sign Maker
I'm surprised you had trouble.
I've made signs there and all one has to do is
"Save on my computer"
, like one would any picture they find at a site using, 'Save as'. So you can upload it to a free photo server. Or, there's a link to
"ImageShack"
right there that allows you to free upload to their site and then post here.
*The rip about Imageshack is you have to sign up for a free account to get their direct link. I just use,
PicturePush
. Which is free. I likey free.
Whahhhhlahhhness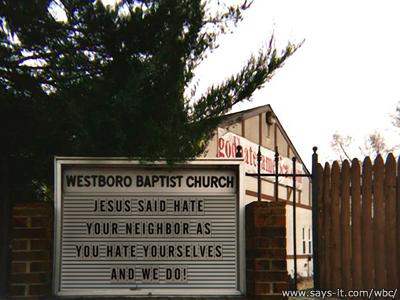 12-05-2011, 10:47 PM
Russell G.

Newbie



Likes Given: 19
Likes Received: 2 in 2 posts

Posts: 24
Joined: May 2011
Reputation: 0
RE: Speak Freely To Hate: Westboro Baptist Sign Maker
Apparently religious nut jobs hate America. But they probably hate everything. I'm so happy and proud to have spent 20 years of my life riding around underwater in a nuclear powered steel tube with 150 other smelly dudes to defend these douche bags' right to piss off pretty much everybody else in the country. Oh, to have command and control of a predator drone for one day.
---
Free at Last, Free at Last,
Great Me Almighty
I'm Free at Last!
User(s) browsing this thread: 1 Guest(s)