The new man
16-08-2012, 07:07 PM
GirlyMan
Withered Testicles of Christ


Likes Given: 6,356
Likes Received: 5,815 in 3,240 posts

Posts: 7,299
Joined: May 2011
Reputation: 61
RE: The new man
(14-08-2012 03:46 PM)

kim Wrote:

(14-08-2012 02:20 PM)

Observer Wrote: Do woman some have a problem giving their place op? Just like men have?


You might have something there. It might be a general, territorial thing.
Doubt that, territorial don't come to mind when I go a few days without my testosterone. More like maternal.
(14-08-2012 03:46 PM)

kim Wrote: However, it could be more personal for her as well.
Maybe she's feeling

insecure

, like she's not doing

enough

and it worries her. Maybe this is her way of expressing her resentment; you are able to do

your

thing,

and

are also able to do the stuff that

she's

supposed to be doing. She might feel guilty that she can't keep up.
That feels more likely.
(14-08-2012 05:59 PM)

Dom Wrote: To outsiders we didn't have much in common, except for a love of animals of all types. But really, we had stronger ties than most people I know. We were true partners.
That's me and ManlyGirl. But instead of a common love of animals we share a common love of laughter.
If it ain't got a keyboard attached to it, I'm pretty worthless. Manly fixes the appliances, maintains the structural integrity of the house, takes care of the cars, takes care of the bills, takes care of running the household. All I gotta do is go to work to fund the household and make her happy. I'm pretty solid on the first one, but hit and miss on the latter.
---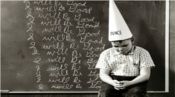 The following 3 users Like GirlyMan's post:
3 users Like GirlyMan's post
aurora
(16-08-2012)
,
kim
(17-08-2012)
,
Chas
(21-08-2012)
User(s) browsing this thread: 1 Guest(s)