What are you playing?
08-09-2017, 08:29 AM
earmuffs Slightly More Evolved


Likes Given: 10,493
Likes Received: 19,530 in 8,122 posts

Posts: 20,015
Joined: Apr 2012
Reputation: 122
RE: What are you playing?
(08-09-2017 08:16 AM)

JDog554 Wrote:

(07-09-2017 09:18 PM)

EvolutionKills Wrote:

Space Pirates and Zombies 2.

A fun and light 4X game, where you command a customizable mothership at the center of your fleet/faction. Much like the first game, except with a more engaging 3rd person camera and a fully 3D combat engine this time around. In addition to a campaign that introduces you to all of the mechanics, there is a sandbox mode that allows you to strike out on your own, create your own faction, and operate as a lone actor in a large galaxy of captains all interacting with each other (similar to balancing power and faction relationships in the Mount & Blade series). Yeah, it's basically Mount & Blade in space, but with a techno-zombie infestations and a really absurdist ascetic design.


Added to wishlist. May get it next pay.



(07-09-2017 11:11 PM)

earmuffs Wrote: There's Tyranny DLC! *screams like a little girl*

Oh and that game EK is only $24NZD, niiice and cheap. Just how I like em.


You like your games how I like my women.
Cheap and niche?
The following 2 users Like earmuffs's post:
2 users Like earmuffs's post
Deesse23
(08-09-2017)
,
JDog554
(08-09-2017)
08-09-2017, 12:06 PM
BikerDude

Regular Poster



Likes Given: 51
Likes Received: 1,083 in 628 posts

Posts: 1,697
Joined: Aug 2017
Reputation: 14
RE: What are you playing?
---
09-09-2017, 10:34 PM
(This post was last modified: 10-09-2017 03:35 AM by EvolutionKills.)
Likes Given: 23,276
Likes Received: 26,229 in 9,964 posts

Posts: 15,824
Joined: Jan 2013
Reputation: 143
RE: What are you playing?
(08-09-2017 05:41 AM)

earmuffs Wrote: Brought it, because "it's like M&B". Yes. This game pleases me.
Any early game advice? Particularly regarding fighting because my ship is weak as fuck and I can't kill dick.
The overworld tactical map only updating time while you move? Managing relationships with a mass of other independent actors? Joining a faction or founding your own? Instantly made me think of Mount & Blade.
Well, loot from starbase junkyards if you've unlocked an additional core slot, but are unable to purchase one.
Find one of the factions and hang out in their area of control. Whenever one of their faction members starts a fight with a bandit on their territory, scoot on over and join the fight (if they out-threaten the bandit). This will gain you relationship with both the captain you help, and if it's inside faction territory, you'll gain faction relation as well.
Find said faction capital, and once you gain enough faction relation, join the faction. Now most everyone from one of the colors can reliably be expected to both help you out and not attack you. Also, free ship repair at any faction starbase.
Weapons are rated against 3 different defenses, and are given a color grading on their tooltip to denote their relative effectiveness. The colors are Green for 100% effectiveness, Yellow is 50%, Red is 10%, and Grey is 0%. The 3 defenses are Shields, Armor, and Health. Shields are just that, the regenerative barrier that sits over your ships' HP. Health is your raw HP pool. Armor however represents the toughness of an individual part. Weapons that are really effective against armor are more likely to damaged and break off parts of your mothership, and any weapons you equip that are effective against armor will do the same.
Be mindful of weapon placement, as a turret's line of fire can be blocked by sub-cores and even other weapon attachments.
So for example, direct fire lasers are Green for Shields, but Yellow for Armor, and Red for Health. So they're excellent at taking down a shield, and okay at crippling specific parts (such as targeting engine to cripple enemy maneuverability). Now an Ion Beam is even more powerful DPS wise than a Laser, but is entirely ineffective against armor and health. Likewise Torpedoes and Missiles are really effective against health, but do pitiful damage to shields and armor. So you're going to want a mix of shield and HP focused weapons, with maybe a few armor destroyers once you get confident enough to get close are target specific parts. Typically lasers are good against shields, cannons are good against armor, and missiles are good against health (with various exceptions, such as the anti-shield SRM Missiles).
Don't be afraid to have a solid mass of cores, as they will provide a synergy bonus to adjacent cores and weapons. This is so that a single core straight line or some combination of perpendicular lines to maximize open slots is not the be-all-end-all of the ship building meta-game. In fact, I'll provide an illustration.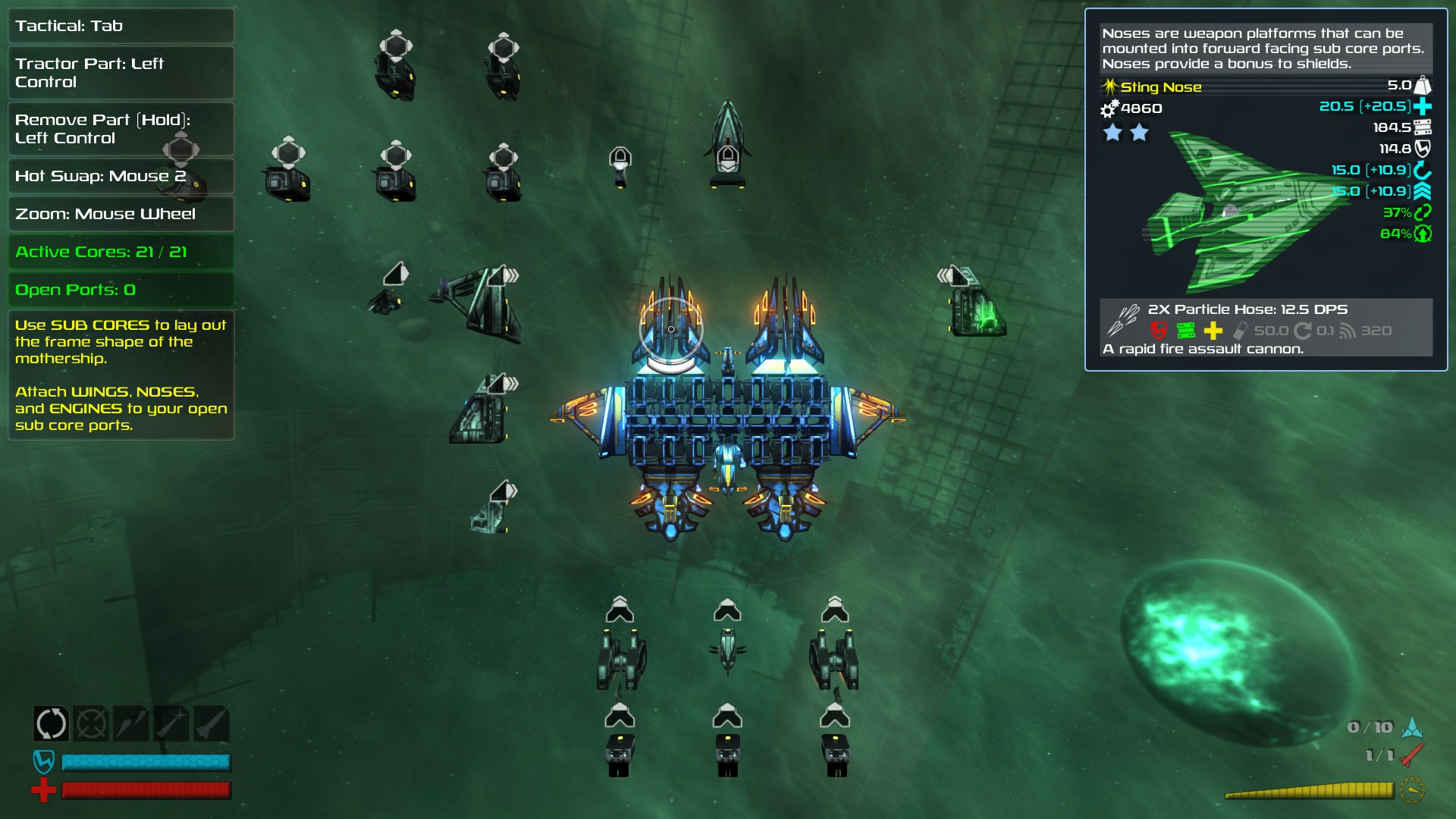 My cursor is over my port side forward battery, and in the tool-tip in the top right, you can see 2 additional green icon at the bottom of the stats list. The first is the looping arrows, indicating a 37% synergy bonus. How that effects the piece, on account of it being a weapon, is the cross-hairs icon right below it, showing a 84% synergy boost to damage output. Indecently, my current mothership is outfitted with two forward batteries of armor-destroying Particle Hoses, shield destroying Range Beams on both wings, and Zapper Hangers support squadrons on both engines. I really need to swap out the Zapper Hangers for something more HP focused, such as Bomber Hangers. I can chew through shields and armor, but find myself a little underwhelming once I'm working my way through their HP. Conversely I could swap out the wing based Range Beams for Plasma Dischargers or Cloud Torpedos, or make sure all of my support fleet are equipped with missiles and torpedos (which I did, and leads to Macross levels of glorious anime bullshit).
You can change the AI auto-fire options with the Q key, and customize them in the options, but you should always leave it on the Battle Wagon setting (indicated by the circling arrows being highlighted over your shield and HP bars in the lower left of the HUD). This will allow the shipboard AI to automatically fire any and all weapons at any enemies that come within their range. So the AI will auto-fire missiles once any enemy enters within their massive 1200 unit attack range, and will continue to fire them so long as enemies are within range and you have energy reserves to do so. This also means that while you are a moving towards a mothership, your turrets will auto-attack any of their support fleet that comes within range while you are in transit. Likewise if you are broadsiding an enemy mothership, all of the turrets that cannot otherwise target your primary target will continue to fire at what they can, without you needing to aim them yourself. That being said, you can bring far side turrets into range and clear their firing path by turning so hard that your ship banks enough to raise the far-side turret over your center of mass, giving them a clear sight at your target. However, you still should aim yourself if you have direct fire weapons. Battle Wagon will only ever target center of mass, so there is still a good reason for you to manually target individual parts in an effort to cripple enemy motherships. If however you have nothing but missiles, torpedos, and attack squadron launcher bays, then Battle Wagon will effectively fight everything for you.
You can manually set support fleet target priority with the E key, designating a target for them all to focus on. Pressing E on open space will set a way-point, while holding E will order them to disengage. Setting a priority target with E is also useful for setting the priority target of any fighter or bomber wing weapon pods you have, in addition to your support fleet.
You can Boost your shields, increasing their regen at the expensive of your power pool (that also fuels your weapons), by pressing and holding the space bar.
Your support fleet can be customized. Once you unlock a particular craft, you can customize its loadout. Keep in mind your own weapons, and use your fleet to shore up your own weaknesses. If you have a lot of shield destroying lasers, but lack HP punch, have your support fleet filled with missile and torpedo launchers to compensate.
Once you unlock a support ship by collecting enough blueprints, you can keep collecting additional blueprints for that models. Collect enough and the design will be upgraded to 1 Star, and each tier takes progressively more blueprints to upgrade, maxing out at 6 Stars.
You can reattach severed pieces mid-battle by going into the overhead view (default C) and using the tractor beam to pull the part back to you (default Ctrl). You can also do this to scavenge pieces from fallen enemies in the early game, swapping out your Junk pieces for whatever hodgepodge of leftovers you can salvage from the corpses of your enemies.
Deposit nodes get a bonus once they fully 'ripen'. If you can wait until a Rez/Scrap/Goon node hits 100% (indicated by a pulsating ring around it), you'll gather more resources. Rez deposits double from 120 to 240, Scrap jumps to 400, and Goons top out at 65.
While writing this tip guide, I managed to waffle-stomp an enemy starbase and kill that faction's leader, twice.
---
10-09-2017, 03:27 AM
Likes Given: 23,276
Likes Received: 26,229 in 9,964 posts

Posts: 15,824
Joined: Jan 2013
Reputation: 143
RE: What are you playing?
I'll try recording something with Shadowplay when I get to my setup at home. Honestly there is a lot to dig through that I'm missing, and that would be easier to show rather than tell.
---
11-09-2017, 09:51 AM
earmuffs Slightly More Evolved


Likes Given: 10,493
Likes Received: 19,530 in 8,122 posts

Posts: 20,015
Joined: Apr 2012
Reputation: 122
RE: What are you playing?
That's for the advice, appreciate it. Very helpful. I'll certainly have to give that auto-aim a go. I'm finding myself drawn to missiles but with auto-fire I might be more inclined to lasers and machine guns we'll see.
12-09-2017, 04:24 PM
(This post was last modified: 13-09-2017 01:41 AM by EvolutionKills.)
Likes Given: 23,276
Likes Received: 26,229 in 9,964 posts

Posts: 15,824
Joined: Jan 2013
Reputation: 143
RE: What are you playing?
(11-09-2017 09:51 AM)

earmuffs Wrote: That's for the advice, appreciate it. Very helpful. I'll certainly have to give that auto-aim a go. I'm finding myself drawn to missiles but with auto-fire I might be more inclined to lasers and machine guns we'll see.
Cannons are very effective, once you burst down their shields. So even if you go mostly cannons, make sure you have plans in place to take down shields as well, whether it be direct energy weapons or anti-shield missiles.
For small pieces, use a combination of Cannon/Omni Cannon, along with Shotguns and some sort of shield disruption (Lasers or Ion Shotgun). Your effective range will be limited to 250 units, so get in close and fast, and stay behind your target. Focus fire on their engines to destroy them, make it easier to both stay behind or to pull back if your shields are about to drop or you need to reload. While you should take the damage increase at level up every chance you can, don't neglect the booster capacity and recharge rate upgrades; there are only 2 of each, and they greatly increase your mobility in combat.
Once you get to medium sized (2 slot) parts, there are 3 new cannon types worth considering (ignore the MacHammer). The Particle Hose is a rapid rate of fire weapon with a decent range, but is still the shortest of the new 3 at only 320 units. When it fires, it looks like WWII AA cannon fire, just a river of tracer rounds going downrange at your enemies. Get some on your engines, and watch them melt any smaller enemy support craft that wander into their range. The next up are the Pulser, firing massive green shells with excellent range and power, but a more paced ROF and a much slower projectile speed; think of them like Fallout's plasma weapons. They're great at hitting slow moving or stationary targets, such as a mothership or starbase, but will miss most of the time if they're aiming at smaller moving craft (especially at range). The final, and arguable best all-rounder, is the Sniper Cannon. While it has a shorter range than the Pulser (500 versus 600 units), it fires a short burst in a very tight grouping that moves very fast. While the Pulser will have trouble hitting moving targets past 400 units, the Sniper Cannon can rather easily connect shots against fast moving targets even at it's maximum range; making it an excellent anti-support weapon, ideally placed mid-ship to cover forward and aft.
Whenever your craft gets larger, you can start to experiment with different body types. A simple rule to keep in mind is that while a wider body can allow for more engines, and a higher top speed, the wider your ship gets the slower it is to turn. So if you are in the campaign and are at the max of 15 sub-cores, you could make a simple 3x5 box. If you orient it to make a long ship, you can fit in a large (3 slot) engine, large nose, 2 large wings, and 2 medium wings. You'll get good speed (on account of the synergy boosts of all those tightly packed sub-cores) and good maneuverability, on account of being narrow. But if you wanted raw speed, such as for an entire long-range build consisting entirely of missiles, torpedoes, and hangars for attack craft, then a wider body consisting of 2 or 3 engines could be better.
But one advantage of the skinnier build is a maneuver I call Drift Bombardment. Basically, the direct fire (cannons and lasers) weapons on the far side of your mothership cannot hit targets because your own hull gets in the way. Now you can somewhat alleviate this with very careful positioning and choice of faction wings or using a unconventional shape (such as a wedge). I prefer to to fly past my target then turn around towards them, while holding down the thrust booster. This not only speeds you up, but tightens your turning radius, and in doing so causes you to bank very hard, which lifts the far side ordnance over your hull and giving them clear line of sight. This allows you to bombard the enemy with every firing bank at your possession simultaneously, allowing for greater burst damage, before zipping back out and around if you need to recharge your shields or reload.
Here, check it out, this is me taking care of some business in my current Sandbox campaign (hence the 21 sub-core mothership). I handle two bounty duels, then solo a 150 Threat starbase for good measure, all the while doing my best Tokyo Drift impression. While this ship is outfitted with Plasma Dischargers and Mass Drivers, it does have a pair of Particle Hoses on the thrusters, and watching them fire is glorious. I've tried a 7x3 wide-body before with nothing but Particle Hoses, and it throws out so much particle bullshit that it absolutely tanks the framerate. It's a ton of fun, if entirely impractical.
You can get a similar body-type to this with just 15 sub-cores by going with a 3x3 box, with a 1x3 neck and a 3x1 top, creating a shape of a T on top of a box. That will get you two sets of large wings (4 total), large nose and thrusters, and a pair of small wings. Or you could get a pair of 3x2 boxes connected by the 1x3 bridge, creating a similar dumbbell shape.
---
The following 1 user Likes EvolutionKills's post:
1 user Likes EvolutionKills's post
earmuffs
(12-09-2017)
12-09-2017, 04:39 PM
Free Thought

So very tired



Likes Given: 14,593
Likes Received: 9,690 in 4,892 posts

Posts: 12,760
Joined: May 2012
Reputation: 113
RE: What are you playing?
Soo... War of the Chosen had a download about as large as the actual game...
---
The people closely associated with the namesake of female canines are suffering from a nondescript form of lunacy.
"Anti-environmentalism is like standing in front of a forest and going 'quick kill them they're coming right for us!'" - Jake Farr-Wharton, The Imaginary Friend Show.
13-09-2017, 02:55 AM
OakTree500

#TomatoBuddies4Life



Likes Given: 2,230
Likes Received: 4,248 in 2,143 posts

Posts: 3,327
Joined: Mar 2017
Reputation: 37
RE: What are you playing?
As a belated birthday gift, my group of gamer friends got me a years subscription to EA access!
Now to get Gold for my Xbox and I'll be good to go
Anybody with a free trial or something they'd be willing to part with, please PM me
13-09-2017, 07:26 AM
Likes Given: 23,276
Likes Received: 26,229 in 9,964 posts

Posts: 15,824
Joined: Jan 2013
Reputation: 143
RE: What are you playing?
For shits and giggles, I also built a whole hanger build mothership, and I'll post the link to that demonstration clip just as soon as it's done uploading to YouTube.
---
The following 1 user Likes EvolutionKills's post:
1 user Likes EvolutionKills's post
earmuffs
(13-09-2017)
13-09-2017, 09:00 AM
Likes Given: 23,276
Likes Received: 26,229 in 9,964 posts

Posts: 15,824
Joined: Jan 2013
Reputation: 143
RE: What are you playing?
And done...





Carrier builds are way more hands-off that a more typical cannon centered destroyer, but there is still a kinda perverse joy in being able to destroy targets at very long rangers on auto-pilot. Positioning, outside of just staying within the outermost range of your target, is far less important. You also have little control over your offensive swarm of fighters and bombers, outside of designating a single specific target with E (which will also sick all of your support fleet on that target as well).

I still need to make an all missile/torpedo/warhead build, just to do my best Macross impression. The SRM Missile pods fire swarms of missiles at a time, allowing you to quite literally fill the sky with missiles.
---
The following 1 user Likes EvolutionKills's post:
1 user Likes EvolutionKills's post
Shai Hulud
(13-09-2017)
User(s) browsing this thread: 1 Guest(s)