Woman jumps from car, causes crash due to spider.
23-09-2015, 04:34 PM
GirlyMan

My Own Personal Jesus



Likes Given: 30,218
Likes Received: 37,994 in 17,709 posts

Posts: 33,103
Joined: May 2011
Reputation: 212
RE: Woman jumps from car, causes crash due to spider.
Spiders are my friends. They eat the obnoxious insects that annoy me. Same thing with centipedes. ... except that Brown Recluse spider that bit me on my foot. It was not my friend.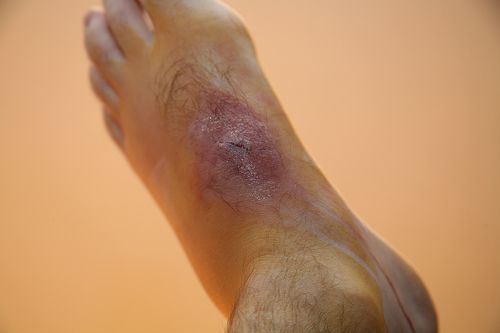 ---
#sigh
26-09-2015, 07:25 PM
Fireball

Taking a Break



Likes Given: 15,339
Likes Received: 6,001 in 3,466 posts

Posts: 6,578
Joined: Aug 2015
Reputation: 69
RE: Woman jumps from car, causes crash due to spider.
Nasty, nasty brown recluses! I generally don't worry about spiders, except for black widows, which grow to epic proportions here in Southern California. They can do you some damage. I've got big hands, and have seen them with an abdomen as big as my thumbnail- say 3/4" diameter. The rest of them don't scare, but annoy me. The long-bodied cellar spiders (some people call them daddy long-legs or Harvestman) I actually encourage to occupy my garage and shed, because the competition eliminates the black widows, even though their venom is worse (long-bodied cellar spiders), because they can't penetrate the skin with their lil shorty fangs. I was working on my car and a little spider rappelled down from the works and ran down my cheek into my hair. I finished tightening the bolts, rolled out, and combed it out of my hair with my pocket comb. It was one of those little ones that jump and down to intimidate predators. This predator put a size 12EEE shoe onto that cheeky little devil, not in the least intimidated, just annoyed.

A spider nailed my wife in the leg while she was gardening, about 20 years ago. I had to take 2 weeks off work to take care of her, it really took her down. I think that was a black widow, based on the symptoms. She had this wick all wound up into her leg to drain the venom and infection out.
26-11-2015, 09:33 PM
Full Circle

A clear conscience is the softest pillow



Likes Given: 15,021
Likes Received: 21,345 in 7,799 posts

Posts: 13,058
Joined: Dec 2012
Reputation: 131
RE: Woman jumps from car, causes crash due to spider.
Those Aussies
Updated: Friday November 27, 2015 MYT 11:01:09 AM
Aussie police rush to scene of killing, find dead spider
SYDNEY (AFP) - Piercing screaming and shouts of "I'm going to kill you" prompted Australian police to rush to a Sydney home at 2am, only to find an embarrassed man and a large spider.
New South Wales's police said officers raced to the apartment in the harbourside suburb of Wollstonecraft last Saturday after reports of a violent domestic dispute between a man and a woman.
Neighbours reported a woman screaming hysterically, a man yelling "I'm going to kill you, you're dead! Die, Die" and sounds of furniture being tossed around.
"Numerous police cars responded to the address and began banging on the door," Harbourside Local Area Command said on their Facebook page.
A man aged in his 30s, out of breath and flushed, came to the door and was immediately asked where his wife or girlfriend was.
"Umm, I don't have one," he answered.
When police explained they had reports of a domestic and a woman screaming, he replied: "I don't know what you're talking about, I live alone".
Pressed about the threats to kill, the man became sheepish and even apologetic as it emerged what had caused the ruckus.
"It was a spider, a really big one!!," he said, admitting he was chasing the large arachnid around his apartment with a can of insect spray.
Asked about the woman screaming, he replied: "Yeah, sorry, that was me, I really hate spiders."
Authorities were not able to say what kind of spider was involved, beyond "a big one" and that it had met its end.
"I hate spiders with an absolute passion," said Inspector Dean Lindley who attended the scene.
"I don't get close enough to check out what kind of spider it is mate," he told 2UE radio on Friday.
Lindley said the apartment was "foggy" with pest spray when officers entered and it was "lucky he wasn't smoking as the whole unit would have gone up".
Australia is home to a startling number of the world's deadliest creatures, including snakes, spiders, jellyfish and octopuses.
Funnel-web spiders are particularly feared because their bite can be fatal, although there have been no deaths since an anti-venom was developed in the 1980s.
http://www.thestar.com.my/News/Regional/...ad-spider/
---
"I am quite sure now that often, very often, in matters concerning religion and politics a man's reasoning powers are not above the monkey's."

~

Mark Twain
"Ocean: A body of water occupying about two-thirds of a world made for man - who has no gills."~
Ambrose Bierce
The following 3 users Like Full Circle's post:
3 users Like Full Circle's post
Loom
(26-11-2015)
,
Free Thought
(27-11-2015)
,
julep
(27-11-2015)
27-11-2015, 12:41 AM
morondog

...



Likes Given: 52,362
Likes Received: 24,922 in 11,577 posts

Posts: 21,165
Joined: Oct 2011
Reputation: 163
RE: Woman jumps from car, causes crash due to spider.
(26-11-2015 09:33 PM)

Full Circle Wrote:
This thing - I get things that look identical, of similar size, in my flat quite frequently. Now do you get why spiders freak me the fuck out? My life improved immensely when I figured out how to kill them with a broom. I do sometimes wonder what the landlord thinks when there's crashes and booms in the middle of the night from me locked in a death struggle with one of those...
The following 1 user Likes morondog's post:
1 user Likes morondog's post
Full Circle
(27-11-2015)
27-11-2015, 12:59 AM
Free Thought

So very tired



Likes Given: 14,561
Likes Received: 9,666 in 4,880 posts

Posts: 12,738
Joined: May 2012
Reputation: 113
RE: Woman jumps from car, causes crash due to spider.
---
The people closely associated with the namesake of female canines are suffering from a nondescript form of lunacy.
"Anti-environmentalism is like standing in front of a forest and going 'quick kill them they're coming right for us!'" - Jake Farr-Wharton, The Imaginary Friend Show.
27-11-2015, 01:42 AM
ELK12695

Thumpin' Double Bass



Likes Given: 4,399
Likes Received: 4,722 in 2,351 posts

Posts: 5,068
Joined: Mar 2013
Reputation: 63
RE: Woman jumps from car, causes crash due to spider.
(21-09-2015 11:54 AM)

onlinebiker Wrote: Ever had the cherry off your cigarette fall off into your lap while driving??

That can be exciting -- but hell on the upholstery...
---
User(s) browsing this thread: 1 Guest(s)