Word Crimes
21-07-2014, 09:48 AM
kingschosen derp



Likes Given: 2,247
Likes Received: 10,572 in 4,258 posts

Posts: 13,264
Joined: Nov 2011
Reputation: 188
RE: Word Crimes
(21-07-2014 09:40 AM)

CiderThinker Wrote:

(21-07-2014 09:20 AM)

kingschosen Wrote: Weird Al is amazing and one of the most talented artist in the world.


artists...
I was hoping someone would notice. There is something else in that sentence that goes along with the Word Crimes motif. Can you find it?
---
21-07-2014, 10:26 AM
(This post was last modified: 21-07-2014 10:29 AM by Dark Light.)
Dark Light l'audace, l'audace, toujours l'audace!



Likes Given: 1,529
Likes Received: 4,887 in 2,524 posts

Posts: 7,676
Joined: Sep 2012
Reputation: 100
RE: Word Crimes
---
21-07-2014, 11:57 AM
Drunkin Druid

Regular Poster



Likes Given: 593
Likes Received: 1,302 in 670 posts

Posts: 1,971
Joined: Nov 2012
Reputation: 34
RE: Word Crimes
Fuck them grammer and speling! Me no care how peple right things down! As long as me unterstood wat is sayed me is happy.
Rules? Screw that. Rules are for slaves..
21-07-2014, 07:24 PM
pablo God? Which one?



Likes Given: 20,177
Likes Received: 20,159 in 6,008 posts

Posts: 10,452
Joined: Apr 2014
Reputation: 114
RE: Word Crimes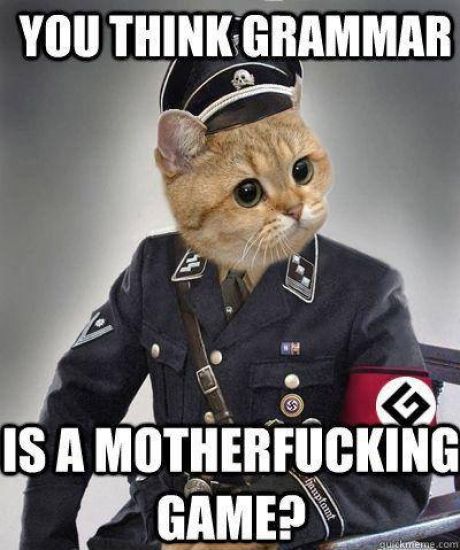 ---
I've just recently grown rudimentary legs and made the move from water to land.
The following 1 user Likes pablo's post:
1 user Likes pablo's post
ClydeLee
(22-07-2014)
User(s) browsing this thread: 1 Guest(s)