Yet Another Objection to God's "Justice"
03-02-2012, 06:37 PM
TalladegaTom

What Would Hitchens Say?



Likes Given: 232
Likes Received: 208 in 116 posts

Posts: 336
Joined: Dec 2011
Reputation: 1
RE: Yet Another Objection to God's "Justice"
(03-02-2012 04:20 PM)

Denicio Wrote: Hey TT,
Thanks for the video. I rarely, if ever, watch much hitch and its suprising to find out how much my normal debate is along the lines of his approach. Sadly i am not as good looking, have as great of a voice nor as smart....but a girl can wish, right?

AND i simply love your God B-less tag too! BRILLIANT!

D
Thank You Denicio. This particular video really covers the gamut.
I am grateful to the technology that allows Hitch to remain alive in cyberspace, for as long as there is one.
---
It's all in your head, because there is no other place it could be.
03-02-2012, 08:25 PM
Thomas

feel like shit today...



Likes Given: 957
Likes Received: 963 in 526 posts

Posts: 1,047
Joined: Aug 2011
Reputation: 13
RE: Yet Another Objection to God's "Justice"
The Christian God is a self centered jealous mass murdering prick.
BECAUSE: Christians are self centered jealous mass murdering pricks, when they have had the ability to be so.
"It seems to me, Usbek, that all our judgements are made with reference covertly to ourselves. I do not find it surprising that the negroes paint the devil sparkling white, and their gods black as coal, or that certain tribes have a Venus with her breasts hanging down to her thighs, or in brief that all the idolatrous peoples represent their gods with human faces, and
endow them will all their own impulses
. It has been well said that if triangles had a god, they would give him three sides."
—Montesquieu, Persian Letters, 1721, translated by C.J.Betts, 1973.
---
The old gods are dead, let's invent some new ones before something really bad happens.
04-02-2012, 09:38 PM
(This post was last modified: 04-02-2012 09:46 PM by Starcrash.)
Starcrash

Regular Poster



Likes Given: 1,892
Likes Received: 1,479 in 794 posts

Posts: 1,871
Joined: Jun 2011
Reputation: 33
RE: Yet Another Objection to God's "Justice"
(02-02-2012 09:56 PM)

NotSoVacuous Wrote: Now, on topic. Star, unless this is simply a hobby, then you are wasting your time. You can deconstruct anything you want in the bible; it does not matter. It is over overwhelmingly evident that in all religions people pick and choose in their religious texts. Homosexuality is an abomination? So is eating shellfish. Word for word: abomination. There is no metaphors or hints that one is worse than the other. A-b-o-m-i-n-a-t-i-o-n. Religions coincide with one's own belief.

Susan B. Anthony said it best: I distrust those people who know so well what God wants them to do, because I notice it always coincides with their own desires.

Show me a person that follows their religious text word for word to the very last fucking sentence and I will give you a reason to give a shit about what the bible says. Until then, homophobic people are homophobic at first. They just use the bible to back it. Not the other way around. It's like pot heads justifying pot. They were pot heads first. Then they search genesis for the "seed" quote, everything else is irrelevant.

I wish to elaborate more, but I feel as if it would be a digression. I hope my point was conveyed well. I had to write this rather swiftly so it might be vacuous at parts.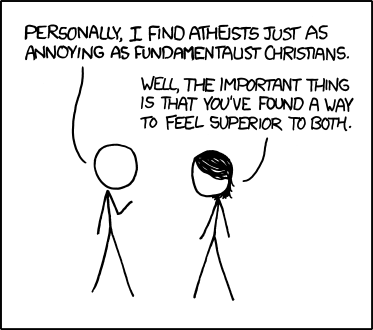 Please don't presents an "argument about arguing". If you think my argument isn't worth discussion, then it wasn't written with you in mind.
---
Guys, there's no reason to make this a thread picking on KingsChosen. I mentioned him by name because he was a ready example of someone I knew that didn't take the bible literally, but in retrospect I wish I'd just not done that. And the focus of this thread was on the unfairness between the choice given to Adam and Eve compared to the choice given everyone that followed.
If you have to defend a fair God, you have to reconcile a story about two people granted an unfair choice. I could've just as easily picked Jesus for my example, as he was also "not born of a man's seed", thus not really like us in that he "didn't have a sinful nature". "Exceptions" are just another word for "people treated by different standards". It hardly matters if the story is true, or if you believe in God. In order to "disprove that God is just" (my entire thesis in this post), you have to have an answer for this unjust situation.
---
My girlfriend is mad at me. Perhaps I shouldn't have tried cooking a stick in her non-stick pan.
User(s) browsing this thread: 1 Guest(s)