"proving atheists wrong with science" mmmkay
18-06-2011, 11:52 PM
(This post was last modified: 21-06-2011 03:54 AM by DeepThought.)
trillium13

a Yankee in the South



Likes Given: 2
Likes Received: 34 in 23 posts

Posts: 531
Joined: Dec 2010
Reputation: 5
"proving atheists wrong with science" mmmkay
Here's a little gem the husband found:
---
My reason for being is to serve as a cat cushion. That is good enough for me.
19-06-2011, 12:36 AM
Efrx86

Sinner



Likes Given: 102
Likes Received: 142 in 52 posts

Posts: 272
Joined: Mar 2011
Reputation: 3
RE: "proving atheists wrong with science" mmmkay
Hehe that picture has been around the forum for a while. As I had said before, it reminds me of a guy I barely knew who believed that the planet is getting heavier because of overpopulation
---
The God excuse: the last refuge of a man with no answers and no argument. "God did it." Anything we can't describe must have come from God. - George Carlin
Whenever I'm asked "What if you're wrong?", I always show the asker this video:
http://youtu.be/iClejS8vWjo
Screw Pascal's wager.
19-06-2011, 01:52 AM
The Holy Goat

Newbie



Likes Given: 2
Likes Received: 28 in 8 posts

Posts: 40
Joined: May 2011
Reputation: 0
RE: "proving atheists wrong with science" mmmkay
All I can say is LOL!
21-06-2011, 03:52 AM
robotworld

Silently Researching



Likes Given: 359
Likes Received: 525 in 249 posts

Posts: 575
Joined: Jun 2011
Reputation: 16
RE: "proving atheists wrong with science" mmmkay
First mistake: Did not take into account the water cycle.
Second mistake: Assuming life includes only large organisms that take in a lot of water.
Third mistake: Using an unreliable document to assist in proving of facts.
Anyway, that was really funny
Also... related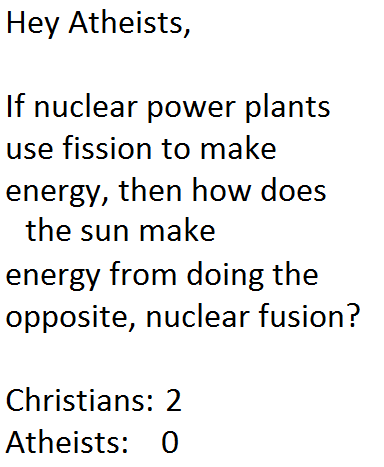 A primary school student can answer these questions, can you?
---
Welcome to science. You're gonna like it here - Phil Plait
Have you ever tried taking a comfort blanket away from a small child? - DLJ
21-06-2011, 05:08 AM
(This post was last modified: 21-06-2011 07:54 AM by FSM_scot.)
FSM_scot ಠ_ರೃ



Likes Given: 5,846
Likes Received: 4,147 in 1,837 posts

Posts: 4,786
Joined: Apr 2011
Reputation: 69
RE: "proving atheists wrong with science" mmmkay
I think this must have been made as a joke. I can't say that I've ever met anyone who would be stupid enough to think that.
If it wasn't intended as a joke they obviously don't realise that the water isn't permanently locked inside organisms forever it always leaves the body at one point or another the average 5year old could tell you that.

Atheists and anyone with an iq higher than that of an amoeba 1
Creationists -1 for sheer stupidity
---
Behold the power of the force!
21-06-2011, 06:31 AM
UnderTheMicroscope

Damage sponge of society



Likes Given: 9
Likes Received: 32 in 26 posts

Posts: 601
Joined: Aug 2010
Reputation: 3
RE: "proving atheists wrong with science" mmmkay
Worst part is I think venomfangx tried using those same arguments before thunderf00t beat his ass the first time.
---
Hey brother christian, with your high and mighty errand, your actions speak so loud, I can't hear a word you're saying.

"This machine kills fascists..."

"Well this machine kills commies!"
User(s) browsing this thread: 1 Guest(s)